The Xterra Oak Mountain event is typically one of the marquee events in the Xterra series, and on May 8 the stacked field of off-road triathletes will be joined by a couple of big-name competitors who are better known for their road exploits – Andrew Starykowicz and Eric Lagerstrom.
"It is not going to be pretty, but it will be a learning experience for sure," says Starykowicz.
The two "roadies" will be facing an impressive field led by two-time and defending Xterra world champion Bradley Weiss, 2015 Xterra world champ Josiah Middaugh, reigning Xterra Pan Am Tour champ Sam Osborne and Canadian Xterra star Karsten Madsen.
Text continues below picture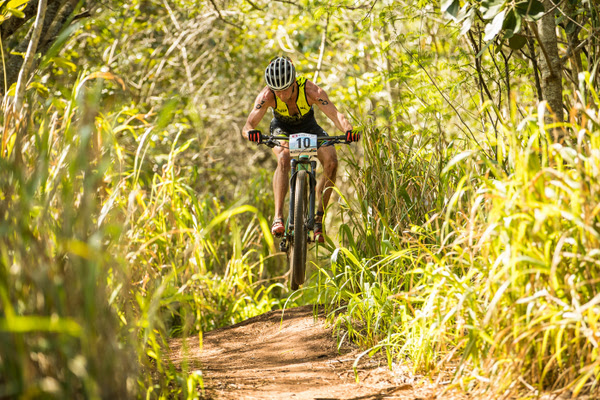 "I know how next-level these guys are, and I'm prepared to be in awe," Lagerstrom says. "My hope is that I can hang with one of them who is having an off day, follow their lines, and make it to the run within a couple minutes of whoever is leading. I don't know how fast these guys can run on trail, but I do 90 percent of my running on trail and I absolutely love singletrack, so hopefully I can hang. Ultimately, I'm just hoping to have fun racing, see what I can accomplish without any specific training, and use that to gauge how much focus I should put on Maui."
The biggest challenge for the two road-triathlon specialists will come on the bike. Both are expected to be among the fastest swimmers, but whether or not they'll be able to stay with the leaders through the trails on the bike is the question.
"I live in flat lands," says Starykowicz. "I ride dirt double track in the form of snowmobile and ATV trails along with farm pastures, and the longest 'climb' within an hour drive is 1-minute. I am in over my head on a mountain bike."
Lagerstrom, who "grew up on a BMX bike," will likely find the transition to riding on the trails a bit easier.
"I've always wanted to do Xterra, but it's been very challenging to fit it into my schedule, at first when I was chasing the Olympics, and more recently focusing on 70.3," Lagerstrom says. "Now with COVID, and Ironman purses constantly shrinking, it's easier to justify putting some time into mountain bike training. That, and I actually have easy access to mountain biking since we moved to Bend a month ago and the trails are starting to dry up."
Highlighting the women's field is Suzie Snyder, the top American finisher at the Xterra worlds for the last four years, along with Samantha Kingsford, the defending Xterra Pan Am Tour champion.