Starting your race with your feet in the white sand, swimming through crystal-blue waters and cruising across a beautiful Mediterranean island: and that's only a few of the reasons to add Challenge Peguera-Mallorca to your triathlon bucket list. On Oct. 15 – leaving you with plenty of time to train if you make up your mind now – the start signal will sound for the 2022 edition of Challenge Peguera-Mallorca. Let's have a closer look at this Middle Distance.
With around 300 days of sunshine around the year, there's a good chance you will get to enjoy some of those sun rays while racing on Mallorca. And when it's sunny, there's just one place you want to be: at the beach. Good thing that that's exactly where you will start your day. Not for a day of relaxing, though, because athletes racing Challenge Peguera-Mallorca must be up for a bit of a challenge. Although there are definitely more difficult courses in the world, it's considered to be a tough triathlon.
Sun, beach and swim
You kick your day off with a 1900-meter swim, starting at the beautiful Torà Beach. The swim contains only one lap: taking you from the Bay of Peguera to the Torà Beach arena. Approximately 140 meters from the water, you will find your bike in the transition area, which is both T1 and T2.
Versatile two-lap bike course
The 90K bike course will provide you with some spectacular views of the mountains and the coast. Make sure to take it all in, because on some sections of the bike course you won't find the time, as you're too busy battling the uphill sections, or you're focused on the road to stay safe on those fast downhills. However, it's not all up and down, you can definitely enjoy your aero bars and gain speed on some flat sections too. It's a bike course with great variety.
Athletes will cover the 90 km in two laps of 45 km. Along the route you will find some of the most popular tourist resorts, beaches and a magnificent natural scenery at the Serra de la Tramuntana, a UNESCO World Heritage Site. The elevation per lap is approximately 500 meters.
Athletes will hop on their bike in Peguera, continue through Es Capdellà – a traditional town – descent in Son Pillo, pass Calvià, El Toro, Santa Ponca and then return to Peguera along the coast.
Text continues below picture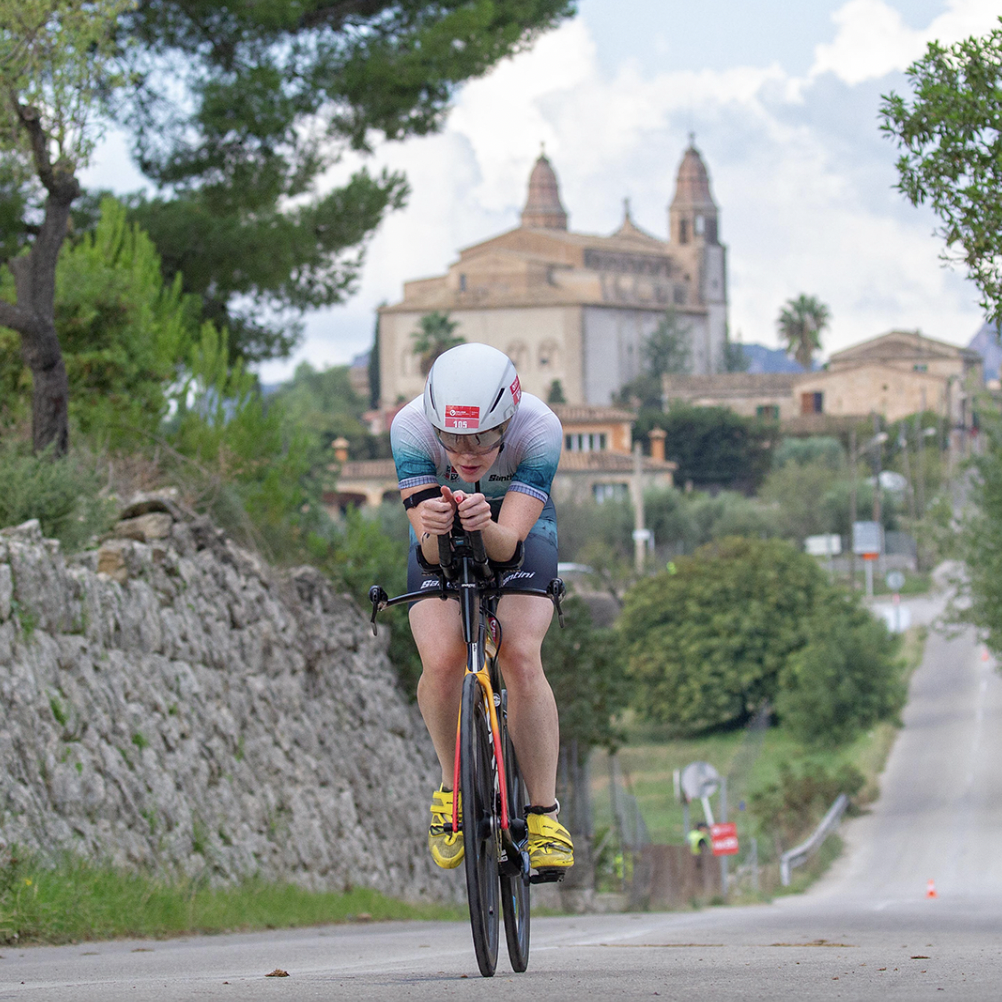 An enthusiastic crowd on the run
After the bike part, participants are treated with a beautiful, fun, but tough run. The four-laps course takes athletes through the neuralgic center of Peguera, while passing the busy boulevard, the Maritime Boardwalk – connected to the Tora, Els Morts and La Romana beach – which provides athletes some spectacular views of the coast. The finish line is at the plaza that joins the beach with the boulevard, the heart of Peguera.
Great training location
It's not only fun to come out to Mallorca to race, it's also a hotspot for training holidays. With flat and hilly roads, great weather year round, the sea right by your side to go for some outdoor sessions, and many options for running, the island attracts a lot of triathletes. So in the days or even weeks leading up to the event, you won't struggle to get in some of those last miles.
Bring the family along
Not only you will enjoy training and racing at Mallorca, it's also a perfect destination for a sun vacation for the rest of your family. Mallorca is full of beautiful resorts and there are plenty of things to do all day and in the evenings with your beloved ones. Have a nice dinner in the city center, enjoy a stroll along the boulevard with some ice cream, visit the beach or stay right by the pool to entertain your kids; Mallorca has much to offer.