A race with everything we love: that's what triathlon fans got served at the Ironman World Championships on Kona. One thing is certain: Lucy Charles-Barclay will never forget this race, as she finally won her world title after finishing second four times before. She not only won the race, but led from start to finish and crushed the course record to finish in a time of 8:24:31.
Even though Charles-Barclay did not break a record on the swim course when she crawled out of the water under fifty minutes, she was already well in the lead. That was not unexpected, of course, any more than it was unexpected that the Dutch Lotte Wilms and American Taylor Knibb followed in a strong first chasing group together.
On the bike, Charles-Barclay immediately took off on her own, trailing only Taylor Knibb. Behind Charles-Barclay and Knibb, who were constantly biking about two minutes apart, a large group formed with a number of favorites, including Ryf, Kat Matthews, Lisa Norden, Anne Haug and Chelsea Sodaro. After about sixty kilometers, Laura Philipp and Dutch European Els Visser, who crowned herself European Champion last month's at Challenge Almere-Amsterdam, also joined in. That was impressive, because in doing so, the two had made up several minutes on surely some of the best cyclists out there.
That was also the moment Ryf in turn broke away from that group, taking third position. But, she got Philipp, Lisa Norden and Jocelyn McCauley with her. Even though this group worked extremely hard to ride to the front, it didn't work; Charles-Barclay's level was simply too high and her lead was getting bigger and bigger. Knibb, meanwhile, received a penalty for littering – which costed her a minute – but managed to follow around two to three minutes.
Text continues below picture: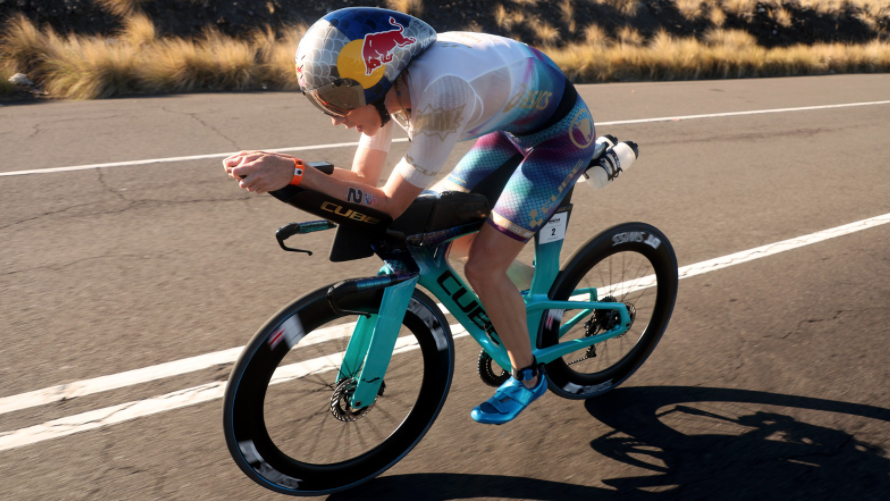 Back in T2, Charles-Barclay had a fine lead over Knibb and a huge lead over the first chasers behind. McCauley, Philipp and Lisa Norden followed at almost eleven minutes, while Ryf lost even more and returned after more than eleven minutes in T2. Haug even followed at over twelve minutes already.
During the run a very one-sided, but still very exciting picture emerged. Charles-Barclay ran a tremendously fast pace, but could not prevent Laura Philipp and Anne Haug from quickly starting to make up time on her. Taylor Knibb, meanwhile, defended her second place, knowing she was being chased mainly by two top German runners.
Charles-Barclay saw her lead dwindle minute by minute, but it never became truly dangerous. She proved strong enough to keep her ample margin intact. It didn't end so well for Knibb: with about ten kilometers to go, first Haug flew past her and in the very last kilometers Philipp also managed to catch her.
Charles-Barclay won the race in a time of 8:24:31, beating Daniela Ryf's course record (8:26, 2018, ed.). Haug was second at 3:02 minutes behind and also goes into the books twice: in fact, with her marathon time of 2:48, she shattered the previous run course record of 2:50 (Mirinda Carfrae, 2014, ed.). Philipp finished third, 8:24 minutes behind Charles-Barclay. Knibb graced her Long Distance debut with a fourth-place finish and Ryf was fifth. The full top ten:
Lucy Charles-Barclay (GBR)
Anne Haug (GER)
Laura Philipp (GER)
Taylor Knibb (USA)
Daniela Ryf (SUI)
Chelsea Sodaro (USA)
Skye Moench (USA)
Sarah True (USA)
Lisa Norden (SWE)
Jocelyn McCauley (USA)