Earlier this week Triathlon Today introduced a number of pace calculators to help athletes of all levels get a better understanding of their capabilities in the form of Critical swim speed, bike FTP and run pace. The Triathlon Finish Time Calculator makes an accurate estimation of how long it will take you to complete a Sprint, Olympic Distance, Middle Distance or Long Distance triathlon.
So what is Functional Threshold Power? FTP is 95 percent of an athletes all-out effort for a predetermined time (often 20 minutes). The FTP calculator can assist riders with a general benchmark which tells athletes a lot about their potential bike split in a triathlon. The FTP calculator requires a set period of time (3, 5, 10 or 20 minutes) and a power meter reading from the effort. The most valuable piece of information that can be collected from calculating your FTP is the associated training zones that an FTP calculation prescribes. From Zone 1 to 5C, the 7 training zones increase in wattage and are adjusted according to your most recent FTP calculation.
Text continues below picture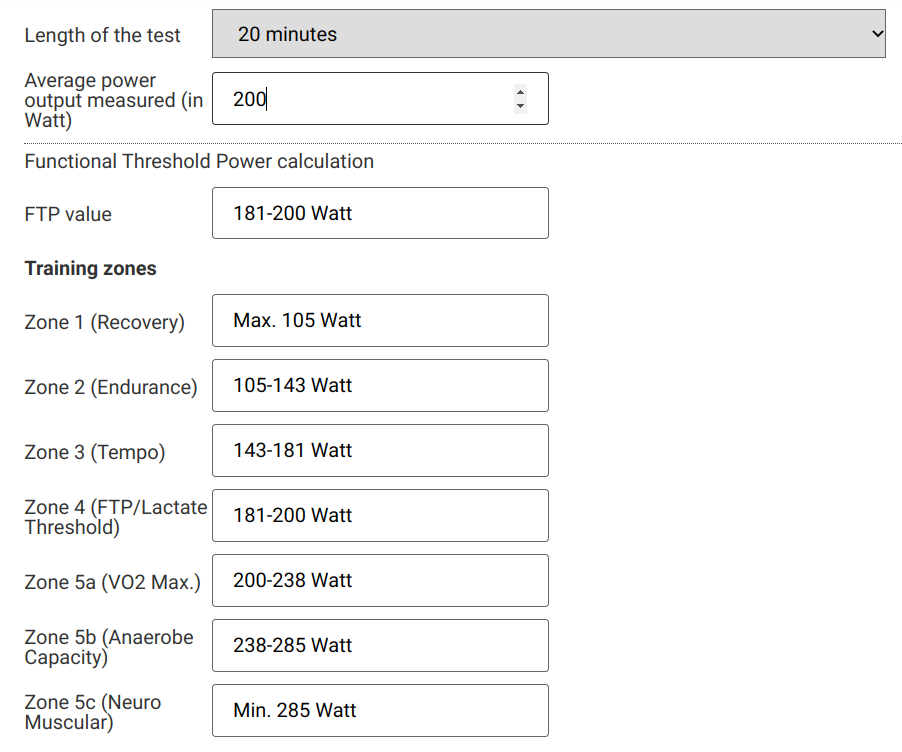 The sample FTP calculation above shows the zones of a rider who did 200 watts for 20 minutes. As you can see Zone 1 (Recovery) shows that this particular rider should stay under 105 watts. Zone 4 and onwards presents power numbers all above the 181-200 wattage FTP value presented, allowing athletes to train within the scope of their current FTP and work towards higher numbers. While the testing aspect of finding your FTP value is daunting with an all out effort required, adding these tests to your training regime once or twice a month can be beneficial to athletes looking to ride faster. This is done by helping athletes gauge what kind of effort they are capable of on the bike leg of multi sport events.
Putting out sustained efforts on local quiet roads can be boring, but there is nothing better than the satisfaction of hitting your desired numbers in a specific workout. From time trialing to shorter sprint efforts, the more data you can collect from your training rides will help increase your FTP at a much faster rate.