There has been much controversy surrounding the Nike Vaporfly shoe in the endurance world. Mbuleli Mathanga of South Africa was the latest athlete in the Athletics world to face flack for racing in the shoe. He ran a 13:47 for 5,000 m in the shoe, not realizing that the shoes are banned for track racing until after he'd finished the race. To silence critics, Mathanga opted to run his next 10,000 m event barefoot, breaking a South African provincial record on his way to a time of 28:24.
The Vaporfly shoes have made an impact in both the running and triathlon world. At the most recent edition of the Ironman World Championship (2019), half of the top 15 men and women were in some version of the Nike Vaporfly lineup. At Challenge Miami Lucy Charles-Barclay ran to second place wearing the shoe.
Nike started the carbon-plate trend in high-end shoes when it introduced the Vaporfly that uses a thick layer of "highly responsive Nike-patented foam in the midsole as well as an embedded carbon-fiber plate." Irish reporter Cathal Dennehy claims the technology in the Nike shoe is like "bringing a gun to a knife fight," pointing out that "almost half of the top 150 marathon times in history occurred since the shoe's arrival in 2016, and that's no accident."
Last year World Athletics banned prototype shoes from competition and put limits on the depth of a shoe's midsole and the number of carbon plates it can use. The Vaporfly shoes that have been so popular with triathletes (in Kona in 2019 all the athletes who wore Nike shoes who finished in the top 15 either used the Vaporfly Next% or the Vaporfly 4%) all fall within the World Athletics guidelines that require the sole not be thicker than 40 mm and there only be one carbon plate.
Text continues below picture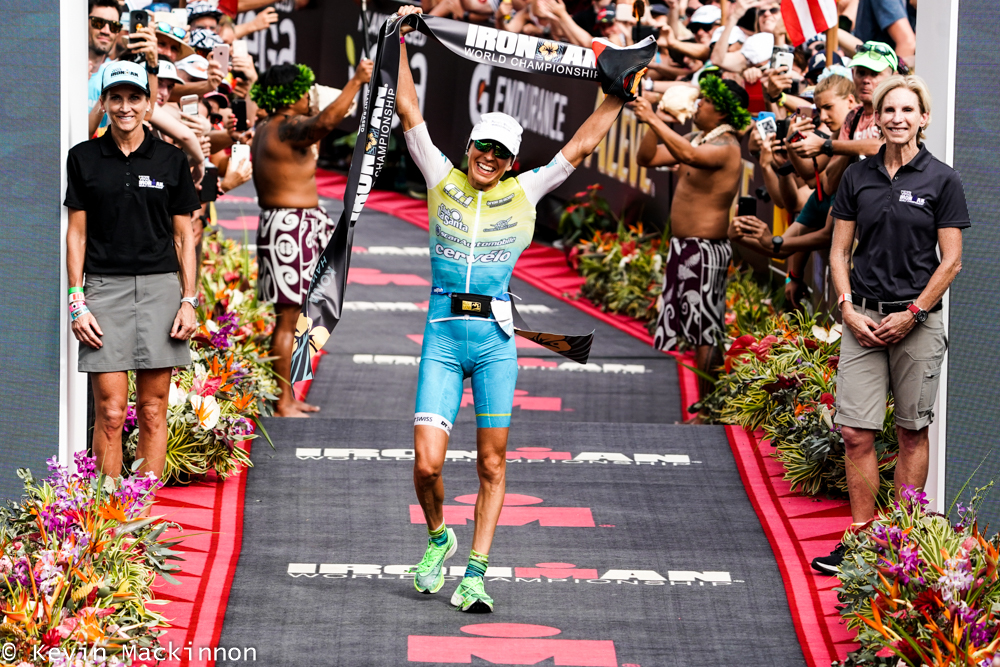 Since Nike came out with its carbon plate shoe many other brands have followed suit. Jan Frodeno set a new course record in Kona wearing an Asics prototype carbon-plate shoe, and won Challenge Miami wearing a Hoka shoe that features a carbon plate. Sebastian Kienle took third in Kona in 2019 wearing a New Balance carbon plate prototype shoe, too.