Since it began in 2010 the Clermont Challenge has been a mainstay of spring racing in North America. The COVID-19 pandemic meant the event didn't serve as a PATCO Sprint Triathlon Panamerican Cup this year, but that didn't stop competitive fields from travelling to Clermont (we told you yesterday about the popular triathlon training spot) for a weekend full of draft-legal racing. While the elite race remains the marquee event, there were lots of other events on tap during the two-day weekend including youth, university, development and age-group races.
Hannesdottir hangs on for the win
Iceland's Edda Hannesdottir took the women's elite race after joining pre-race favorite Vittoria Lopes out of the water and holding off the rest of the women through the bike. Once out on the run Lopes would fade (reports are she had been sick much of the preceding week), leaving Hannesdottir to hold off American Gina Sereno for the win – Sereno would blast through a 16:18 split for the 5 km run, almost a minute faster than Hannesdottir's 17:10 split. Hannesdottir got the the line in 58:20, with Sereno crossing in 58:48. Sandra Dodet took third in 59:12, holding off Canadians Dominika Jamnicky (59:17) and Amelie Kretz (59:22).
Women's results can be found here.
Text continues below picture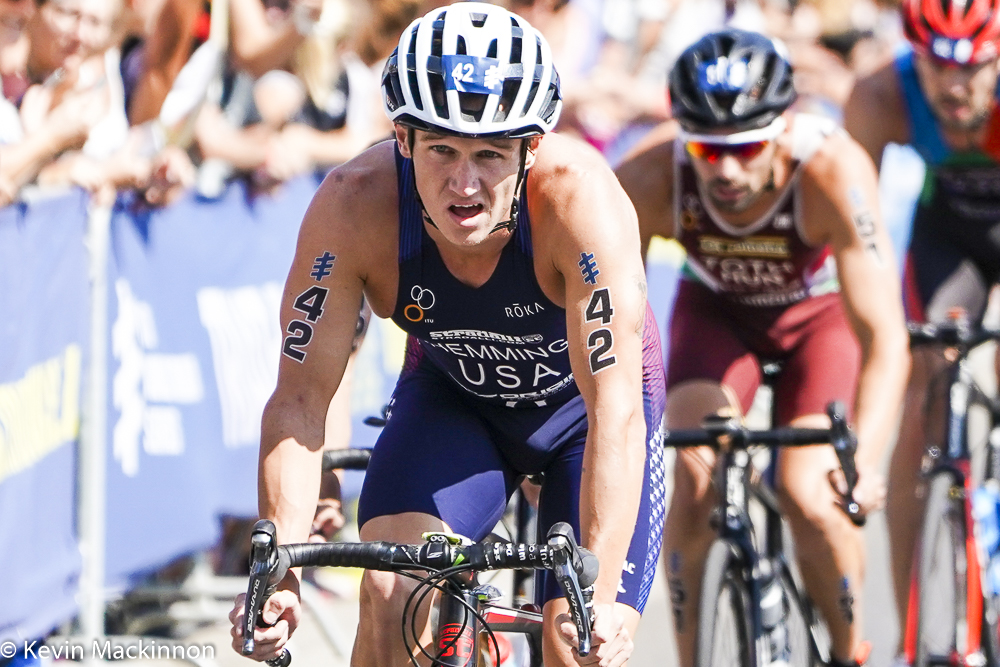 Hemming sprints to the win
American Eli Hemming turned in the day's fastest run – a blazing 14:42 – to take a three-second win (52:17) over countryman Kevin McDowell (52:20) and Canadian Matthew Sharpe (52:20), who finished just four-tenths of a second behind the American. A big group followed American Austin Hindman out of the water and by the end of the bike seven were still together. By the end of the 5 km run five of those had gone under 15 minutes – just seven seconds separated first through fifth places. Hindman would follow his leading swim with a fourth-place finish, while another American, Tony Smoragiewicz rounded out the top five.
Men's results can be found here.