It is not yet known who will be European middle distance champion tomorrow, but it is certain that Nicola Spirig, Anne Haug, Frederic Funk, Thomas Steger and Giulio Molinari are among the favorites. During the press conference that just took place, however, they mostly pointed at each other when asked who they thought would win the race.
Haug has spoken about Spirig being a role model for her, and she emphasized that today as well. "I have so much respect for Nicola; someone who has been racing at the highest level for so long. I had a short training break, but then went from day to day to prepare for this race as optimally as possible. I am motivated to race here and don't underestimate anyone. It will be an exciting race and the best will win."
According to Spirig, that could be Haug, especially considering Haug's win at Challenge St. Pölten. "I'm actually focusing mainly on the Olympics right now and using this race as really good training. It makes me proud that Anne sees me as a role model, but I think she is the biggest favorite for tomorrow. Still, there will be other good ladies racing as well. Look at Sara Perez Sala, for example, who will undoubtedly come out of the water in front of us."
Text continues below picture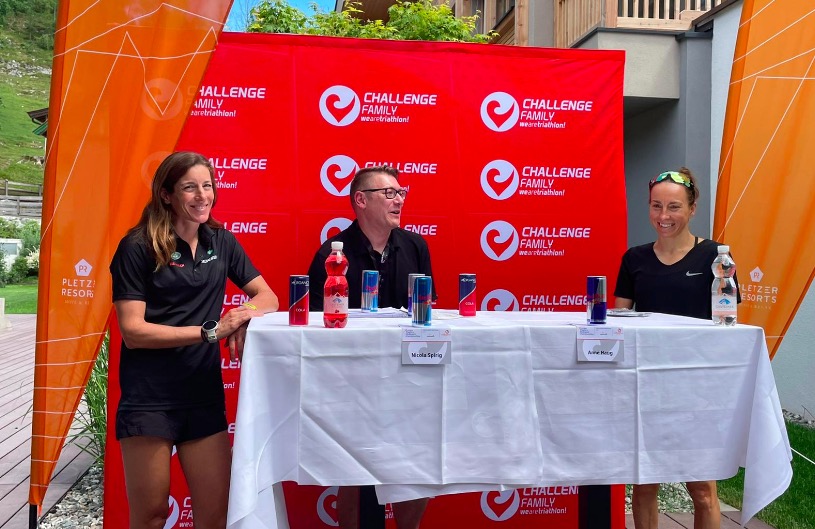 Men's race
In the men's race, there will certainly be a lot of eyes on Mollinari as the top Italian athlete has won Challenge Kaiserwinkl-Walchsee three times before, including once when it served as the European Middle Distance Championships. "I feel good and have been able to train strongly over the past month. I have won here many times, but with these guys – pointing to Funk and Steger – it is undoubtedly going to be a tough and fast race."
Funk – most recently the winner of Challenge St. Pölten – looks forward to tomorrow's race. "I'm very positive and my last race has, of course, given me an enormous amount of self-confidence. I grew up near here – just over the border – and know this area well. I feel fine between the mountains and of course I'm going to do everything I can to win again tomorrow."
To do that he will have to beat, among others, Steger, who's nickname is the "green devil. "But it's going to be an open race, so let's wait and see what will happen. I'm coming here to put down a good race, but there are plenty of guys to take into account. Not just the guys here at the press conference, but also, for example, Bart Aernouts and Ruedi Wild."
Molinari called Steger the biggest favorite for the European title – "Grazi," Steger said while laughing out loud.