It was a wonderful day in Austria for Frederic Funk as he won Challenge St. Pölten in overwhelming fashion. In the women's race it was insanely exciting as Anne Haug managed to overtake Imogen Simmonds in the last two hundred meters to take the win. In the end the pro race was characterized by battles, passion and an incredible amount of tension.
In the men's race, it was Germany's Timo Hackenjos who, somewhat surprisingly, led the field during the swim and was the first to take to the bike after a 24:26 swim split. Belgium's Christophe de Keyser was just over half a minute behind him, followed a few seconds later by one of the favorites: Pablo Dapena Gonzalez. Behind them were Michael Raelert, Jan Stratmann, Maurice Clavel and Frederic Funk.
On the bike, it was Funk who quickly rode to the front and boldly took the lead. Still, men like Magnus Ditlev, who is of course known for his rock solid biking skills, Raelert, Pieter Heemeryck, Stratmann, Dapena Gonzalez and Philipp Bahlke weren't far behind. The pace was extremely fast and it was clear that the men wanted to push the pace on the bike.
Funk was clearly a man on a mission. After 60 km he had broken away from everyone and had a gap of exactly two minutes on his first two chasers: Ditlev and Bahlke. A number of other favorites followed another two minutes behind, but at this stage of the race Funk was in a very strong position to win the race. A few km later Bahlke also had to give in and lost the connection to Ditlev, losing even more time on Funk.
In the final kilometers on the bike, Funk kept pushing and was able to increase his lead: in the second transition area, he had a lead of more than four minutes on Bahlke and almost six minutes on Stratmann. Just under a minute behind them followed Raelert and Maurice Clavel, among others.
What followed was a half marathon in which the men all changed positions – well, except for Funk, who remained in front until the end. The German athlete ran better than ever, fueled by the extra strength he said he got from being in the lead. He crossed the line in 3:44:49, cheering loudly and claiming victory. Over eight minutes later, Stratmann claimed second spot, although he had to fight it out for a long time with Maurice Clavel, who crossed the line 30 seconds later. Clavel had to pull out all the stops to stay ahead of Pablo Dapena Gonzalez, who finished fourth just nine seconds behind the German.
Interview Frederic, Jan and Maurice (text continues after video's):
Thrilling sprint finish Anne Haug and Imogen Simmonds
In the women's race, it was Anna-Lena Best-Pohl who made the race hard from the start and, with a swimming time of 28:41, was first to go to her bike. However, the gap to her pursuers was not very large, as Lisa Nordén and Imogen Simmonds followed just half a minute later. A little further back, other top athletes came out of the water, including Maja Stage-Nielsen and Anne Haug, putting them in a position to catch up very soon on the bike.
On the bike, it was soon Nordén and Simmonds who worked together to try and get away and open up some time on the rest of the women. They succeeded excellently – after about 25 kilometres the two women had a lead of almost 2:30 on , among others, Stage-Nielsen, who had lost contact with the leaders, and favorite Anne Haug.
Not much later Simmonds made a strong move and rode away from Nordén. It was the Swiss athlete who quickly grew her lead on the Swede, who had been riding with her. At the same time, however, Simmonds lost a lot of time to Haug: the German world champion once again proved to be an excellent biker and brought the deficit down to about 90 seconds. With 30 km left on the bike it was clear we were in for an exciting race.
Text continues below picture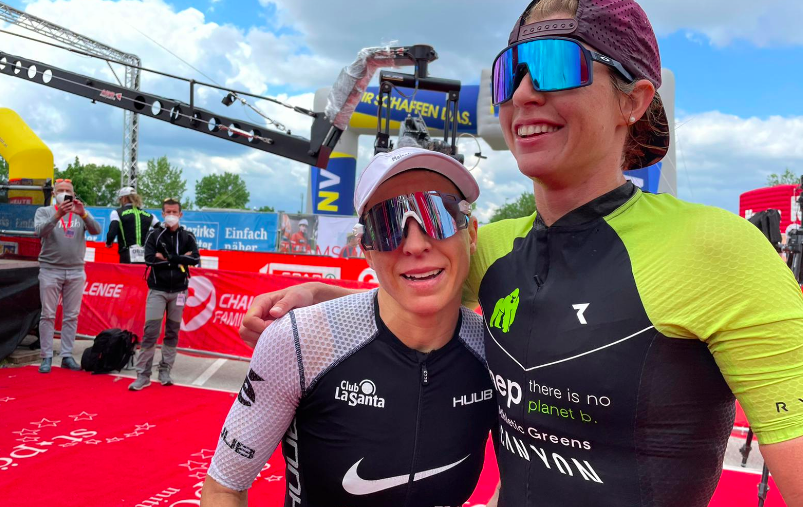 That was exactly what happened after Simmonds turned her engine on again and started the half marathon with a lead of more than three minutes on Haug. But, Haug would not be Haug if she were to give up and not run as hard as she could to go for the win. This was not made easier after it turned out that she had made a mistake in the transition area and received a one-minute penalty. Nevertheless, the German World Champion continued to push and very quickly gained time on Simmonds during the run. Both ladies gave everything they had, but in the end it was Haug who passed Simmonds just before the finish line, taking the win in 4:20:17, only 13 seconds ahead of Simmonds. Nine minutes behind Haug and Simmonds it was Stage-Nielsen and Laura Siddall sprinting for third, a battle Stage-Nielsen won by seconds.
Interview Anne, Imogen and Maja: