What a year for Kristian Blummenfelt. After earning an Olympic gold medal last month in Tokyo, the Norwegian star athlete won the World Triathlon Championship Series today by also winning the WTC finale in Edmonton. An exciting race from start to finish. It was eventually Blummenfelt who crossed the line in first place after a nerve-wracking sprint with Belgium's Marten van Riel and France's Leo Bergere, who respectively took second and third. Up until today, it was Alex Yee who was leading the WTCS ranking. But Britain's Olympic silver medalist missed the first two groups after the swim and wasn't able to rank higher than 11th in Edmonton.
Both Olympic champions are doing extremely well in the WTCS, as also in the women's ranking, it was an Olympic gold medalist who – earlier today – took the win. Bermuda's Flora Duffy finished in third place at today's race, though.
Three guys escape in the water
Already after 750 meters of swimming, it was clear to see that the front guys were setting a strong pace. The field spread on a long line and three men enjoyed a small gap. That were Belgium's Marten van Riel, Hungary's Mark Devay and France's Vincent Luis. With a five-second advantage, these three took their bikes out of T1. Luis rode to the front straight away, while the other two took hang in his wheel. In order to stay ahead of the big group, all three would need to put in the work, though. After a few minutes, the front group started to take turns and work together to maintain their advantage. That while the chasers seemed to be having a hard time finding a rhythm with such a large group.
Text continues below picture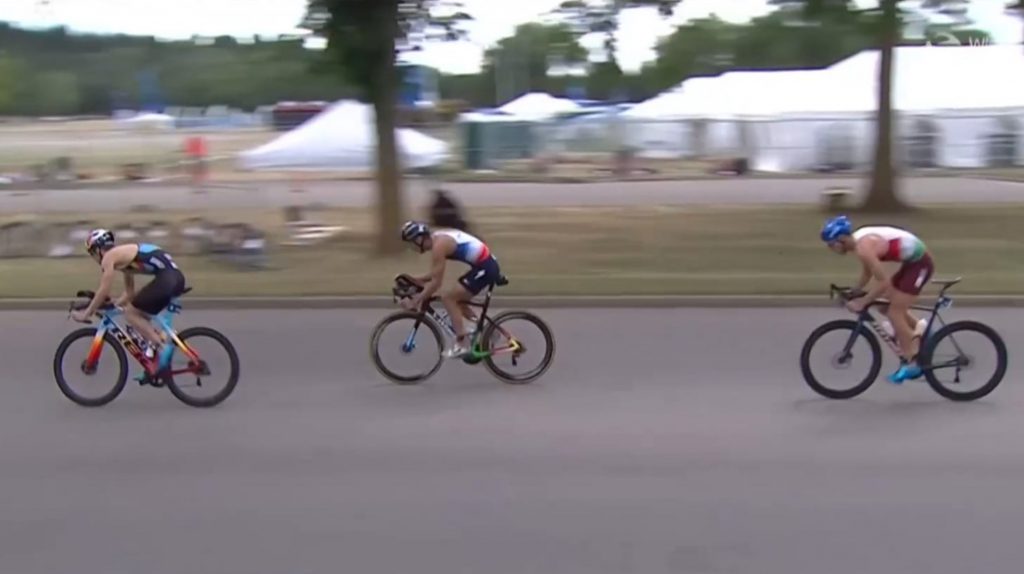 Lead pack increases gap
After the first of eight bike laps, the small lead pack was 26 seconds ahead of the group. That gap increased in the next lap to over thirty seconds. That frustrated Norway's Kristian Blummenfelt, who was doing most of the work in the chase group.
Text continues below picture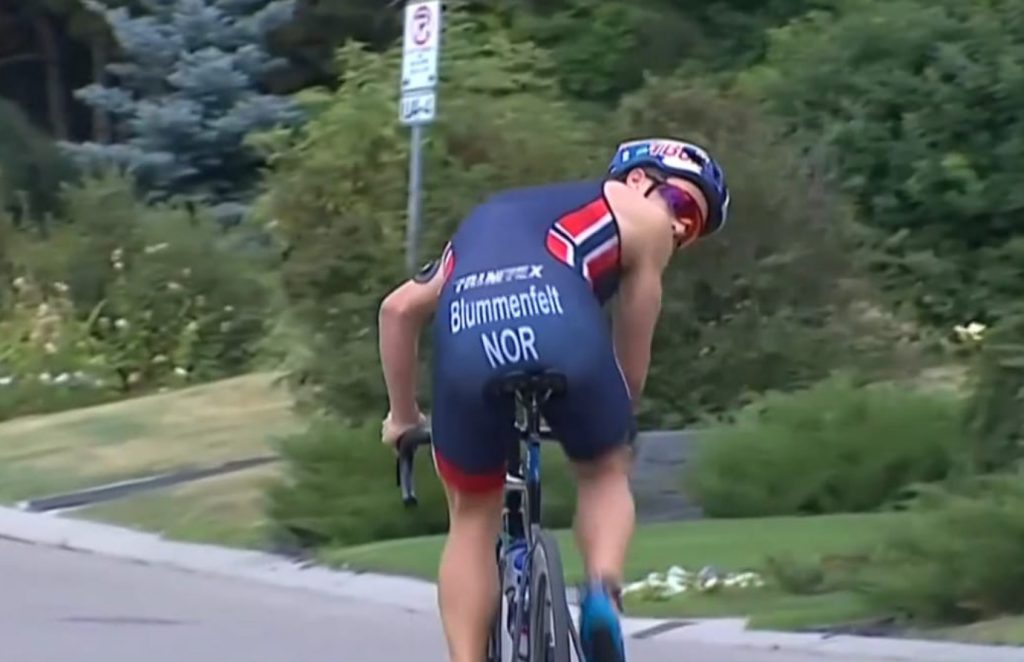 Very small gap left in T2
While the chasers gained a few seconds on Luis, Devay and Van Riel, it wasn't enough to catch these three men before T2. With only a gap of approximately ten seconds left, anything could happen on the run, as opposing to the women's race earlier today.
It was mainly the question whether Blummenfelt would have burned his matches on the bike, when he was trying to close to gap. Yee racked his bike with a deficit of about one minute to the race leaders, and therefor it seemed that Blummenfelt wasn't going to race head-to-head with the WTCS leader.
It didn't take long before the first three men were caught by the group. Blummenfelt ran around a sixth place in the first 1000 meters, while Japan's Takumi Hojo – who was given a penalty after the swim – surprisingly took the lead. A big group of men followed his footsteps, while constantly changing positions over the next few kilometers.
Over 10 km, some men dropped back, eventually leaving a small pack of four men in the front with 2 km to go until the finish. When the finish line came into sight, only Blummenfelt, Bergere and Van Riel were left. That all three were doing everything they could to try and get across the line in first place was obvious as their faces showed struggle. In a very exciting sprint, it was Blummenfelt who claimed the win, just a second in front of Van Riel and Bergère, who respectively claimed second and third.