What an amazing race America's Taylor Knibb just put together during the World Triathlon Championship Finals in Edmonton. America's up-and-coming triathlete claimed a strong win (1:54:47). Knibb took off on the bike with an impressive speed, riding the entire bike part on her own and creating a lead of 2:43 minutes to her chasers. From the ten athletes that tried to hunt Knibb down, France's Leonie Periault was most successful. She ran to a second place, finishing 56 seconds behind Knibb. The third podium spot was taken by Olympic gold medalist Flora Duffy (+1:24). With Edmonton being the final race of the World Triathlon Championship Series, Duffy took the overall win in the series, therefor claiming the world title with a total of 3861 points.
2021 WTCS final results
Earning 3486 points, the second place in the series was taken by Knibb mostly thanks to today's' race. Spivey completed the WTCS podium with a third place and 3239 points. Place four to then are respectively earned by Maya Kingma (NLD), Sophie Coldwell (GBR), Katie Zaferes (USA), Periault, Laura Lindemann (GER), Non Stanford (GBR) and Alice Betto (ITA).
Swim part
The swim was initially determined by Brazil's Vittoria Lopes, who ran out for an Australian Exit with the rest of the field following in her feet. In the second and final swim lap, the Brazilian still pulled through nicely, although it was Knibb who passed her just before the end of the swim and was thus the first one to head for T1. She did so after 18:42 minutes. All favorites were following closely.
Knibb takes off on the bike
In the transition area, a great transition for Knibb and Kingma followed, creating a very small leading group, incidentally with a small lead on the chasing groups. That leading group did not last long, because Knibb rode away at full speed after just one kilometer to take the lead solo. She did so on a climb, and so she rode away from the rest of the field on pure strength. Behind her, a second group of ten ladies took shape, including Duffy, Pariault, Taylor Spivey (USA), Kingma, Kirsten Kasper (USA), Zaferes, Lopes, Lindemann, Coldwell and Natalie van Coevorden (AUS). Race favorites like Stanford, Beth Potter (GBR) and Vicky Holland (GBR) were already over a minute behind.
Large lead for Knibb going onto the run
In the second half of the bike part, Knibb only increased her lead more. There was really no possibility for any of the chasers to get anywhere near here, even though they seemed to be working hard, with Kingma, Duffy and Zaferes doing most of the work in front. By the time Knibb reached T2, she had a huge buffer of 2:43 minutes to the rest of the field, meaning that she didn't even need to work too hard on the run in order to win.
Text continues below picture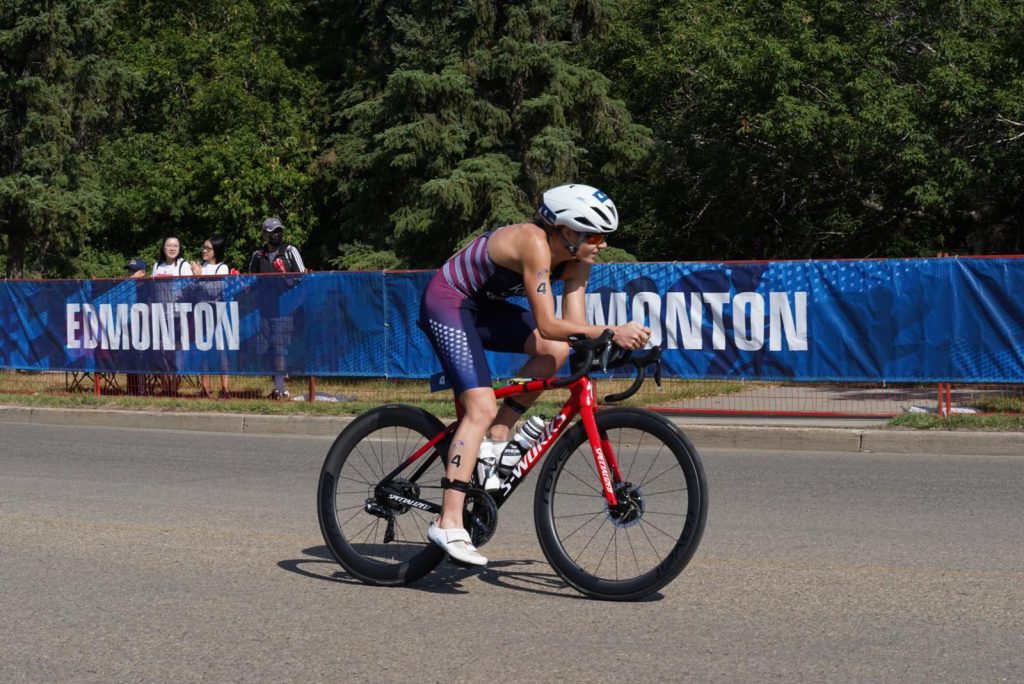 Duffy and Periault on the hunt for silver
Running out of the transition area, it seemed like Knibb struggled a bit with a side stitch, as she grabbed her side with one hand for a bit, but then she just continued strongly. From the group of chasers, Duffy and Periault soon started the battle for second place. Behind them, a little group of four athletes mostly stuck together.
With five of ten km done, Knibb led by two minutes, still showing that nobody was going to get in between her and the victory today. With 2.5 km to go until the finish, Periault surprisingly left behind Duffy, running towards a silver medal. That remained unchanged in the final stretch, which meant it was Knibb taking the win, Periault claiming second place and Duffy passing the line in third, but taking the overall 2021 World Triathlon Championship Series win.
Kingma and Spivey fight for overall 2021 WTCS podium spot
Behind them, there was a nice battle between Kingma and Spivey – running for fifth and sixth place – who both gave it their all to try and earn themselves a podium spot in the overall 2021 WTCS. It was Spivey who sprinted towards that fifth place, securing herself of a podium spot in the series.