She desperately wanted an Ironman world title, but a number of times she just didn't make it and missed out on the gold. Until today, however, because Lucy Charles just outpaced all of her competitors in St. George, leading from start to finish, and in doing so captured the coveted Ironman 70.3 world title.
As expected, it was Charles who immediately led the field during the swim and created a gap: after 24:36 minutes she came back out of the water with a lead of one and a half minutes on her first pursuers, including Holly Lawrence and Taylor Knibb. Other favorites, such as Ellie Salthouse and Daniela Ryf, followed at 2:30 minutes.
During the bike, a pretty tough course with a lot of climbing and descending, Charles actually only managed to extend her lead. Daniela Ryf, meanwhile, rode to a third place, but failed to get any closer to Charles. In the end, Charles entered T2 with a 4:50 minute lead on Knibb and Ryf followed 1:10 minute later, so six minutes behind Charles.
Text continues below picture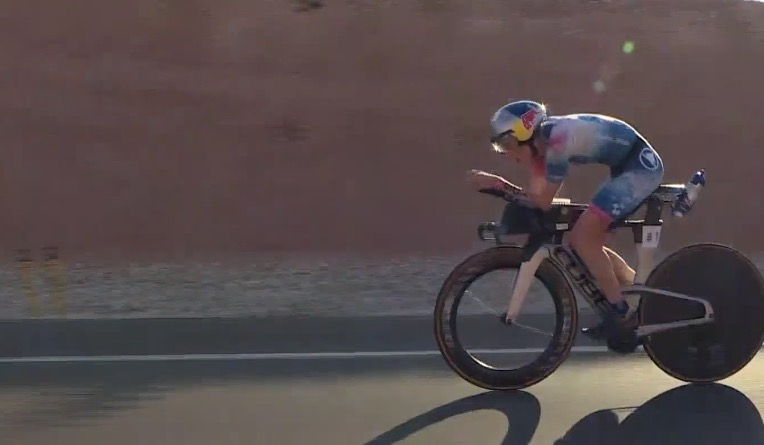 Even the extremely tough course, again with many hills and a heavy rain shower along the way, could not stop Charles from setting a high pace and her drive to win. Her lead was never in danger. Someone who did had a tough time, however, was Ryf, because she came to a standstill in the final kilometers and thus lost her podium position. In the end, Charles claimed her first IM 70.3 world title after 4:00:20. Taylor Knibb also gave away her position, as the final kilometers saw an unprecedentedly strong running Jeanni Metzler pass her by; she finished second in a time of 4:08:39. Eleven seconds later, Knibb finished third.
Make sure to read our race report on the men's World Championships IM 70.3 as well.
Earlier this year, Lucy Charles won the European Championship Ironman 70.3.