When Gustav Iden won the Ironman 70.3 World Championship in Nice (2019, ed.), that was a surprise to many people. The Norwegian did not enjoy much fame at the time, at least not in the Middle Distance, but by now that has changed considerably. He just showed today that this is entirely justified, because he won the World Championship 70.3 in St. George with overwhelming power and thus prolonged his world title.
After the 1.9 kilometer swim, Iden was still 1:05 minute behind the fastest swimmer of the day, Ben Kanute, who completed the swim in 23:48 minutes. Many favorites followed closely behind Kanute, including, for example, Sam Appleton, Daniel Baekkegard, Kristian Blummenfelt (who would suffer a flat tire on the bike and thus lose sight of a top ranking, ed.) and Frederic Funk. Iden started his bike leg in seventeenth place.
However, it didn't take him long to ride to the front, because after 20 kilometers on the bike he had already joined the leading group of the moment; a group of ten men. For a long time this group, which included several power bikers, rode together, but after about fifty kilometers the first differences were made and several men had to drop out. After 68 kilometers Iden had only Funk and Ditlev following his wheel, but from that point on they also had to give up time quickly.
Iden eventually came back into the transition zone with a bike time of 1:58:59 – very impressive on the beautiful, but due to a lot of climbing very tough course – and then had a lead of 44 seconds on Ditlev. Behind Ditlev, Funk followed at 1:50 minute of Iden and then a group of several favorites followed at three minutes.
During the run, Iden saw his lead quickly increase, even as the heavens opened up and the beautiful weather gave way to torrential rain and even thunderstorms here and there. It didn't bother the Norwegian, who ran seemingly tirelessly and could almost smell the world title already. Meanwhile, from behind it was the American Sam Long who ran very strongly and – halfway through – came through in second place with a deficit of 3:24 minutes. Ditlev, as often happens, dropped off during the run and so it was his compatriot Baekkegard who passed third at the halfway point.
Text continues below picture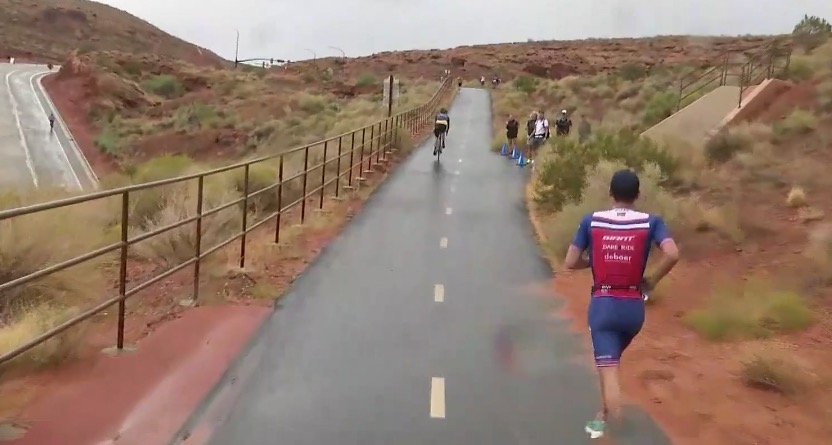 Completely as expected, Iden's lead was not threatened in the final kilometers. In fact, the Norwegian even managed to extend his gap and when he finished in a time of 3:37:13, he had a lead of 3:56 minutes on Sam Long, who thus became second in 3:41:09. Baekkegard finished third in a time of 3:42:24.
Make sure to read our women's World Championships IM 70.3 race report as well