Flora Duffy seems to be turning just about everything into gold; she just won WTCS Abu Dhabi. The reigning Olympic Champion had to fight hard for that victory, because especially the British ladies made it very difficult for her at times.
While the expectation was that Lucy Charles would lead the swim, it was her compatriot Sophie Coldwell who actually did so. At a pretty fast pace by the way, because after 750 meters of swimming serious differences had already been made and quite a number of ladies were relatively far behind. Coldwell came out of the water first, after 9:31 minutes to be exact, exactly at the same time as her compatriot Jessica Learmonth.
In the first few kilometers on the bike, a leading group emerged in which Great Britain was particularly well represented. In addition to Learmonth and Coldwell, they included Lucy Charles and Georgia Taylor-Brown. The four British ladies were also joined by the Bermudan Duffy and American Taylor Knibb. No matter how hard other athletes rode from behind as they couldn't close the gap to the front.
While Charles soon had to drop out of the leading group, the remaining five ladies continued to work hard, cooperating well and only with one goal: to start the run with as big a lead as possible. Nevertheless, after a little more than ten kilometers on the bike, it was a little bit surprisingly Knibb who launched a sprint to get away from the other ladies, but they were alert and so the leading group remained intact. At that moment their lead on the first chasing group had already increased to over a minute. Charles rode on her own between the leading group and the chasing group.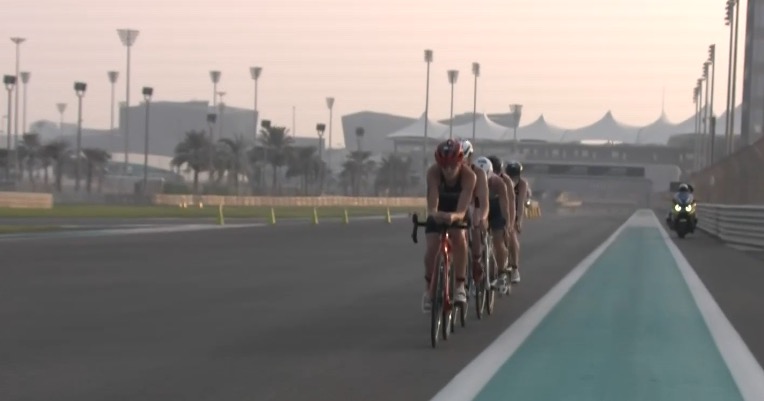 Finally, the five leaders came off the bike at the same time. Their lead had then increased to 1:15 minute on Charles – who rode solo so strongly that the chasing group did not catch up with her – and 1:39 minute on the chasing group.
In the end, it didn't seem to become a really exciting race, because Duffy quickly ran away from the other ladies and her lead was not jeopardized for a few kilometers. However, Taylor-Brown suddenly closed her gap of about ten seconds to Duffy, so that with about one and a half kilometers to go, there were two leading ladies again. All the tension was suddenly back in this phase. Also Learmonth and Coldwell ran side by side, knowing that only one of them could go home with the bronze medal.
A few hundred meters later, Duffy again accelerated and now Taylor-Brown had to let go. Only some minutes later Duffy won the race, 12 seconds ahead of Taylor-Brown. Coldwell eventually finished third, thirty seconds behind.