Laura Philipp is back in action. The German star athlete just won Ironman 70.3 Kraichgau in a course-record time of 4:19:04 hours. After the disappointment of a COVID-19 infection that she got just before the Ironman World Championship St. George, Philipp had to take it easy and shuffle her season plans. Fortunately, she got in some good training again and her race legs showed up again today. Philipp shared the podium with fellow German Daniela Bleymehl (+3:30) and France's Julie Iemmolo (+12:20).
Being only 33 seconds down to the leader, Philipp was well in the mix right from the start. It was France's Julie Iemmolo who pulled off the fastest swim, noting 26:16 minutes. Bleymehl exited the water in fourth place, looking up to a 1:14-minute deficit.
It was a matter of time before Philipp would catch up with Iemmolo, who's more used to short-distance racing. After around 20K, it was done for Iemmolo, as she wasn't riding solo in first place anymore. She managed to hang onto Philipp for a long time, though. After approximately 30K, the elastic snapped and Iemmolo saw a gap take shape between herself and Philipp.
While Iemmolo started to struggle a bit in the second half of the bike part, Bleymehl found her rhythm and slowly moved up front, taking over Iemmolo.
Text continues below picture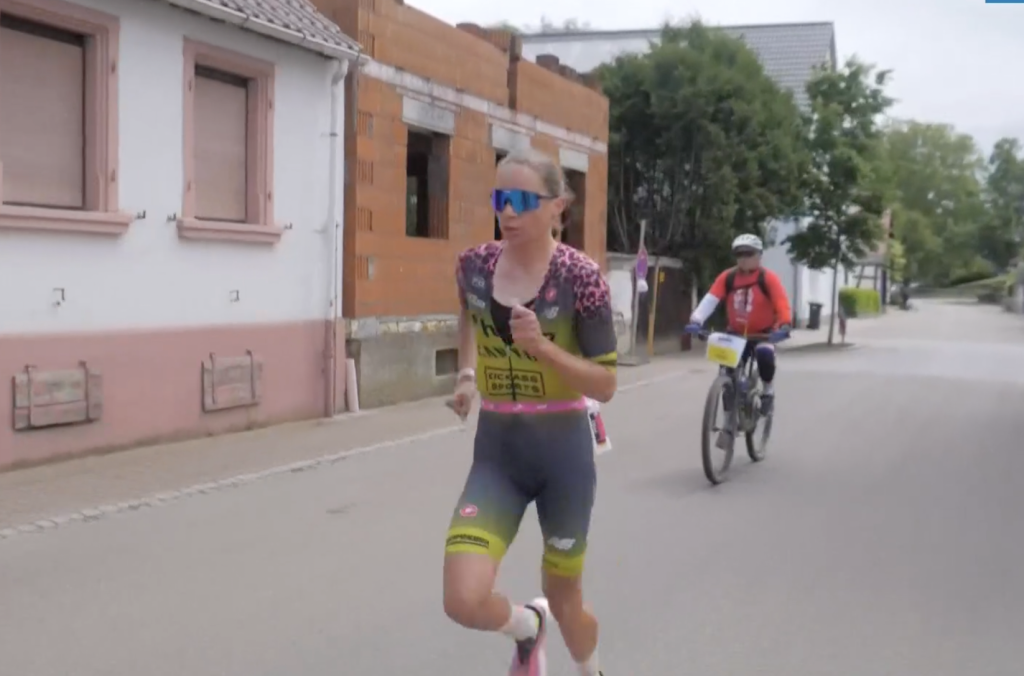 With a 2:57:27-hour ride in her legs, Philipp was still leading as she racked her bike in T2. The bike part shouldn't have taken much longer, though, because Bleymehl was only six seconds behind at this point. On the run, Philipp continued her surge and widened the gap again. After 2 km, she already saw her lead go up to more than 30 seconds. About halfway through the run, the difference between Philipp and Bleymehl was over two minutes. Nobody was taking the gold away from Philipp anymore. After a 1:19:21-hour half-marathon, she crossed the line in first place. Bleymehl finished in second and with Iemmolo, who hang on for third, the podium was complete.