France's Sandra Dodet has just won the World Triathlon Cup in Arzachena, Italy. During the run she made the difference and her pace proved too fast for her competitors
It was quite hot in Arzachena, Italy, and in addition the bike course – with three times a tough climb – is quite challenging. While in the water there were hardly any gaps between the athletes and a large leading group immediately formed in the first few kilometers on the bike, it was the French Mathilde Gautier who particularly impressed on her own by riding away from that group. After one of three bike laps, she had a 23-second lead and her ambition was clear; win.
Text continues below picture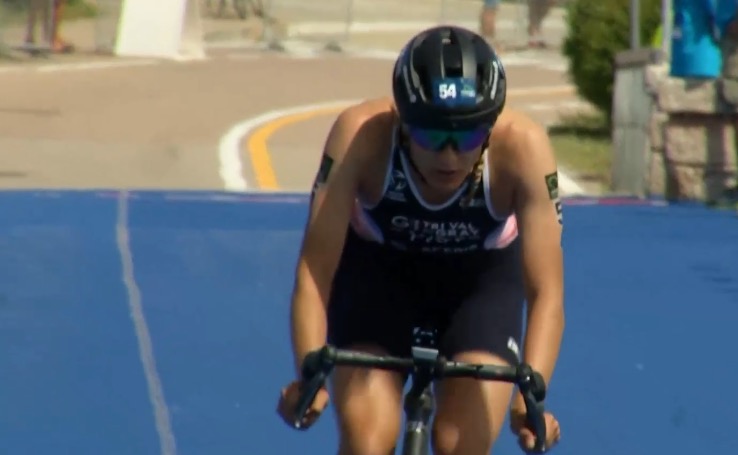 In the second lap that situation changes, because at that point the chasing group thought it was enough and they closed a large part of the gap. In the third and last bike lap the last seconds of the gap were also closed and so the adventure of Gautier ended already before the run. On the final climb, some differences were made again and so a lead group of seven athletes was formed: Verena Steinhauser, Julie Derron, Miriam Casillas Garcia, Lisa Perterer, Estelle Perriard, Mathilde Gautier, Luisa Iogna-Prat and Anja Weber. Just before the run everyone came together once again.
The running pace of Miriam Casillas Garcia – directly after leaving T2 – was impressive and the Spanish woman stayed ahead for a while, but she was overtaken before the halfway point of the run. From that moment on, the French Sandra Dodet began to dictate the pace and that pace was too fast for everyone else. Well before the end, it became clear that Dodet would win the race and she did so after 1:00:31. Behind her, the battle for silver and bronze was still very exciting; Julie Derron and Luisa Baptista had to sprint for it and, only four and five seconds behind Dodet, crossed the finish line in that order.