After an amazing race full of spectacle, Alex Yee has just won the Commonwealth Games Triathlon. He had to dig deep for it, only passing Hayden Wilde in the closing stages and the battle was especially enjoyable for triathlon fans.
One thing is for sure, the race was made hard right from the start thanks to New Zealander Taylor Reid. When he climbed out of the water after 750 meters and in a time of 8:34 minutes, the first differences had already been made. Thanks to his good swim but also a strong transition, the New Zealander immediately went into the lead on the bike together with compatriot Hayden Wilde – on paper the biggest favorite – and South African Jamie Riddle. The three took a small lead of a handful of seconds on the ever-growing chasing group. After the first of four bike laps – five kilometers – the lead had increased to sixteen seconds.
Halfway through the bike it was clear that the three leaders were working well together, because their lead had increased to 23 seconds. With that, Wilde in particular seemed to be in a great position and it was he who did most of the leading work. Yet on the third bike lap, the lead group lost five seconds. When the clock struck 35:30, the leading group began the final five kilometers of running and the chasing group was looking at a sixteen-second gap at that moment.
Text continues below picture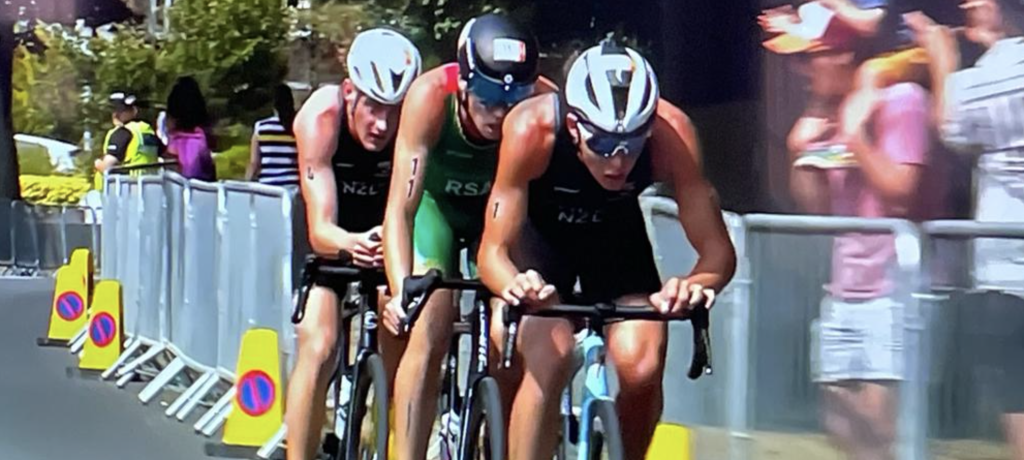 During the run, what everyone actually expected happened: Wilde took the lead and from behind it was Alex Yee who ran from the chasing group to the front and soon grabbed the second position. Halfway through the run, the Brit was only seven seconds behind Wilde and seemed to really smell blood.
With a kilometer to go, Yee passed Wilde, at which point the New Zealander made a great sporting gesture by briefly tapping Yee on the buttocks. He did so with a big smile. But he did not give up, because Wilde still tried to catch up. Indeed, on a section where the road went downhill, he even passed Yee again. This proved unnecessary, however, because it suddenly appeared that he still had to serve a ten-second penalty. With another gesture of sportsmanship, a highfive, Yee took the victory. Yee did so in a time of 50:34. Wilde was second at thirteen seconds and the Australian Matthew Hauser third at sixteen seconds.
The Commonwealth Games is a multi-sport event held every four years, open to member states of the Commonwealth of Nations and its overseas territories. The Commonwealth Games today involve some 4,500 to 5,000 athletes, making them the second largest sporting event in the world after the Summer Olympics in terms of the number of participants.