Norway's Gustav Iden just sprinted to a big win at the PTO Canadian Open. In a bizarre race that was full of drama with some race favorites cramping during the run, the Ironman 70.3 World Champion showed that he's in great shape. In the front of the field, Alistair Brownlee, Kristian Blummenfelt and Sam Laidlow all struggled with cramps or stomach issues within a matter of minutes. What made it even more special, is that Blummenfelt, after some stretching, managed to fight back to second place (+0:26). Australia's Aaron Royle was in a great position ever since the start of the race and ended up claiming the bronze medal (+3:37).
In the water Brownlee, Ben Kanute (USA), Henri Schoeman (RSA), Royle, Sam Laidlow (FRA) and Kyle Smith (NZL) found each other's company. The group of six pulled off a strong swim leg, as they created a gap of 1:16 minute to their fastest chasers. In that second group were – among others – Blummenfelt, Iden and Frederic Funk (GER). After a slow transition, Canada's Lionel Sanders hopped onto his bike in 35th place (+4:06).
Brownlee didn't wait for others to make a move during the bike part, he immediately pushed the pace. While Royle, Schoeman, Kanute and Smith didn't feel like joining that surge, Laidlow decided to tag along. That meant Brownlee and Laidlow took on a leading role. After 40 km, the two were 1:30 minute ahead of the group of eight that now followed them. In that group were the fast swimmers, but also Miki Moerck Taagholt (DEN), Pieter Heemeryck (BEL), Blummenfelt, Iden and Funk. Between this group and the leading men, there was another man, on his own: Smith (+0:47).
50K into the bike part, the big chase group took in Smith. They had to work hard to try to get Brownlee and Laidlow back into sight during the second half of the bike. That the group wasn't in "relax mode" was clear, because there were two athletes who could no longer keep up with them: Schoeman and Kanute.
Text continues below picture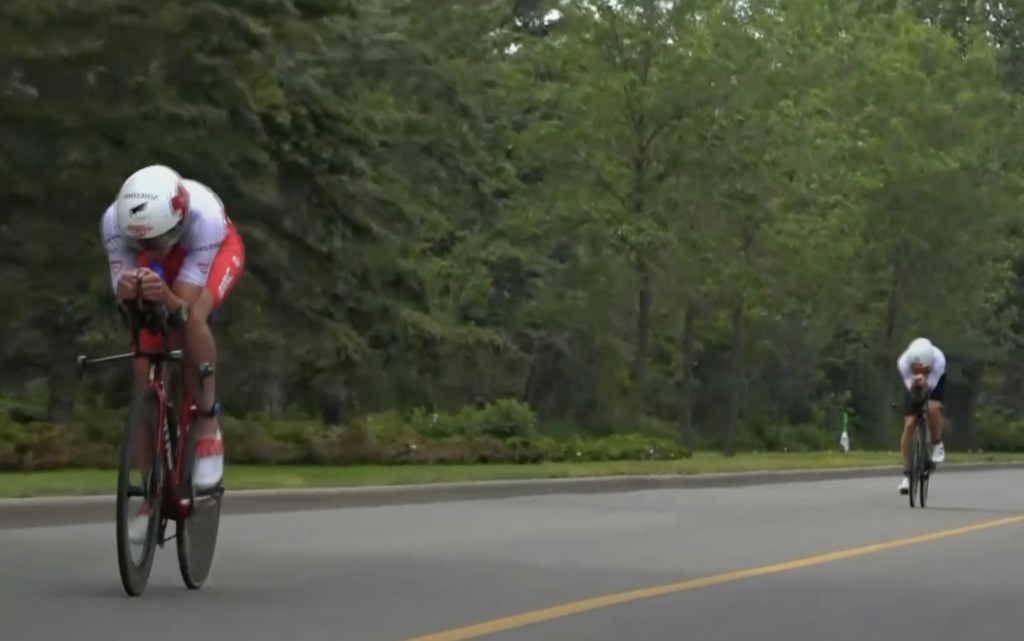 In the final kilometers of the bike part, Iden and Funk decided to leave the group behind, to try to close the gap towards Brownlee and Laidlow. Blummenfelt didn't allow it, though, and caught back up with them before T2. Brownlee and Laidlow racked their bikes about 1:10 minutes ahead of these three men. Brownlee nearly got a penalty as he hopped off the bike after the dismount line, but as soon as he realized, he decided to walk back with his bike to clear his name.
Brownlee's chances for a win soon disappeared as he struggled with his breathing or side stitches a few minutes into the run. After walking for a little, he continued his race, running at a slower pace. Blummenfelt and Iden had already passed him, and they started breathing down Laidlow's neck too. But before they could catch up with Laidlow, Blummenfelt was also struck down; in his case that seemed to be due to cramps in his quad. As if that wasn't enough drama yet, Laidlow ended cramping up only a minute later, too.
Surprisingly, Blummenfelt managed to get back into a rhythm, and he actually ran back to a second place. With eight km to go, Blummenfelt was chasing down Iden again (+1:16). Catching back up with his friend wasn't going to happen anymore, but he got close and made Iden nervous. Iden ended up celebrating his win, Blummenfelt crossed the line only 26 seconds later to take silver and Royle took third.