You can expect a lightning-fast course, thousands of participants, an event rich of history as the race has been around for 42 years and some beautiful cities, including Amsterdam, where you can spend your time before or after the race: plenty of reasons to race Challenge Almere-Amsterdam.
Just like last year, Challenge Almere-Amsterdam is hosting the European Championships Long Distance: some of the best athletes in the world are coming to Almere, just twenty kilometers from Amsterdam, to compete for victory. But did you know:
-Challenge Almere-Amsterdam exists for 42 years, making it the oldest Long Distance triathlon in Europe. In the world, only Kona has existed longer.
-Challenge Almere-Amsterdam has already organized several World Championships Long Distance as well as European Championships Long Distance. The last time the World Championships took place in Almere was in 2021, while the European Championships took place one year later, i.e. last year (2022). This year – 2023 – it's time for another European Championships Long Distance.
Text continues below picture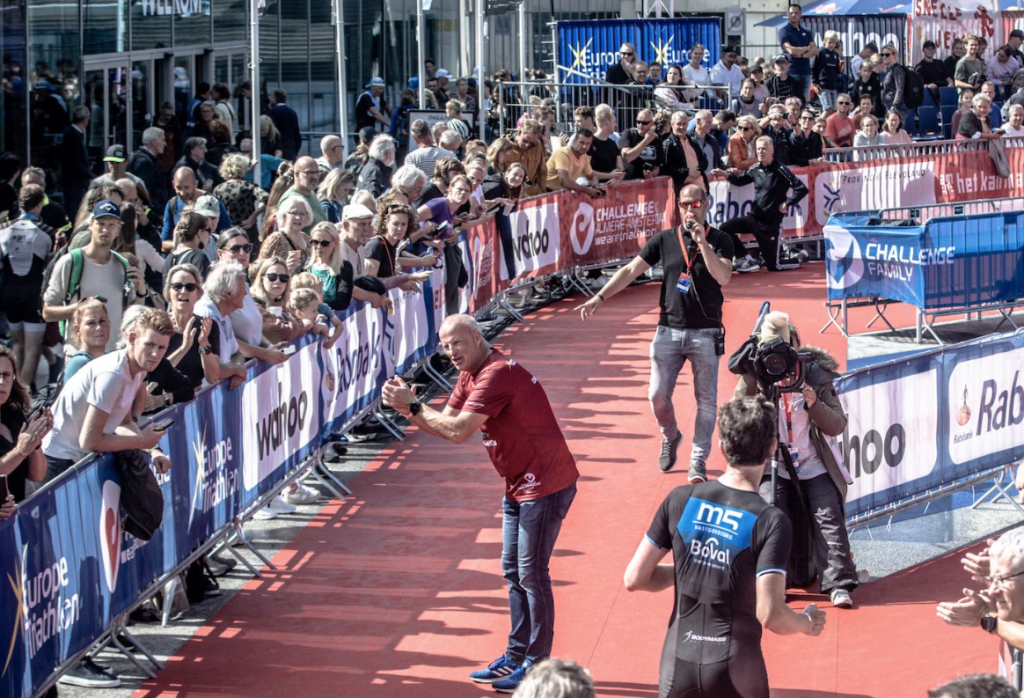 -The course of Challenge Almere-Amsterdam is below sea level. Flevoland, the province where the race takes place, was once sea and thus consisted entirely of water. Over the course of the last century, the water was pumped away, land was raised and Almere, among others, arose as a new city. As a Challenge Almere-Amsterdam participant, you are racing in a very unique area.
-At Challenge Almere-Amsterdam, all athletes, from the first to the last, are welcomed at the finish line as heroes. The marathon consists of six run loops (7km each), each time passing through the packed stadium with spectators, announcers and entertainment. There is partying late into the night.
-After the finish line, an unprecedented after-finish zone awaits athletes. Here you'll find not only healthy snacks but also unhealthy snacks, complete meals, typical Dutch delicacies, drinks, fruits, sweets, hot showers and all of it is based in a beautiful and modern theater building.
Text continues below picture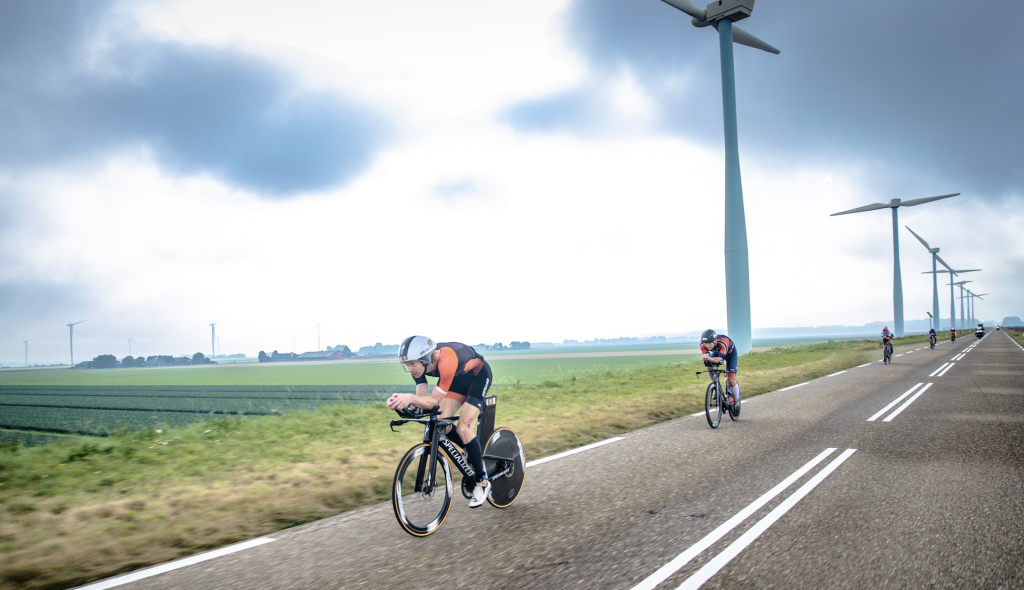 -Almere is a modern city that arose in the 1980s. Expect lots of modern architecture and lots of young people. In addition, Amsterdam is only twenty minutes away: so it is very easy to visit the capital of the Netherlands. Both cities are perfectly accessible, both by car and public transport. Amsterdam has a large train station and of course the national airport Schiphol, while Almere can be reached from Amsterdam by train, bus and taxi, among others. Also world-famous cities as Utrecht, Den Haag and Rotterdam are within 45-90 mins from Almere and all very easy reachable by public transport.
-With a race record of 7:37:36 in the men's (2021, Kristian Hogenhaug) and 8:32:05 in the women's (2021, Sarissa de Vries), Challenge Almere-Amsterdam ranks among the top ten fastest races in the world. Virtually nowhere do you have a bigger chance of a personal record.
Text continues below picture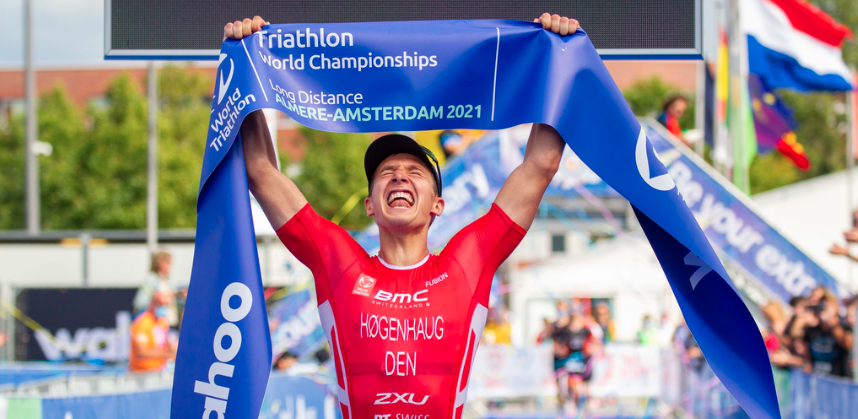 -The course of Challenge Almere-Amsterdam is characterized by its long, straight roads. The swim takes place in the Weerwater, a city lake that was once sea, then drained and later made into a lake. The bike course leads through the province of Flevoland, taking you not only through Almere, but also through Lelystad and Zeewolde. A large part of the bike course you follow the famous dikes of Almere as well as the polders of Flevoland. There are no altimeters on this course: Challenge Almere-Amsterdam is completely flat. The run will take you around the Weerwater (where you will have swum before) and covers seven kilometers per lap.
Text continues below picture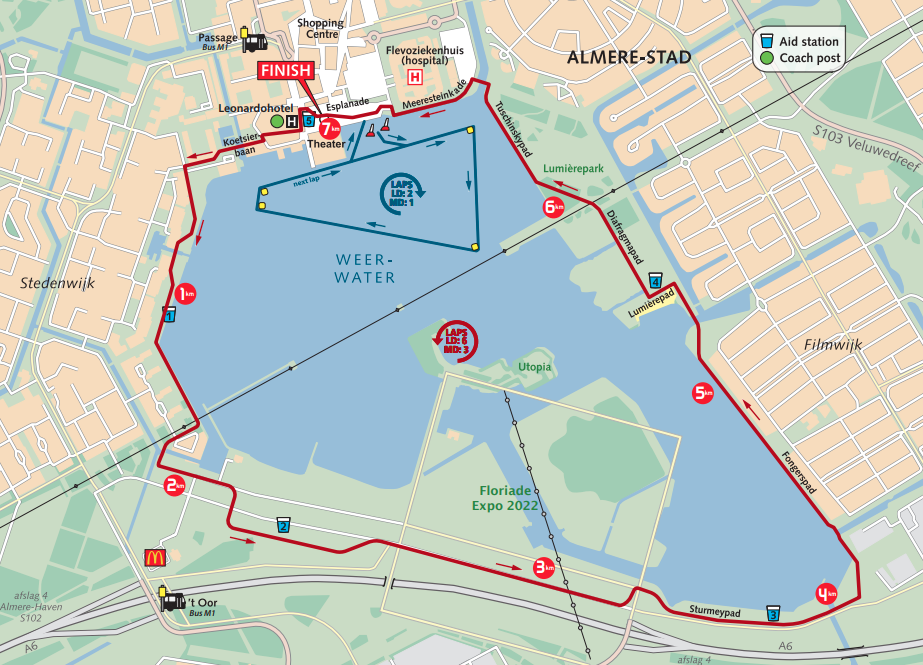 Challenge Almere-Amsterdam Swim (blue line) and Run (red line) Courses.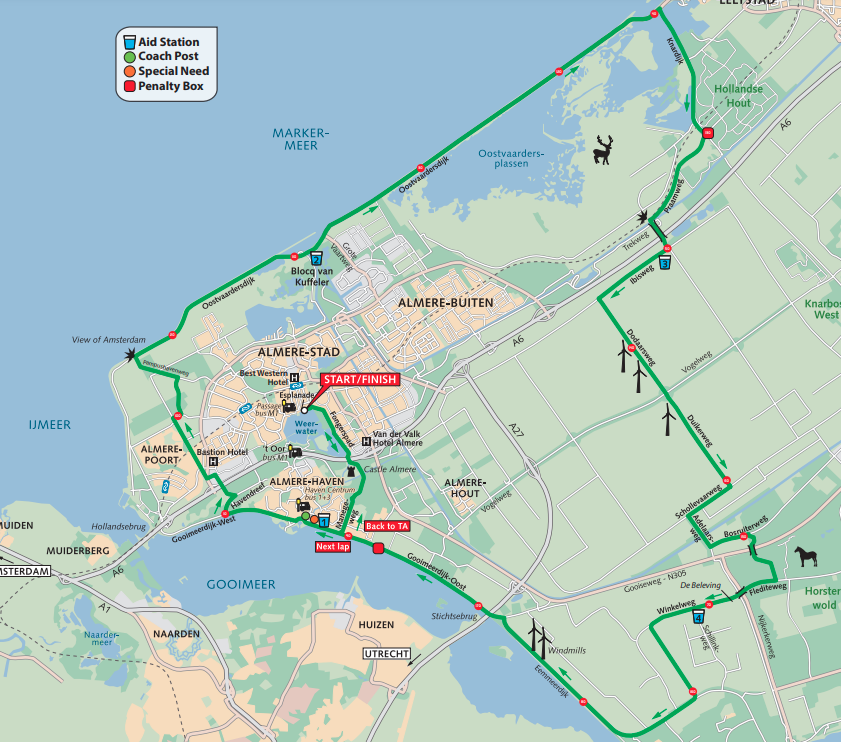 Challenge Almere-Amsterdam Bike Course