After a wonderful battle, Kacper Stepniak and Anne Reischmann have just won Challenge Gdansk. In the closing stages the race – especially in the men's race – became very exciting and that only made the victories more spectacular.
In the men's race, Dutchman Menno Koolhaas – last week's winner of Challenge Geraardsbergen – came out of the water first after 23:37 minutes, immediately followed by Stepniak, Sergiiy Kurochkin, Ognjen Stojanovic and Nicholas Free.
On the bike, these five men did not stay together, as it was Stepniak who was apparently eager to show himself in front of home crowds; he rode away from the remaining four men and saw his lead increase not only consistently, but pretty fast throughout the 90 kilometers. Meanwhile, Dries Matthijs and Marcel Bolbat closed in on the chasing group and Kurochkin just lost the connection, but all this happened minutes behind the leader. When leader Kacper began his run, he had a lead of over five minutes over the five chasers.
During the run, Stepniak immediately lost a large portion of his lead and it remained so during the rest of the half marathon. Still, his margin proved just large enough to take the victory. Stepniak eventually won the race in 3:44:25. Stojanovic finished second in 3:45:11 and in turn also had to go all out to claim the silver. Bolbat came pretty close and finished third in 3:45:18.
Text continues below picture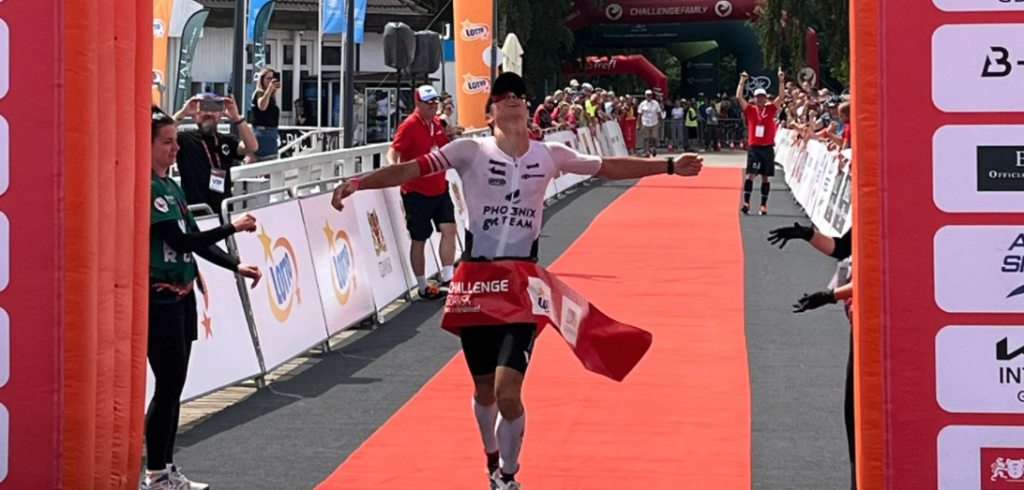 In the women's race, Reischmann was allowed to chase immediately after the swim: she then had Rosie Weston, Megan McDonald, Marta Lagownik and Agnieszka Jerzyk ahead of her and was facing a 4:34 minute gap against the fastest swimmer. On the bike, it was McDonald who took over the lead in the race solo, but in the meantime Reischmann began to make up time from her deficit. In fact, she eventually did so well that she took over the lead in the race already on the bike and started the half marathon on her own.
Although the differences between the top three never really became large, Reischmann's victory was not in danger either. In the end, she won Challenge Gdansk in a time of 4:12:58. Jerzyk finished second in 4:14:32 and Daniela Kleiser finished third in 4:14:51.