Sam Laidlow just ran to a stunning victory at the World Championship Ironman in Nice. Early on during the bike ride he made the difference already and grabbed the lead solo. Thanks to the leaden course, huge differences emerged and no one was able to get close to the Frenchman. Laidlow finished second at Kona last year, behind Gustav Iden, but during the marathon today he didn't crack anywhere and successfully defended his lead of over five minutes. This was the first World Championship Ironman to take place in Nice in stead of Kona.
From start to finish, Triathlon Today published a live ticker, with updates and backgrounds. This live ticker can be found below. Read it from bottom to top so that you are fully informed of everything that happened during the race.
–Live Ticker–
8:48:42 – The end of an era. Jan Frodeno, who used the marathon to encourage everyone as he realized he was no longer up to a top ranking himself, crossed the finish line of his last pro race. He finished 24th.
Top ten World Championship Ironman Nice:
Sam Laidlow 8:06:22
Patrick Lange +3:55
Magnus Ditlev +5:21
Rudy von Berg +6:34
Leon Chevalier +8:44
Arthur Horseau +12:13
Bradley Weiss +14:31
Gregory Barnaby +14:53
Robert Wilkowiecki +15:00
Clement Mignon +17:48
8:11:43 – Magnus Ditlev takes the bronze.
8:10:17 – Patrick Lange takes second thanks to his more than impressive marathon.
8:06:22 – Sam Laidlow wins the race! World champion Ironman Nice! Wonderful to see as he is crying across the finish line!

7:58:00 – The final meters for Sam Laidlow! We can conclude one thing: after a wonderful race, he is the rightful world champion. What an impressive performance.
7:44:00 – Laidlow has turned for the last time and is now running the last 5 kilometers toward the finish line and world title. Lange is running fifteen seconds per kilometer faster, but his gap is still more than five minutes.
7:40:00 – Up and over it: Patrick Lange passes Ditlev at a fast pace and is now running second. The win is no longer in it for him, but it is a great achievement for sure.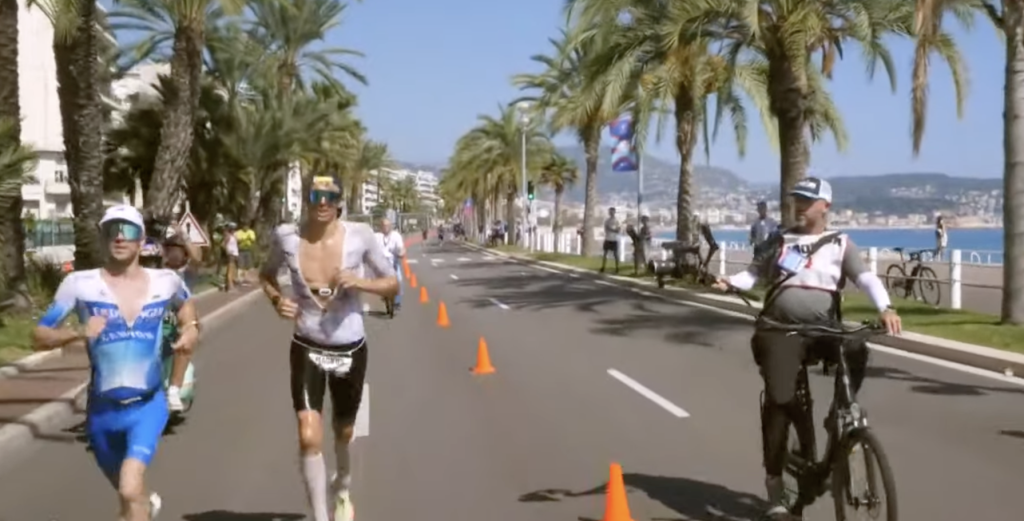 7:31:00 – No doubt Laidlow won't care what happens behind him; his lead still remains above five minutes and so he is going to crown himself World Champion very soon. And he will do so in very impressive fashion.
7:28:00 – With about ten kilometers to go, Lange is still running a minute behind Ditlev. But, he is running over fifteen seconds per kilometer faster. A simple calculation then tells us that Lange is on the right track to claim the silver.
7:20:00 – Lange passes Von Berg and so is now running in podium position. But there is still more in it for the German, as he is also slowly closing in on Ditlev.
7:14:00 – The toughest kilometers are still to come now, of course – Laidlow is running at 29 kilometers – but the win seems pretty certain at this point anyway. The Frenchman has been incredibly strong all day and is running incredibly smoothly even now. What a great race for Laidlow.
6:57:00 – Top seven halfway through marathon:
Laidlow
Ditlev +5:24
Von Berg +7:09
Lange +8:58
Chevalier +10:27
Barnaby +11:04
Mignon +12:47
6:46:00 – First half marathon goes in 1:19 for Laidlow. Impressive!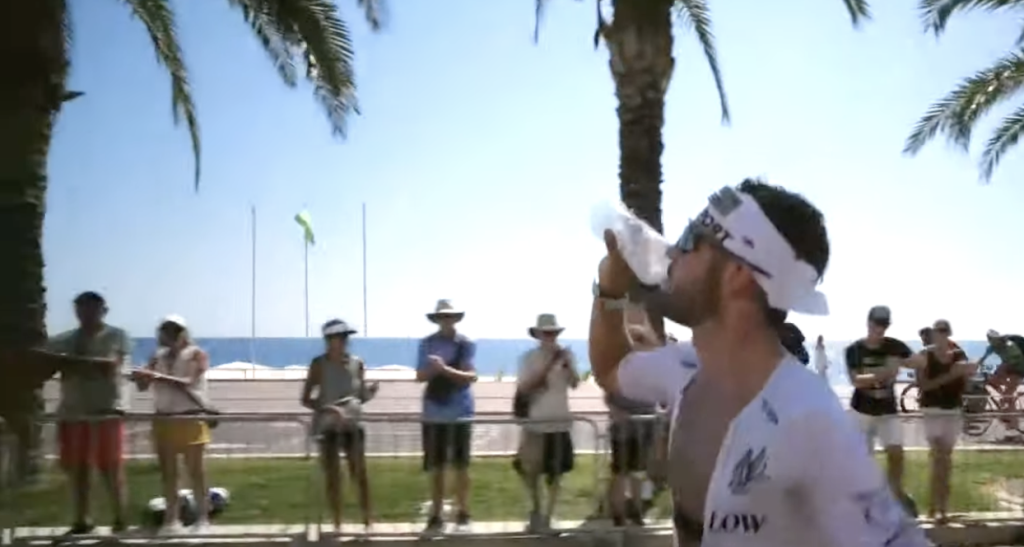 6:40:50 – Laidlow is almost at the end of the second of four running laps and thus halfway through the run. Ditlev has now snatched back half a minute on him, but Laidlow still looks strong and has a comfortable lead of more than five minutes.
6:33:00 – Patrick Lange is now steaming along nicely and is already fourth. His pace is now about twenty seconds per kilometer faster than the men ahead of him, so he could make it to the podium for sure.
6:29:00 – Frodeno does not get his dream farewell and sinks further and further away. He is now nineteenth at almost 23 minutes behind.
6:16:00 – Lange is running about ten seconds per kilometer faster than the men in front of him. So, his deficit of now 11:50 minutes most likely is too big, but from the seventh position he certainly has the possibility of overtaking quite a few more men.
6:12:30 – Ditlev is running all but one second the same pace as Laidlow, so he is not working off his six-minute deficit. However, he did leave Von Berg behind; the American is now 30 seconds behind Ditlev.
6:08:00 – Patrick Lange seems to be the fastest runner over the first ten kilometers, but the difference is actually minimal. At least this way Lange will not run to the win.
6:04:30 – Laidlow completed the first of four running laps and his pace is tremendous. 10.6 kilometers in less than forty minutes. He shows no signs of fatigue yet.
5:52:00 – In any case, the marathon is going to be a tough one, as the temperature has now reached 33 degrees. The run course has virtually no shade, so nutrition plays an extra large role today.
5:49:00 – The first five kilometers of the marathon are done and Laidlow's lead over Ditlev and Von Berg remains about the same. Meanwhile, Von Berg has accelerated to stay with Ditlev and, for now, he succeeds.
5:44:00 – Ditlev does not continue to run at Von Berg, but passes him immediately. Ditlev looks to open the hunt for leader Laidlow and is now running at least second.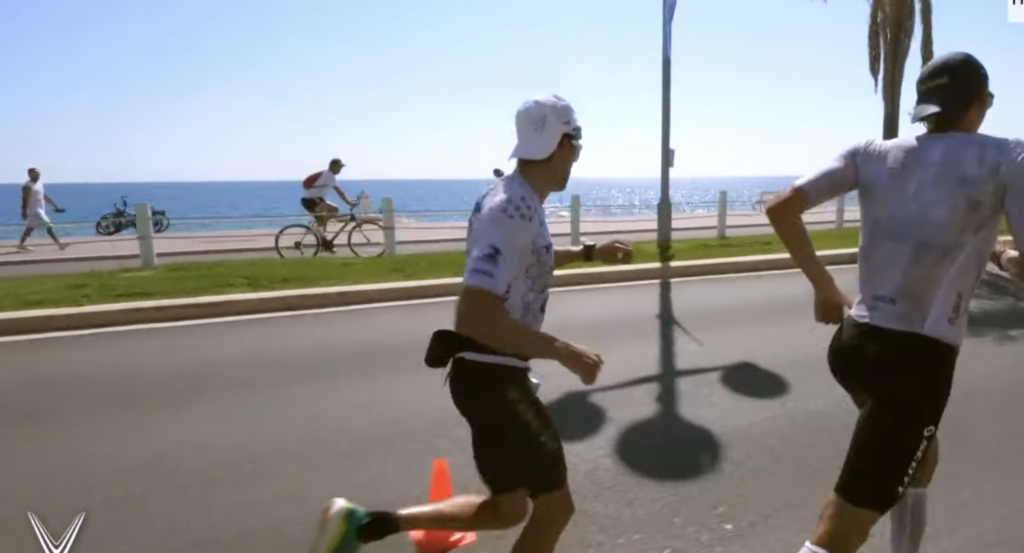 5:43:00 – Ditlev caught up with Von Berg in the first few kilometers of the marathon and now joins the American in the battle for silver and bronze.
5:41:00 – Frodeno himself has figured out that he is not going to get a podium or have a good day at all. As he leaves T2, he quietly takes the time to pause and give hugs to family. It's a remarkable scene.
5:37:00 – There were some shifts in the final miles on the bike. The top fourteen starting the marathon:
Laidlow
Von Berg +5:16
Ditlev +5:53
Wurf +7:17
Chevalier +11:05
Mignon +11:10
Lange +12:29
Barnaby +12:31
Wilkowiecki +12:35
Weiss +12:37
Frodeno +13:02
Heldoorn +13:10
Guilloux +13:22
Currie +14:22
5:29:00 – The run course is four times "back and forth" along the Nice coast line. So, all the athletes are constantly running into each other, which also makes for an interesting dynamic when they can look each other in the eye.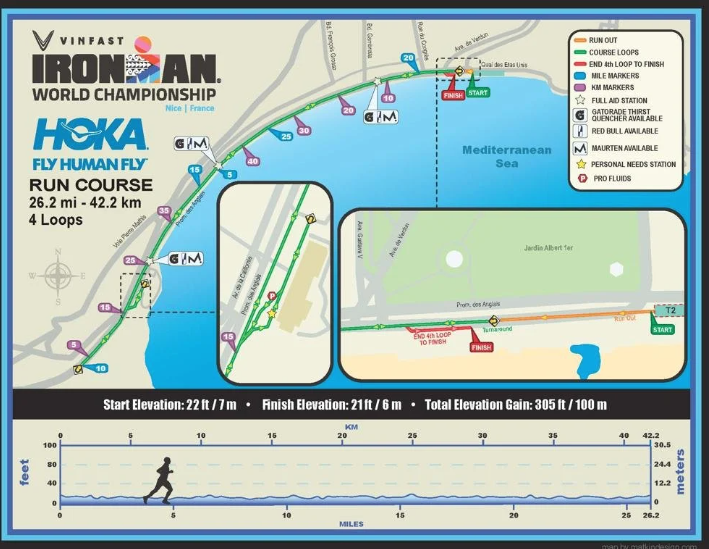 5:27:00 – Von Berg returns second in T2, trailing by 5:16 minutes. Shortly behind, Ditlev follows in third, at 5:53 minutes.
5:24:00 – Solid transition for the Frenchman. Everything went smoothly and he has now started the closing marathon.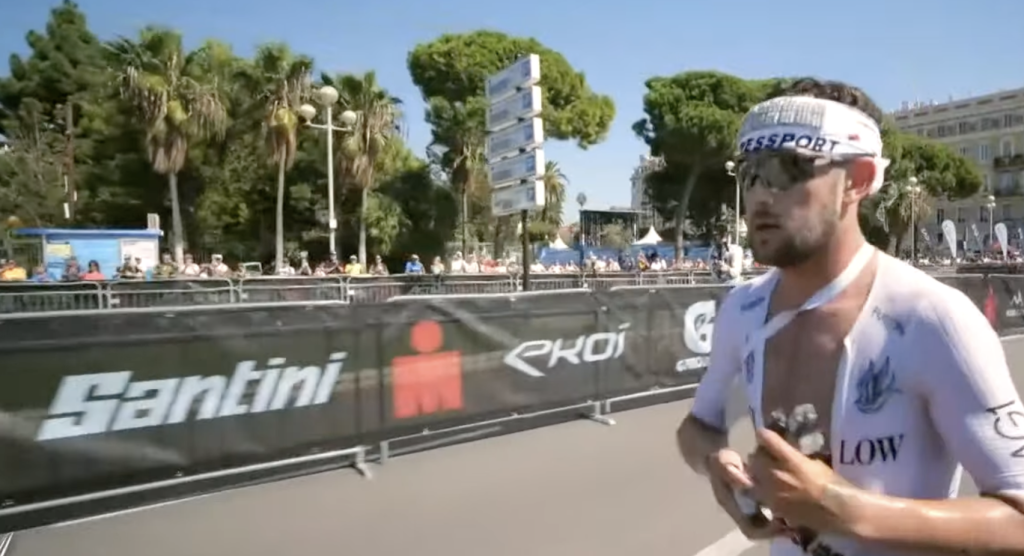 5:22:00 – Sam Laidlow enters T2. He recorded a 4:31:28 bike time.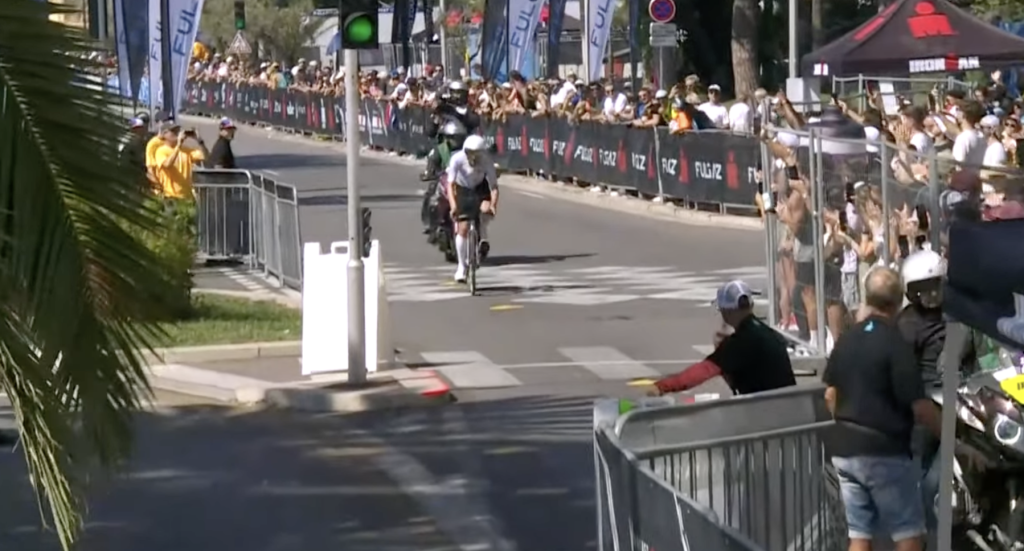 5:12:00 – In the closing stages of the bike, with less than ten kilometers to go, Von Berg rides away from Ditlev as well. The top American athlete is looking forward to it!
5:07:00 – Cameron Wurf may not manage to drive toward Laidlow; however, he has climbed to fourth position. During the run, he does have more than six minutes to win if he wants to go for the win.
4:59:00 – Twenty kilometers left to bike for Laidlow and these kilometers are mostly downhill. For the Frenchman, it will be hoped that he has not used too much energy and that he can still squeeze out a strong marathon.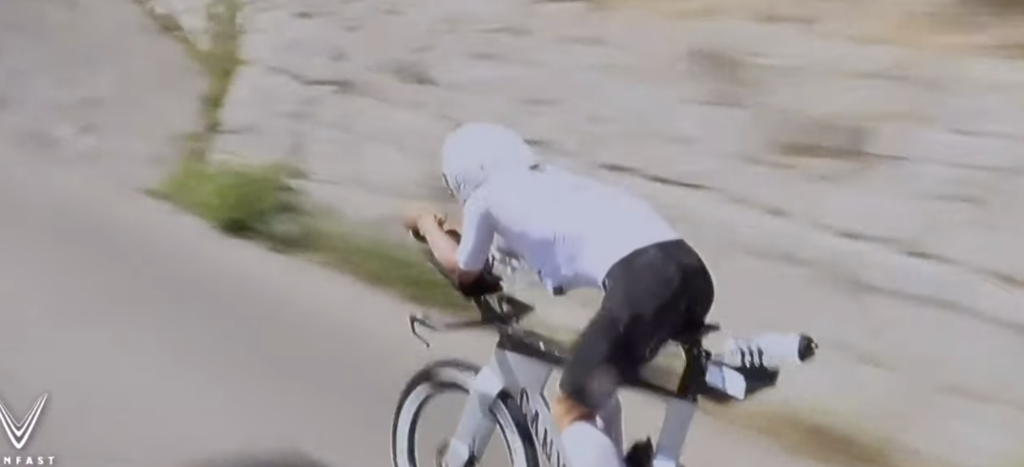 4:50:00 – There is a lot of speculation about Patrick Lange. He is now about ten minutes behind, but has a personal best at the marathon that is about fifteen minuter faster than the men ahead of him. So, anything is possible.
4:44:00 – Pieter Heemeryck also drops further back. Unfortunately for the Belgian, he is 29th, almost 22 minutes behind. Too bad, because his race started so well and he was one of the favorites for victory.
4:42:00 – Because of the course in Nice, which is totally different from Kona, the dynamics within this Ironman World Championship are totally different than usual. You can like that or not, but for sure the differences between the athletes are huge. There is already over forty minutes between the first and last pro athlete.
4:32:00 – Still at a suitable distance, German Patrick Lange meanwhile rides into the top ten. That does happen about ten minutes behind Laidlow.
4:25:00 – Laidlow continues to build his lead. He already has almost five minutes on Von Berg and Ditlev, while Wurf and Mignon follow at about 6:30 minutes. Are we going to witness something spectacular here?
4:18:00 – 130 kilometers done for Laidlow and so 50 to go. For now, he is not slacking anywhere and is well on his way to starting the marathon with a comfortable lead.
4:14:00 – Perhaps the biggest surprise of the moment is Von Berg. The American lies third and consistently stays close to Ditlev. Few athletes are capable of that.
4:08:00 – We watch Sam Laidlow on the back, but are the only ones. The leader is riding so fast that no one can stay close. Even the men who were expected to dominate on the bike – like Ditlev and Wurf, for example – aren't getting there for now.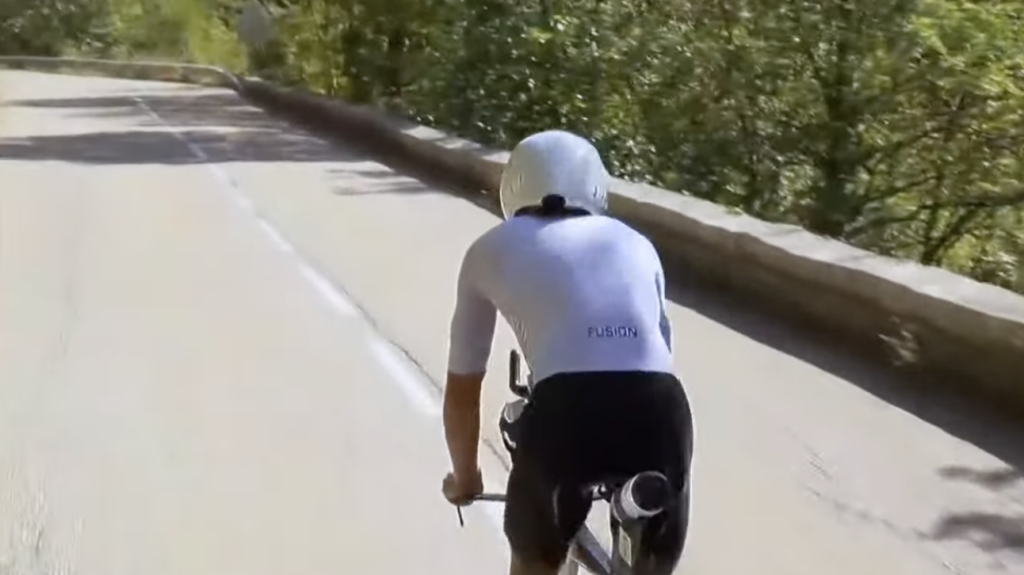 3:57:00 – The differences are now rapidly widening. Laidlow leads by more than four minutes, while Mignon has dropped to the duo of Ditlev and Von Berg.
3:48:00 – The temperature is now rising to about 28 degrees and combined with high humidity, conditions are tough.
3:41:00 – world champion Gustav Iden, who is not competing and has briefly joined the livestream for a moment, warns about the final descent. According to the Norwegian, you have to have enough energy left there to be sharp. According to him, you can make up time there, but above all you can lose a lot.
3:39:00 – Frodeno really isn't having it today: that much is now clear. He has just been overtaken by compatriot Patrick Lange, is now fifteenth and is almost ten minutes behind.
3:33:00 – Even Cameron Wurf, who was riding the fastest pace just a moment ago, is now losing time again on Laidlow. It really says something about the cycling level of the French leader. Almost 100 kilometers into the bike course right now.
3:28:00 – Maybe the technical descents don't suit Laidlow, but he is going fast for sure. His lead over Mignon is already two minutes and Ditlev, third and together with Von Berg, follows at almost four minutes. Laidlow is really blazing.
3:19:00 – Technical descents are apparently nothing to leader Laidlow. This one only just went well.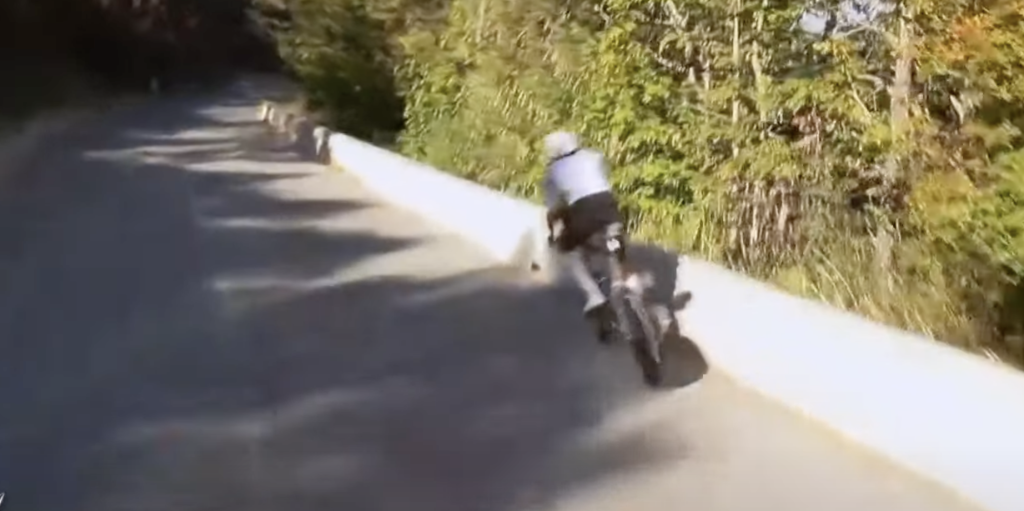 3:14:00 – Weiss, meanwhile, is in the penalty tent and is particularly emotional there. With his hands in front of his face, everything is coming out.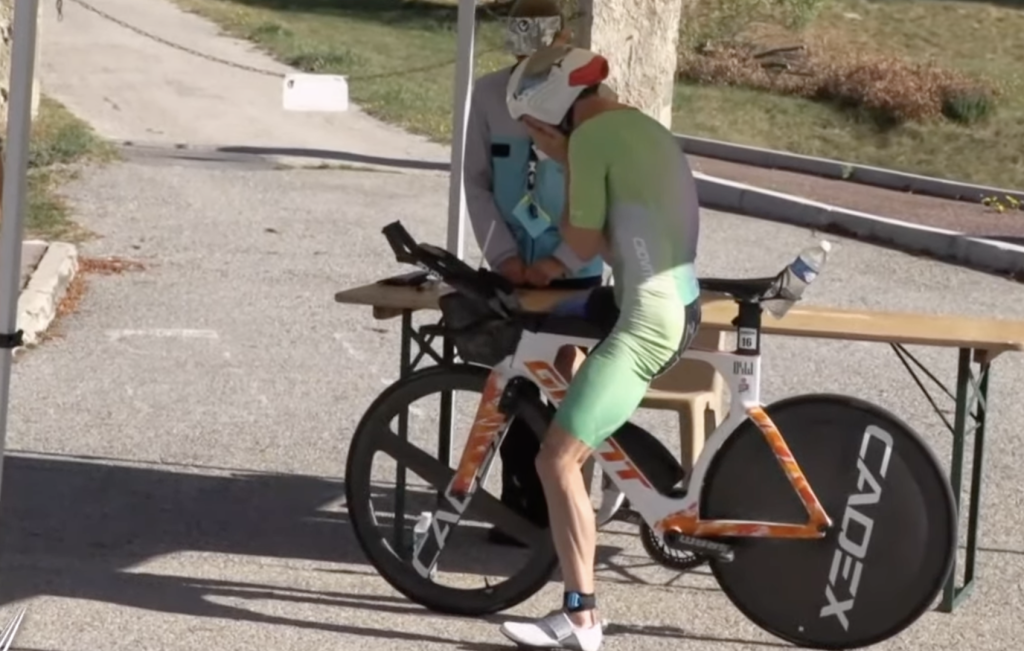 3:12:00 – Laidlow has now really made the move to go off on his own. For now, he is handling the pressure and his role as race favorite just fine.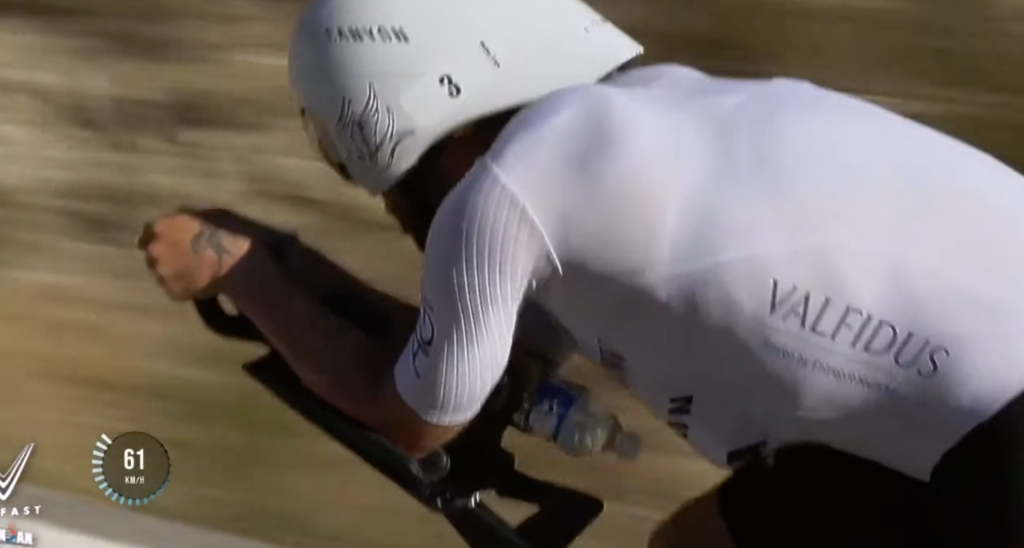 3:09:00 – Weiss, still in third position, will thus lose both his position and time, as he needs to enter the penalty tent for a time penalty for drafting.
2:59:00 – For Frodeno, racing his way to a podium finish seems to be a very difficult task, as he is losing more and more time; he is now more than seven minutes behind.
2:54:00 – Wurf is currently seventh and 3:41 minutes behind, but over the last segment of nearly 15 kilometers, he did record the fastest time. Perhaps the Australian will move further forward.
2:51:00 – Mignon and Laidlow are not seeing their lead grow for the moment, but certainly not getting smaller either. Weiss, Ditlev, Von Berg and Currie follow at 2:30 minutes. In that respect, the leaders are doing exactly what they need to do: consolidate their lead at a minimum.
2:49:00 – The two leaders now seem to be driving each other a little crazy. Laidlow, in turn, is now passing Mignon once again. At the very least, it makes for an interesting dynamic.
2:45:00 – That was short-lived, as Mignon rode back to Laidlow on a descent. In fact; he immediately passed him as well and so Mignon now leads the race again.
2:41:00 – After spending about sixty kilometers together, Sam Laidlow is now riding away from Clement Mignon and so we have one leader left.
2:33:00 – That Frodeno is mentally strong, we know. But can he deal with the fact that his deficit is getting bigger and bigger and that he could not keep up with the men in front of him?
2:30:00 – Behind the chasing group with Ditlev, follows another group with Barnaby, Wurf, Heemeryck and Marquardt.
2:28:00 – Up front, the race is still led by Mignon and Laidlow and they are only seeing their lead grow. Ditlev has advanced to third place, but is still riding 2:31 minutes behind. Ditlev is currently surrounded by Von Berg, Weis and Currie.
2:25:00 – Jan Frodeno in trouble. The German sinks into the field, now lying 12th and trailing by 4:40 minutes.
2:19:00 – There are quite a few bumps in the bike course, so we've already seen many pro athletes lose their bottles. That could well play a role in the closing stages of the race.
2:16:00 – While the race is just over two hours old, the pro field is already nearly 15 minutes apart. Big differences that will only get bigger.
2:09:00 – Jan Frodeno in the days leading up to the race: 'I hope I don't lose myself in the emotions of my last race. I have to stick to my own plan.'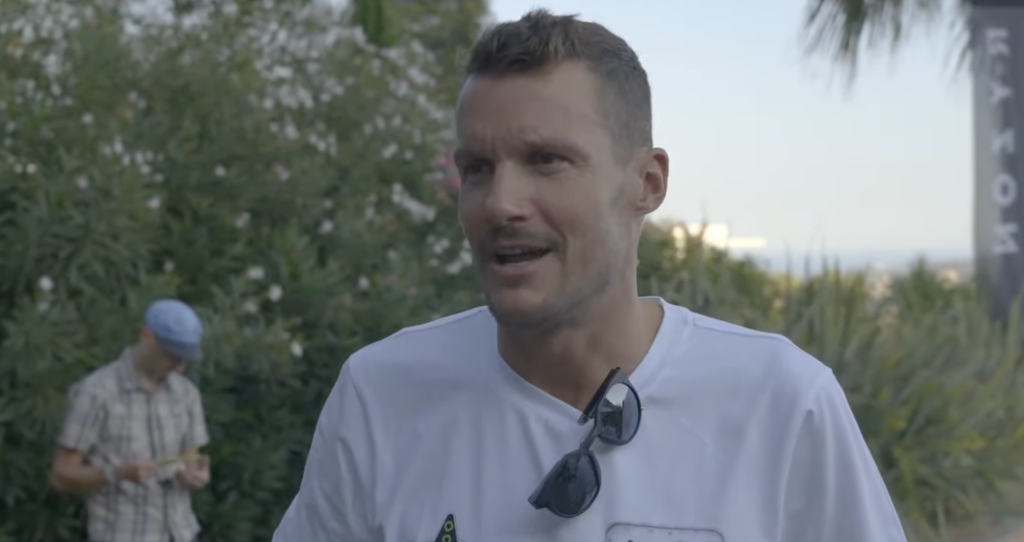 2:06:00 – Steep climb? Doesn't matter to Rudy von Berg: he just stays in his aerobars.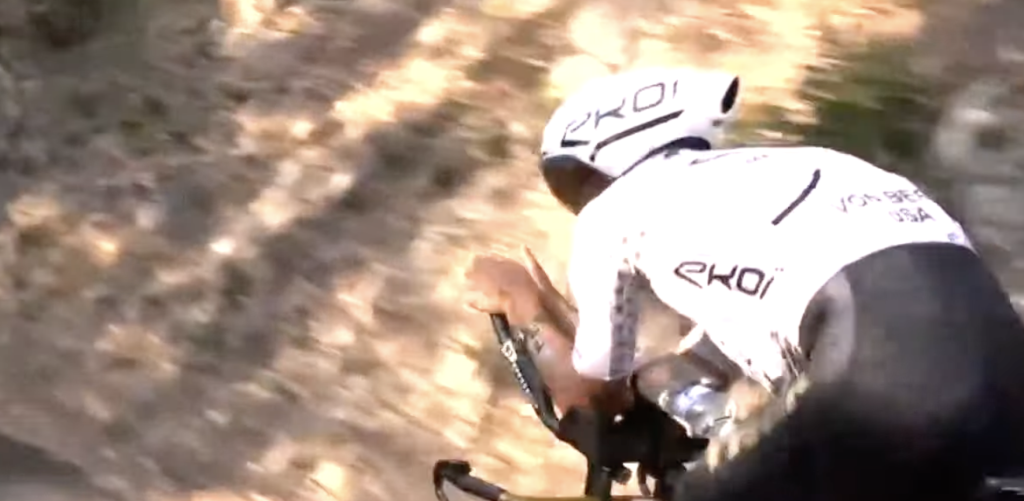 1:57:00 – Mignon (front) and Laidlow (back) together on the decent climb.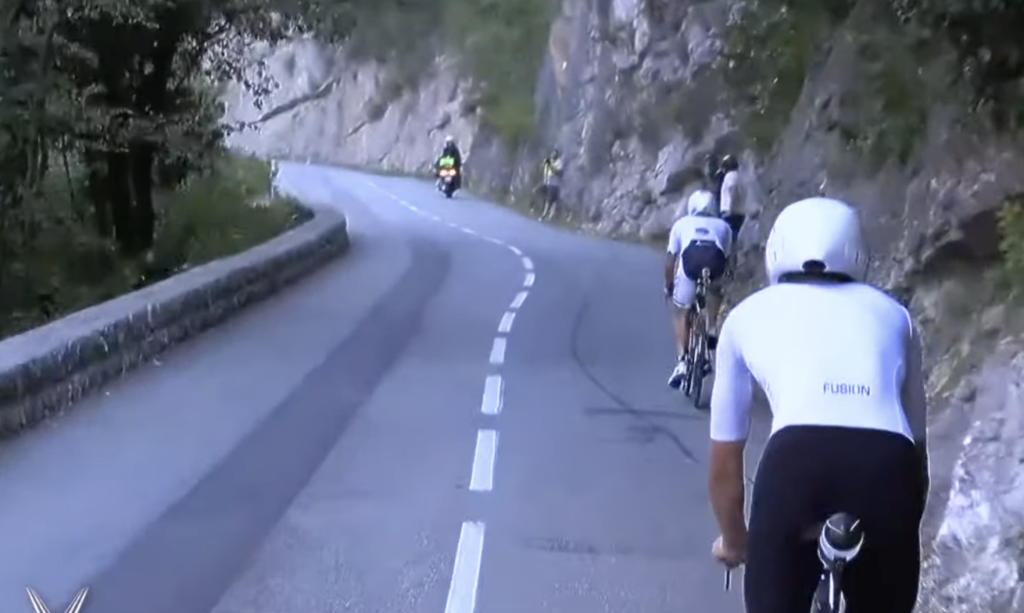 1:55:00 – Ditlev is now on his own adventure. He has dropped the men who were riding with him – including Heemeryck – and is now tenth. His gap is 2:35 minutes but so he is riding toward the group with Frodeno.
1:53:00 – The group with Von Berg, Weiss, Currie, Barnaby, Frodeno, Marquardt and also Heldoorn now follows just under two minutes behind.
1:51:00 – Surely we can already start reckoning with 'a brutal day'. The differences between the men are increasing considerably and the longest climb is about to begin. Mignon and Laidlow are still riding together and leading the race.
1:44:00 – At this point, there is mostly climbing. The second half of the bike leg is characterized more by descents, although according to many participants who have explored the course, there is virtually no time to keep the legs still.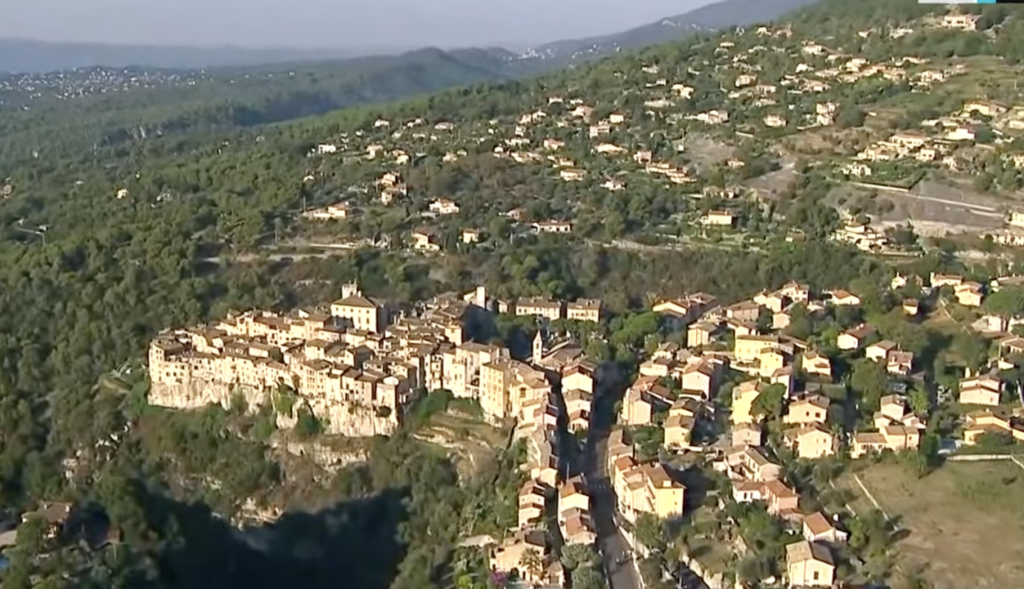 1:41:00 – Joe Skipper seems to be having a huge off-day. The Brit lies 37th (out of 39) and is seeing his deficit grow by minutes. Already nearly ten minutes behind for Skipper.
1:39:00 – At 3:40 minutes behind, Patrick Lange and Cameron Wurf found each other. Can they still get to the front? At least the race is long enough for it.
1:36:00 – Another minute behind them are Heemeryck and Ditlev – so more than 2:30 minutes from the leaders – which is somewhat surprising. For now they are not making up time, but rather losing time. Especially in the case of Ditlev, this is surprising.
1:34:00 Behind Mignon, Laidlow and Currie followed by Weiss, Barnaby, Von Berg, Frodeno, Marquardt and Heldoorn at 1:39 minute.
1:33:00 – The first serious assessment can be made. After 27 kilometers, Mignon and Laidlow are really loose from the rest of the field. Their lead over Braden Currie is 1:05 minute, so the French are really dominating so far.
1:25:00 – Frodeno did not have the hoped-for start to the race. After his bad transition, he did not find a connection with the men in front, so he is now in pursuit. But he is already about two minutes behind.
1:22:00 – At least Laidlow and Mignon are on a mission. They are loose from their pursuers. Exact differences are almost coming through, but at least they are trying to hurt their competitors early in the race.
1:17:00 – Are the French going to work together? Laidlow takes over from Mignon and at that point they talk to each other for a moment. Weiss is currently lying third.
1:14:00 – Mignon is pushing pretty hard and that will soon lead to differences on this course.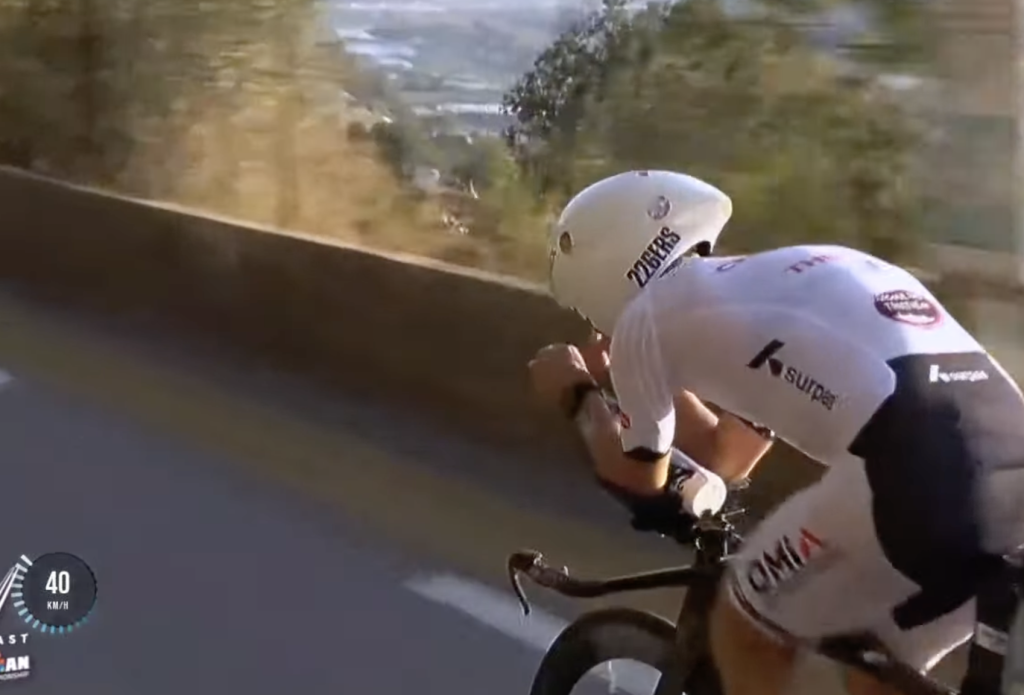 1:11:00 – The French are having a blast at home: Clement Mignon now leads the leading group and is being chased by compatriot Sam Laidlow. Clearly showing how tough this bike course is. In and out of the aerobars.
1:05:00 – Meanwhile, Frodeno just experienced a poor transition, so he is now riding at the back of the leading group and had some time to make up. Unfortunately some lost energy for him.
1:00:30 – The first 10 kilometers of the bike course are about the only flat kilometers.
58:00 – Today's bike course. Most of the climbing will be done in the opening stage.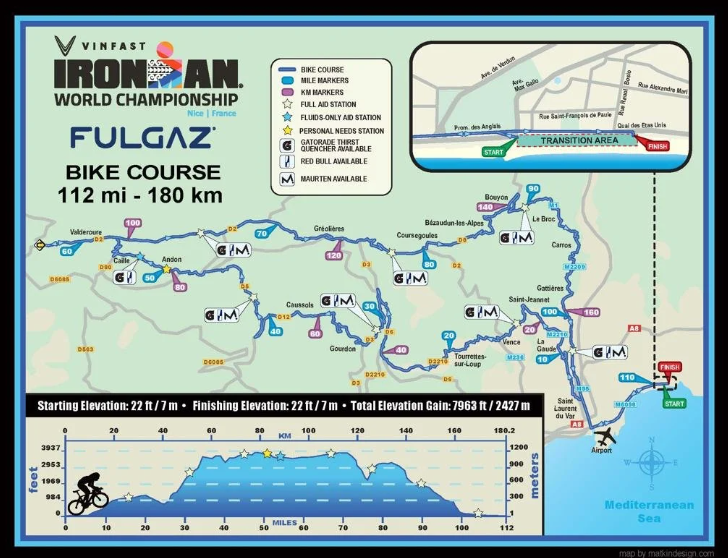 55:00 – Joe Skipper in particular will be disappointed after the swim. The Briton's deficit is significant.
54:00 – Some of the favorites following at a distance are Patrick Lange (+1:15), Pieter Heemeryck (+1:24), Magnus Ditlev (+1:28), Cameron Wurf (+3:21) and Joe Skipper (+5:33)
52:00 – The leading group currently consists of twelve men. In addition to Marquardt, Currie, Frodeno, Wilkowiecki, Laidlow, Von Berg, Barnaby, Chevrot, Heldoorn and Petersen, Weiss and Mignon are at the front. The chasing group entered T1 1:15 minutes later.
50:00 – The top ten after the swim consists of Marquardt, Currie, Frodeno, Wilkowiecki, Laidlow, Von Berg, Barnaby, Chevrot, Heldoorn and Petersen.
47:45 – In the final meters, American Matthew Marquardt passed both men to come out of the water first. Then immediately followed Currie and Frodeno.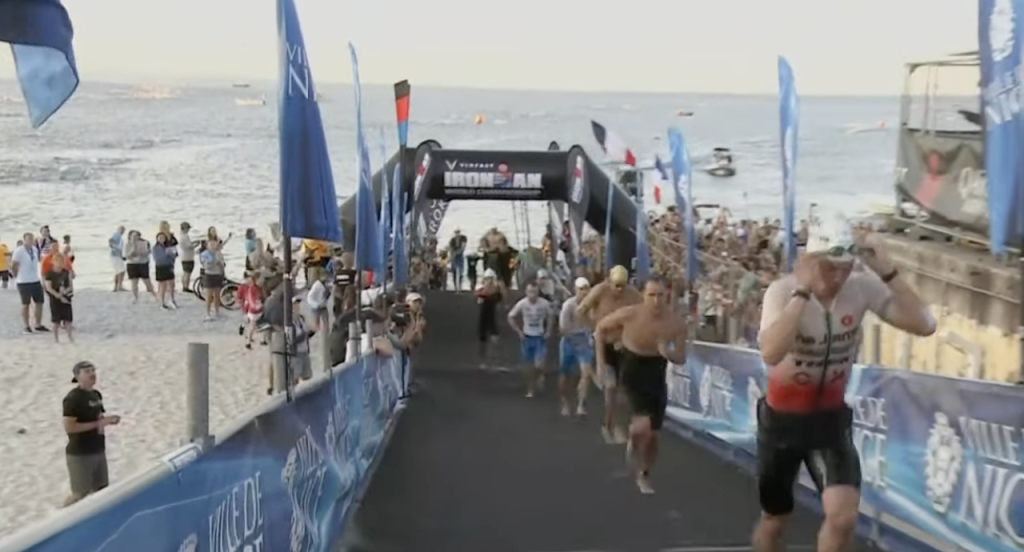 42:00 – Braden Currie will not let Frodeno take over easily and continues to swim side by side with the German.
39:00 – The wind may yet play an interesting role during the bike. Apart from the altimeters, the wind can be decisive.
38:00 – As the wind increases considerably, Frodeno makes a move. He takes over the lead in the swim section. Full speed towards T2.
37:00 – One of the strongest cyclists within the field, now losing connection during the swim: Cameron Wurf will have to start making up time once he gets on the bike.
34:00 – Meanwhile, the last buoy is already rounded and it's just under a kilometer back to the beach and thus T2.
27:00 – Laidlow pushing as hard as possible and the lead over the chasing group increases slightly.
23:15 – After just over 23 minutes, the first leading group has already completed the first of two loops. It's going fast for sure.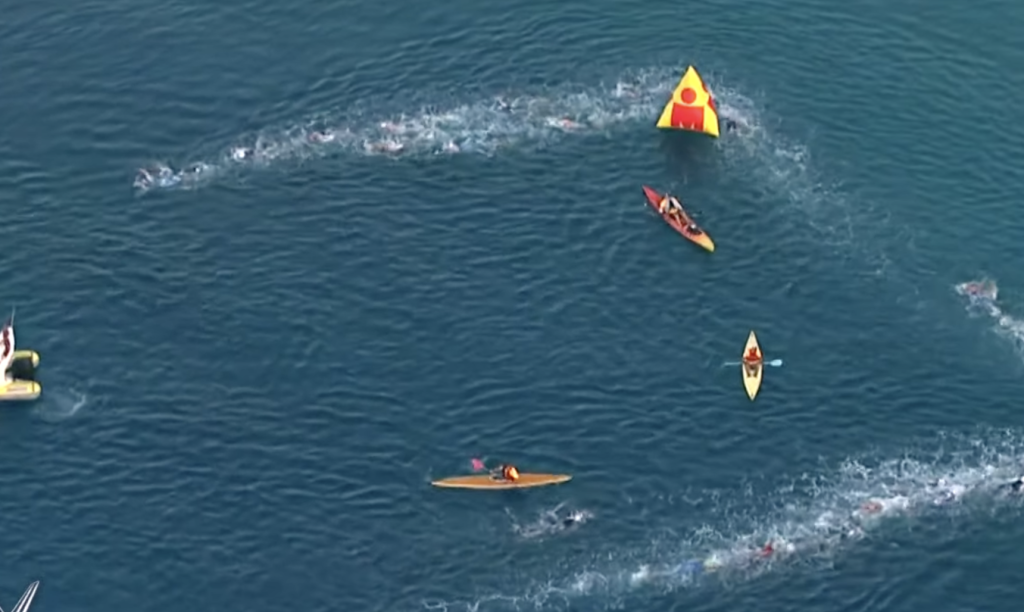 22:00 – One of the other favorites, Pieter Heemeryck, is also hanging on in the lead group. The Belgian is having a great season, recently finishing second at the PTO Asian Open, and could well rush to a podium finish or even a win today.
19:00 – Just last month Laidlow won Challenge London, where he already showed his strong shape.
17:00 – There is now clearly a (large) leading group forming and behind it an equally large chasing group. Still Sam Laidlow in the lead; the young Frenchman finished second at last year's Ironman World Championships on Kona and is one of the biggest favorites for today.
13:00 – Bizarre fact: after the incident in which Lionel Sanders was disqualified at the Ironman 70.3 World Championships, for crossing an imaginary line, Ironman has adopted this rule in its regulations. Thus, it is regulation prohibited to cross an "imaginary line" during the bike. This means that from now on, athletes will take extra care when overtaking competitors, but also that judging them becomes quite arbitrary.
11:00 – In addition to Laidlow and Currie, Gregory Barnaby and Jan Frodeno, among others, are well in front. The first 900 meters are done already.
10:00 – It is now Sam Laidlow who takes over the lead and has overtaken Braden Currie.
8:30 – By now it is clear that the water is not completely flat. Good news for the strongest swimmers, but less pleasant for the athletes who don't have to rely on their swimming part.
7:00 – Jan Frodeno is maintaining a fine position in the first group for now. This is no surprise: the German always swims well and is therefore always in a good position.
4:00 – The field is completely pulled apart by Brade Currie, who is leading. The pace is evidently high because the groups are falling apart.
2:00 – A really fast finish time is not to be expected today. The course in Nice does not seem to lend itself for that. A time somewhere around eight hours is expected.
1:00 – Already in the first minute you can see differences emerging. Interesting to see: two groups are forming side by side. These will undoubtedly pull towards each other.
0:00 – We're off!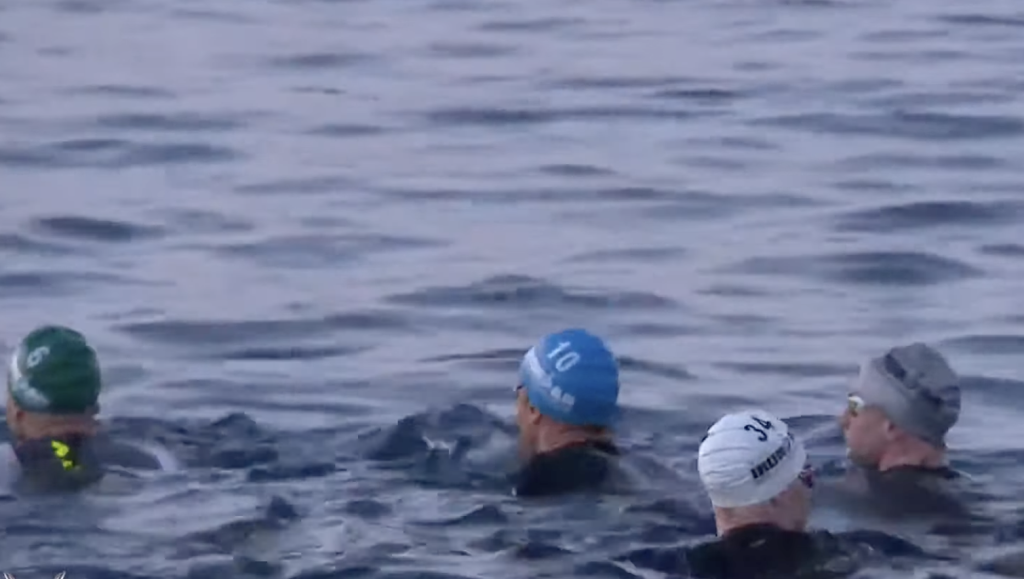 -2:00 – The French national anthem is played and then it really starts.
-4:00 – With four minutes to go until the start, you can see the excitement on the faces of the pro athletes.
-5:00 – Who are the biggest favorites today? It's hard to say. Magnus Ditlev of course, Patrick Lange, Sam Laidlow and Joe Skipper are at least on that list. And Jan Frodeno logically as well.
-10:00 – Some of the pro athletes racing today: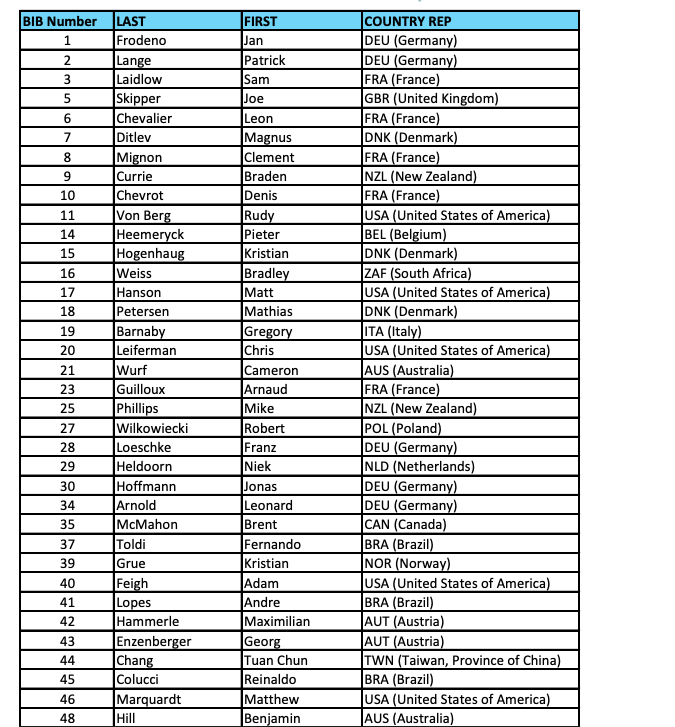 -11:00 – As for Frodeno's farewell, something special is in the air. His colleagues are full of praise for him and actually think he deserves a victory as a farewell. But, of course they are trying to do everything they can to prevent that from happening.
-14:00 – Jan Frodeno is ready for the start. Excitement on his face, but he also looks relaxed.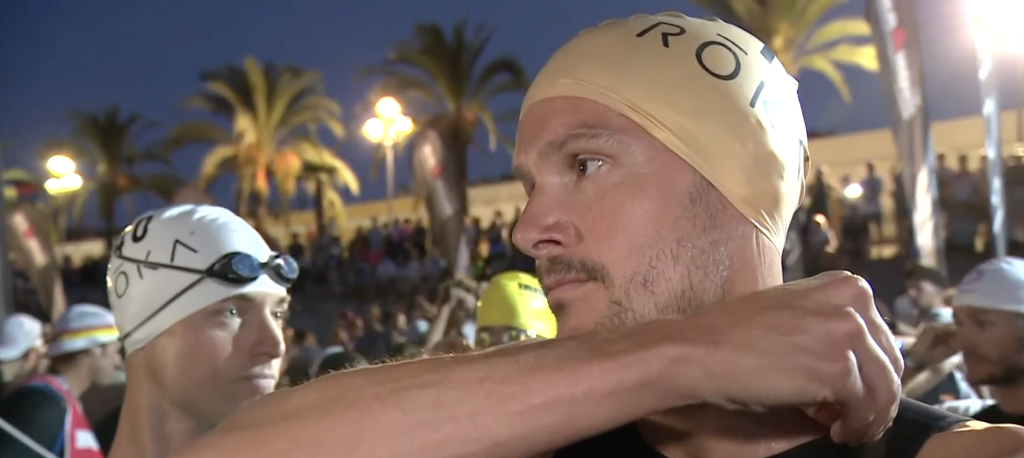 -17:00 – The sun is slowly but surely rising in Nice. That can only mean one thing: it's about to start!
-19:00 – Today's swim course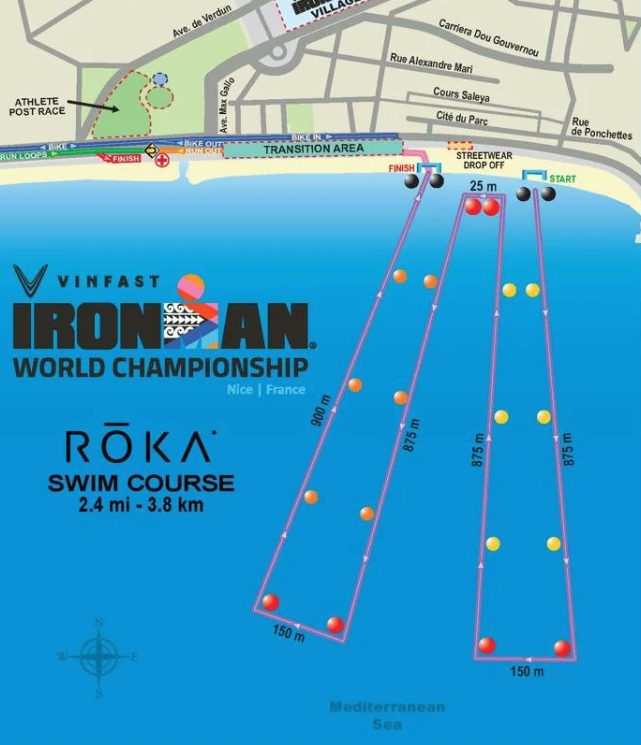 -25:00 – It promises to be a hot and sunny day in Nice. High temperatures can have an impact on the developments within the race.
-35:00 – The water temperature in Nice is 24.8 degrees. That means a non-wetsuit swim for both pro athletes and Age Groupers.