Few may have taken it into account – at least not this soon – but Ironman appears to be directly attacking PTO and Challenge Family, among others, with a new Ironman Pro Series including a total prize pool of a whopping $1.7 million. This Ironman Pro Series is designed for pro athletes, involves eighteen races and offers more prize money than the PTO World Ranking and Challenge Family World Bonus combined.
In total, athletes at Ironman can earn points at eighteen races: both 140.6s and 70.3s. A total of the following races are involved:
Text continues below picture: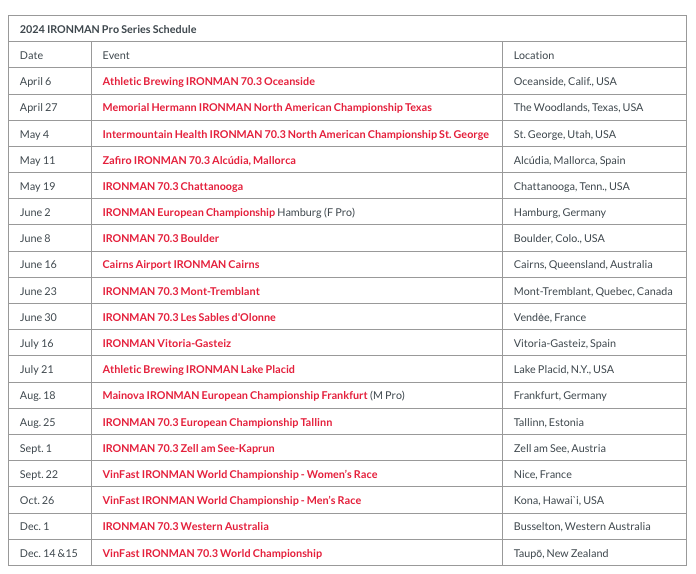 Per race, athletes can earn five thousand points (for a full Ironman) or 2,500 points (for a 70.3). For the World Championships, this is offset by 6,000 points for Nice/Kona and 3,000 points for Taupo. At each race, the winning time is used as the benchmark: all athletes who finish behind the winner receive an amount of points based on how far behind the winner they finish. Every second of time lost equals one point lost. For all professional athletes, only the five best race results of the season count.
At the end of the season, Ironman pays out a prize pool totaling $1.7 million. The winner of the Ironman Pro Series gets $200,000, the second athlete $130,000 and the third athlete $85,000. A total of 50 athletes will be paid out deep.
Text continues below picture: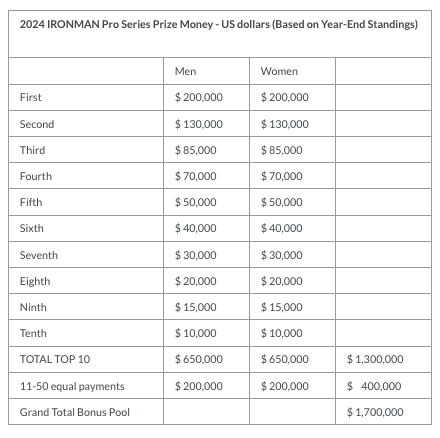 Online, the news has been met with mixed reactions. Many athletes seem concerned that Ironman will only further increase its entry fees to afford this prize money.