While so many were focused on Challenge Miami last weekend, it was easy to miss the draft-legal racing that was going on on Florida's opposite coast in Sarasota-Bradenton. After finishing second a week earlier at the Clermont Draft-Legal Challenge, Kevin McDowell and Gina Sereno each moved up a spot at the second draft-legal race in the two-weekend Florida swing. Usually part of World Triathlon's America's Cup series, the race didn't have that designation this year due to the COVID-19 pandemic. Despite that a number of Olympic hopefuls were on hand to get some racing in before Olympic qualifying restarts in May. The weekend's racing included the elite races along with youth, junior, age-group draft legal and elite paratriathlon races.
The men's elite sprint race saw American Darr Smith lead the way out of the water after the 750 m swim with McDowell a couple of seconds behind, but a big group stayed close together out of the water and throughout the 20 km bike. That meant the race turned into a 5 km footrace, which was dominated by McDowell's 14:53 split. That put the American (49:15) almost 20 seconds ahead of Canada's Matthew Sharpe (49:34) and American Austin Hindman (49:35).
The women's race wasn't as close out of the water as Brazil's Vittoria Lopes led the way to T1, with Sereno in 16th place, 25 seconds back. Like the men's race, though, a big group formed on the bike, leading to a busy second transition. Sereno's 16:40 run split made her the only woman to break 17 minutes for the 5 km run and got her to the line in 55:49, 12-seconds up on France's Sandra Dodet. Last weekend's winner in Clermont, Iceland's Edda Hannesdottir, rounded out the podium in 56:11.
Text continues below picture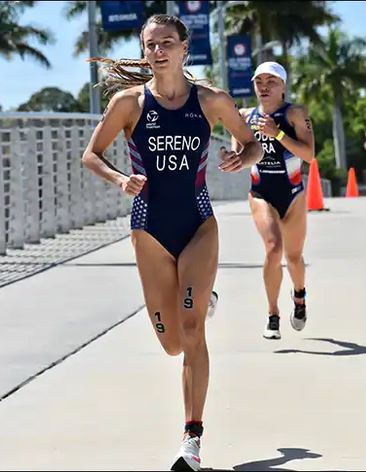 Above: Gina Sereno. Photo: USA Triathlon
Elite Men — Complete Results
1. Kevin McDowell (Geneva, Ill.), 49:15
2. Matthew Sharpe (CAN), 49:34
3. Austin Hindman (Wildwood, Mo.), 49:35

Elite Women — Complete Results
1. Gina Sereno (Madison, Wis.), 55:49
2. Sandra Dodet (FRA), 56:01
3. Edda Hannesdottir (ISL), 56:11