The Professional Triathletes Organisation put up a prize purse for today's South African National Championship, a welcome move for the pros living in the country who haven't been able to travel due to the coronavirus COVID-19 pandemic. There was no shortage of big name pros on hand to chase a piece of the prize purse, with Olympic bronze medalist Henri Schoeman highlighting the men's field, while 2017 Ironman 70.3 World Championship silver medalist Emma Pallant was the big favorite in the women's race. Both came through in style to take the wins, although things were a bit tighter for Schoeman than Pallant.
Schoeman sets the stage in the swim
Routinely one of the fastest swimmers at any event he enters, it was hardly a surprise to see the Olympic bronze medalist lead the way out of the water (18:02) after the 1,500 m swim. He had some company, though, in the form of U23 standout Jamie Riddle, who was just a second behind, and elite racer Nicholas Quenet, who was another 12-seconds back heading into T2. That left Xterra world champ Bradely Weiss (20:37) and full-distance champ Matt Trautman (21:40) well out of contention as the three leaders took off on the bike.
They would stay ahead through the 40 km ride, despite Trautman making up about a minute thanks to the day's fastest ride (55:19), setting the stage for a three-man running race for the South African championship. Schoeman easily dominated that competition, posting a 32:50 split for the 10 km run, the day's fastest split, to take the race in 1:48:45.
Text continues below picture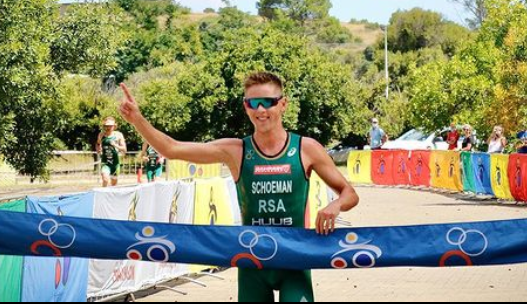 Riddle hung on for second, coming across the line 35 seconds later, while Quenet rounded out the podium in 1:50:54. Trautman took fourth in 1:52:14, while Weiss was fifth in 1:53:58,
Pallant surges clear on the bike and run
It was Shanae Williams who led the way out of the water thanks to a 21:01 swim split, but Pallant (22:26) was quick to move to the front of the race on the bike thanks to the day's fastest bike split (1:00:47). She followed that up with the day's fastest run (36:25) to easily take the women's race by almost eight minutes (2:01:06).
It was Williams who would eventually take second (2:08:46), but she had to use the day's second-fastest run split (40:16) to stay there. Annah Watkinson had the day's second-fastest bike (1:02:46) to enter T2 ready to make it a footrace for second, but couldn't hang on during the run and would eventually finish third in 2:10:26. Natia Van Heerden (2:11:27) and Magda Nieuwoudt (2:12:14) rounded out the top five.