What a day for Kristian Blummenfelt! The Norwegian athlete can add the most beautiful and important win to his palmares: an Olympic gold medal. He had to work hard for it, but on the run he pulled it off and managed to leave behind strong running Alex Yee. The Brit claimed the silver medal, eleven seconds after Blummenfelt. With New Zealand's Hayden Wilde (+0:20) the podium was complete.
It was a bad start to the day for the 51 men – after approximately 200 meters about half the field who had taken off early were brought back to the start pontoon. Five minutes later than planned the race officially kicked off. It was Chile's Diego Moya who managed to quickly find his way to the lead in the water, but unlike most races there was a big and broad group, instead of a long line. This definitely created a small advantage for the weaker swimmers, who enjoyed more of a draft. After the "Australian Exit," that changed slightly. It was France's Vincent Luis who dove back into the water in first place. Moya followed in second, then Russia's Dmitry Polyanskiy, and in fourth place was South Africa's Henri Schoeman. The line of athletes got thinner over the final meters.
Groups created on the bike
After about nineteen minutes of swimming, Luis was the first men to reach his bike. He made it clear that he didn't feel like riding with a big back. After a quick transition, four men found his wheel and joined the front pack. Soon, six more men moved forward, melting into Luis' group and creating a ten-man-strong lead group. After one of eight laps, one of the men was dropped. The following nine men continued to enjoy their advantage: Luis, Polyanskiy, Schoeman, Jonathan Brownlee (GBR), Jonas Schomburg (GER), Marten van Riel (BEL), Kenji Nener (JPN), Tyler Mislawchuck (CAN) and Taylor Reid (NZL). Some race favorites were working hard from behind to close the gap, among them Wilde, Yee, and Blummenfelt.
Text continues below picture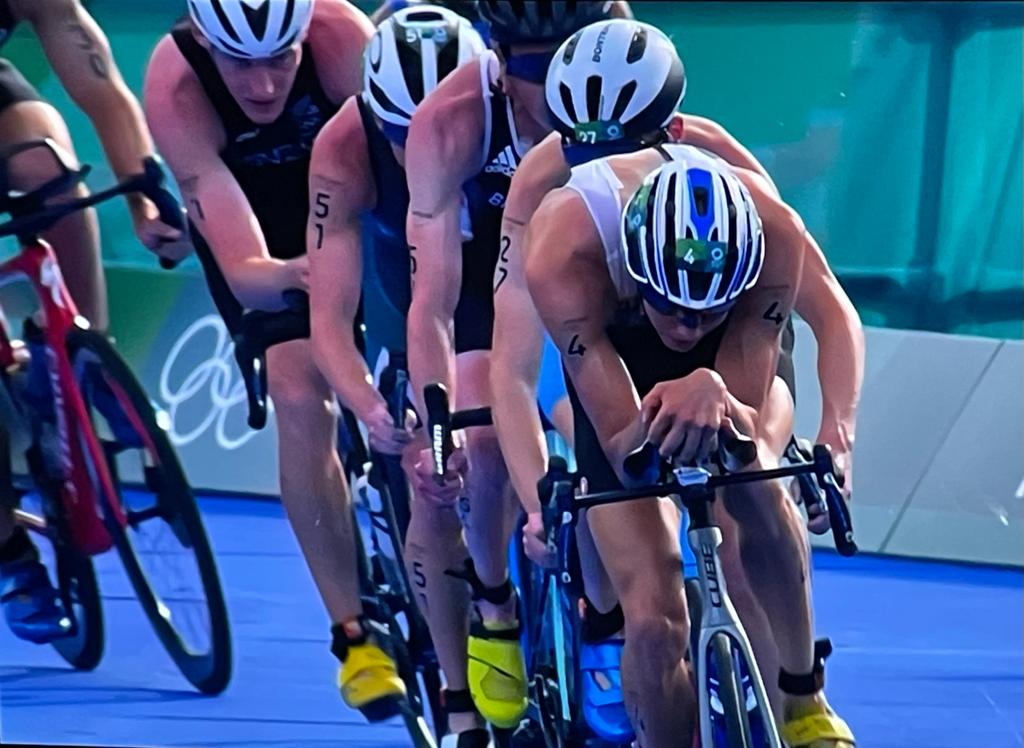 Break away by Salvisberg
About halfway through the bike leg, the chasers managed to catch up. A large group was created that included 37 athletes. Luxembourg's Stefan Zachaus took a risk and tried to break away when entering lap five. It took only a few minutes before he had to drop back into the group, though. Switzerland's Andrea Salvisberg gave it another try and escaped to create a gap of about twenty seconds within the blink of an eye. The group wasn't able collectively do the work to try and get back to the Swiss athlete, which meant Salvisberg had the honor of entering T2 in first place, enjoying a buffer of fourteen seconds. And that was a good thing as he struggled with his dismount, nearly tripping over his bike, but he quickly recovered.
After racking his bike, Salvisberg would find over 30 athletes would be breathing down his neck on the run. It didn't take long before the first men passed Salvisberg. He wasn't able to tag along and moved down in the rankings.
Text continues below picture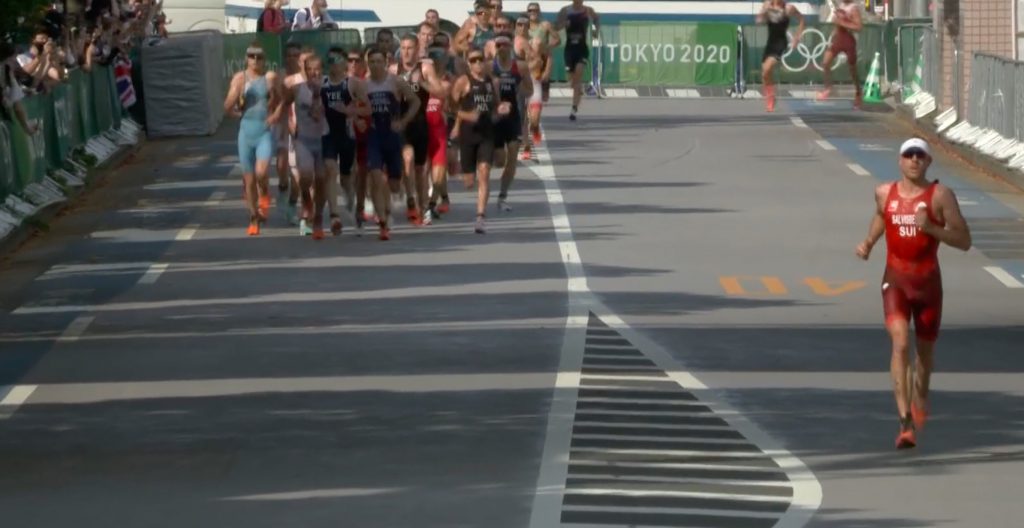 After five km of running eight men showed that they were going to be the ones fighting for the medals: Blummenfelt, Yee, Wilde, Van Riel, Brownlee, Kevin McDowell (USA), Casper Stornes (NOR) and Max Studer (SUI). While some faces clearly showed struggle, Yee and Blummenfelt appeared to be the stronger runners in this group.
With 2.5 km to go, it became clear who was going to take home a medal: Blummenfelt, Yee and Wilde. The only question that remained was which medal would go to which athlete? Blummenfelt didn't wait until the final stretch to show that he wanted that golden medal. He took off with an impressive sprint, leaving Yee behind and running onto the blue carpet to get ready to lift the tape as the winner of the Tokyo Olympics. His facial expressions made it clear: he just couldn't believe it. And Blummenfelt proved he had worked hard, throwing up right after crossing the line and collapsing. Yee came across the line in second place, earning the silver medal. Wilde took home bronze.