That Flora Duffy is untouchable at the moment, she just proved again by taking an impressive win at today's World Triathlon Championship Series in Montreal. While the Olympic Champion noticeably took it easy in the first two stages of this special Eliminator format – explained below – but she was on fire in the third and final stage. The second place went to America's Taylor Knibb (+0:07) and fellow American Taylor Spivey took third (+0:17).
Read our report on the men's race here.
Eliminator format explained
After yesterday's qualifier races, 30 women got a ticket to the first heat of the Eliminator format finals. After this first of three very short races – 300 meters of swimming, 7.2 km of cycling and 2 km of running each time – the fastest twenty athletes would make it to the second heat, in which they would have to battle each other over the same distance again to fight for a top ten place. The top ten of this second heat would earn a spot for the third and final heat, taking each other on over this same course again and deciding on who takes the gold.
Heats 1: Knibb, Duffy and Spivey take off
Fast swimmer Vitoria Lopes (BRA) was the first to make it out of the water, followed right in her feet by Laura Lindemann (GER), Katie Zaferes (USA), Duffy, Spivey and Knibb, all within six seconds. No big enough gaps were created in the water to create a getaway for a small group on the bike. Meaning nearly the entire field was intact when going out on the bike course. Due to a crash that happened when hopping on the bike, Italy's Alice Betto was one of the few athletes who lost the connection here. With athletes like Knibb in the lead on the bike, there was no 'free riding' for some weaker cyclists. Knibb, Duffy and Spivey really hit the gas and that saw some athletes getting dropped in an early stage of these 7.2 km of cycling.
While in the saddle, this trio managed to create a gap of 23 seconds to the first chasers, who formed a group of 21 athletes. It allowed Knibb, Duffy and Spivey to take it relatively easy on the run and still secure their slot for the second heat. That they didn't need to work too hard was clearly visible, as Spivey and Duffy were even making time for some chitchat. Behind them, a big group was fighting hard for a top twenty position, though. In that group of chasers, Germany's Lindemann – who raced strong yesterday in the qualifier events too – took the lead, again showing to be in great shape. While Knibb maintained her first place, Duffy and Spivey realized there was no need to work too hard in this first heat. They joined a big group from behind that simultaneously crossed the line, claiming the top twenty places.
Among the ten athletes that didn't make the cut for stage two, the most surprising were those of Natalie van Coevorden (AUS), Vittoria Lopes (BRA) and Alice Betto (ITA).
Text continues below picture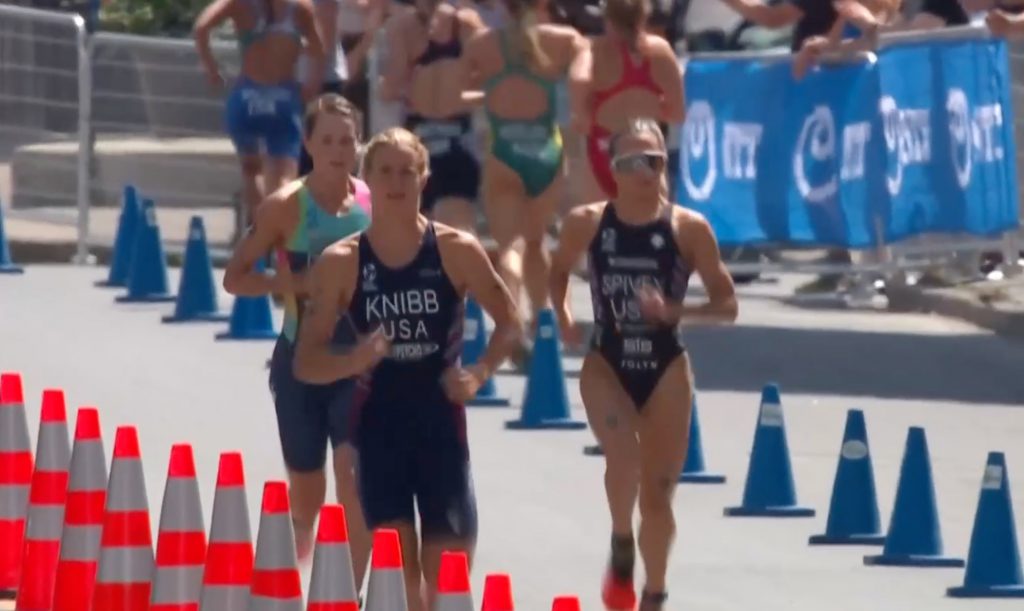 Stage 2: group of eight takes a big lead
While most women stayed together in the water during stage one, in the second stage the field split in two after this first discipline. Eight athletes made it to the first group while going onto the bike, among them: Coldwell, Knibb, Lindemann, Duffy, Spivey, Leonie Periault (FRA), Katie Zaferes (USA) and Verena Steinhauser (ITA). Behind them, four athletes worked hard to keep the gap as close as possible, but with the strong cyclists in front it was nearly impossible to keep up.
16:03 minutes down into the race, Spivey was first to rack her bike back in the transition area and get out her running shoes. The other ladies followed right in her stream, as they headed for the run. Over 2 km, all these first eight athletes had to do was maintain their advantage, and for that they wouldn't need to dig too deep. Behind them Anabel Knoll (GER), Non Stanford (GBR), Audrey Merle (FRA) and Nicole van der Kaay (NZL) had to give it their all to earn one of the remaining two qualifying spots for heat three.
In front, Lindemann, Zaferes and Knibb took the lead, while the other ladies seemed to jog their way to the finish line. Out of the four chasers, Stanford and Van Der Kaay turned out to have the most energy left for a good run. Until the finish this remained unchanged and that meant the medals would be divided in the final heat among Lindemann, Knibb, Zaferes, Steinhauser, Spivey, Periault, Duffy, Coldwell, Van Der Kaay and Stanford.
Stage 3: Spivey, Knibb and Duffy take it on
Coldwell, Duffy, Spivey and Lindemann were first out of the water and on their way to the transition area in the final heat. In the long run stretch until T1, Duffy took a lead, and that saw Bermuda's star athlete hit the bike course in first place. Spivey, Coldwell and Lindemann quickly managed to find Duffy's wheel. Behind them, the six other ladies tried to reach the leading group, which they already succeeded at after about one km. But that wasn't it, because in the front Zaferes and Knibb were pushing the pace, trying to drop some competitors on the bike.
About halfway through the bike, Knibb, Duffy and Spivey showed that they didn't feel like going out onto the run with one huge group. The three athletes took off, with Knibb doing most of the work at keeping her small pack out of the wind. At this point, it already seemed like the medals were going to be divided among these three women. Going into the third and final bike lap, the gap towards the six chasers had soon gone up to fourteen seconds. By the time Knibb, Duffy and Spivey reached T2 that was even 30 seconds.
Spivey was first to leave the transition area. Knibb tried to hang on, managed to do so after about 300 meters, while Duffy initially seemed to take it easy, she also re-joined this group after the first few hundred meters. After one km, Duffy took off on her own, leaving the two Americans behind. That meant that it was Duffy who lifted the tape as the winner of this special event. After an exciting final sprint, Knibb followed in second place (+0:07) and Spivey took third (+0:17).