They are Chief Technical Officer (CTO), Chief Operation Officer (COO) and Chief Executive Officer (CEO) within Challenge Family, but above all Richard Belderok, Jefry Visser and Jort Vlam are huge fans of the triathlon sport. As young boys they grew up in Almere and were raised with the Holland Triathlon, nowadays well known as Challenge Almere-Amsterdam. Their enthusiasm and passion never disappeared.
As little boys, starting at about four years old, they could already be found on the Almere dikes watching the triathlon that descended on their town every year. World-famous athletes from back in the days then were encouraged by the three boys, including pioneers as Axel Koenders, Ben Zijlstra, Ada van Zwieten, Irma Zwartkruis and of course many more.
In those same years, Belderok, Visser and Vlam participated in the Junior triathlons themselves, which only increased their enthusiasm. Since then, all three have completed one or more Long Distances and their love for the sport is as strong as ever. Toward the end of their teenage years, they began organizing local triathlons themselves, and another few years later they took over the baton of the Holland Triathlon, where they remain in charge to this day.
'We were very honored'
"We were honored when we were allowed to take over from Ruud and Roely Graman (the previous directors in Almere, ed.)", the three mid-30's say when asked how the ball started rolling for them. Anecdotes follow each other in rapid succession and many are looking back to the years before 2011, when they often worked together on the organization of a number of smaller, mainly local triathlon events. The level of their organizational talent did not go unnoticed for long, as it was already in those years that they were asked to take on the organization of an ETU Cup. "But in 2011 I was Race Director for the first time at the Holland Triathlon. At that time I already had enormous respect for what had been put in place in the years before and so was given very big shoes to fill," said Belderok.
'We took the good things with us and at the same time we modernized them'
A lot of respect for the tradition – that is clear from everything Belderok, Visser and Vlam say – but at the same time they were aware that some things had to change to maintain the triathlon tradition in Almere. In these years, the race had to deal with a large decline in participants, races abroad were actually getting bigger and bigger, and it seemed that Almere was starting to lose its connection within the triathlon world to some extent. "We tried to modernize as quickly as possible, while taking the good things from the years before with us," Visser explains. "For example, the registration system at that time was very outdated, so there was never – or at least very late – an overview of how many participants would actually start. In addition, at the time we put a lot of effort into improving the website and social media. We wanted to show the race to the outside world again. We tried to focus everything on the experience of the athlete. Athletes need to have a great event, no matter what."
Thus, an already strong tradition was build on and, where necessary, improvements were sought. "Whereby everyone worked from their own strengths," clarifies Vlam. "That's also what makes this event so strong; the group we started with ten years ago is largely still intact. Organizing a triathlon is also not the work of one person. No one can claim that; it's all about the group. That's not only us as organizers, but also the athletes, the people and companies from the city and, for example, the security services." Belderok adds: "We are just giving our touch to the event now and we are proud of that, and even prouder of the fact that we get to build on the wonderful history of this event."
Text continues below picture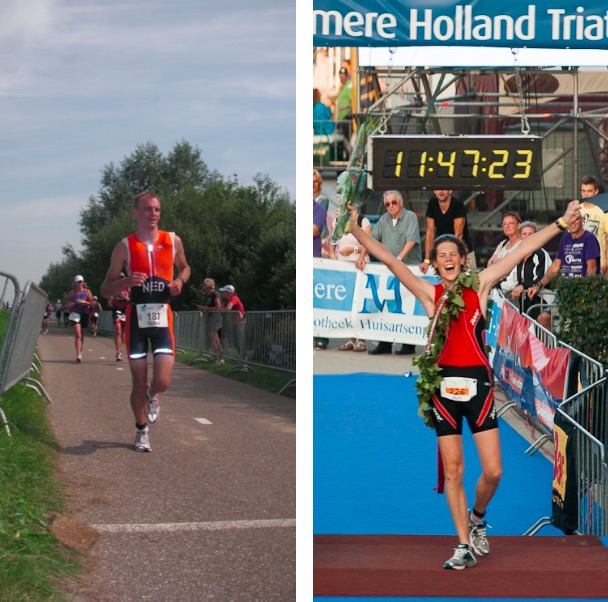 Joining the Challenge Family
While Challenge Almere-Amsterdam made great strides in recent years, seeing more and more international athletes come to race in the polder city, it also proved a good call for Belderok, Visser and Vlam to join Challenge Family in 2013. "We were constantly looking for ways to make our event better. Challenge Family visited our event and immediately believed in its potential. After several conversations, we then decided to continue under the Challenge Family label and join the Family."
Huge hangover
Belderok's, Visser's and Vlam's ideas were mainly aimed at making Challenge Almere-Amsterdam more attractive to the athlete and bringing back international quality. So when the Holland Triathlon continued as Challenge Almere-Amsterdam for the first time in 2013, expectations – especially for Belderok, Visser and Vlam themselves – were high. The disappointment afterwards – the edition was plagued by bad weather and therefore a stadium that was half blown away and quite a few crashes during the bike – was all the greater. Only a few years later, after innovating each time and listening to the wishes of athletes, the three organizers found their event of the level they dreamed of. "Although even now we continue to look for areas of improvement every year and we are never done learning."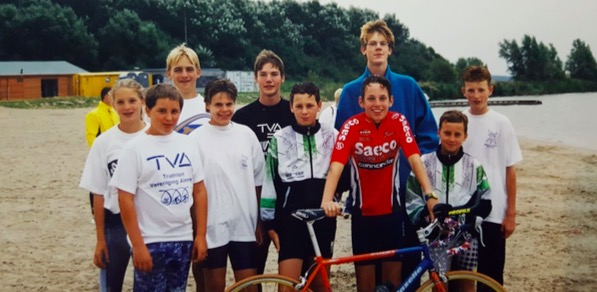 From quality control to leading roles
Meanwhile, Belderok, Visser and Vlam began to get more and more involved within Challenge Family, doing quality control checks – often in consultation with others on the team and always in good standing with former CEO and current President of the Board Zibi Szlufcik – at various Challenge Family races. In this way, they developed better and better ties with other organizers and became a bigger part of Challenge Family almost every day. Early last year, on January 3, 2020, they joined the management and moved the main office from Amberg, Germany, to Almere, the Netherlands. "In hindsight, of course, that was a very difficult period, because COVID-19 was about to strike. At that time, of course, we didn't know that, but the pandemic has had a major impact on the triathlon world. We still notice that every day now."
It is admirable that Belderok, Visser and Vlam remained positive, kept races afloat and perhaps more importantly worked hard to keep people employed. "It's in the name of our brand; we are a Family. We believe firmly in the team we work with. Our races take place worldwide, our team works worldwide, but all with the same passion. We want to organize spectacular and unforgettable races, we want to give athletes the time of their lives and we want to move the sport of triathlon forward. That's something we work on every day, continuously and assiduously."
Challenge Family is a fast growing race organization with 33 races in 27 different countries and always looking for nice locations to expand.