"Even if athletes are winning pro races, there is a very high chance that they'll still not be able to support themselves or even make a profit." James Teagle says it like it is: being a long-distance pro triathlete is hard when it comes to the financial aspect. In an extensive blogpost he explains in detail how much a triathlete generally earns, spends and what income you can count on.
Sponsorships
Teagle starts by pointing out that pro athletes earn money from two different things: sponsorship deals and prize money. Let's start with the first: sponsorships. "The goal for many athletes is to get a company to support them financially, as at least for the contract period, they have a guaranteed income." Such sponsorship deals are hard to obtain, he continues to explain, though. Even for those athletes winning races, in the end companies are usually most interested in the audience you reach. Whether you reach them by winning the big races or by having a great following on social media.
It's hard to find a company that supports you financially, Teagle explains. Most companies are more interested in solely supplying you with products: "Generally, you have to sell lots of products for a company to be offered financial compensation. It's more common to be offered products instead. That's very welcome, and it will help to offset some expenses however, it won't help you pay for a mortgage or to buy day-to-day essentials."
Prize money
"The other obvious way athletes make money is from race prize purses. These are not guaranteed and depend on many factors. It's important to note that much of this prize money is often taxed before it reaches an athlete's bank account. Typically, this tax is at least ten percent." Additionally, there are of course the costs of traveling and training that should be deducted from the income.
What an athlete earns per finish position depends on the race, but to give an idea, Teagle added an overview of the prize money breakdown of an average Challenge Family race (where athletes race for a prize purse of 19,000 euros). For the Challenge Family The Championship this prize purse is much higher with a total of 150,000 euros. In that case the winner would earn 30,000 euros, second would get 15,000 euros and third 8000 euros. It pays ten deep, with the tenth' finisher earning 1000 euros.
Prize money breakdown Challenge Family races with 19,000 euros prize purse: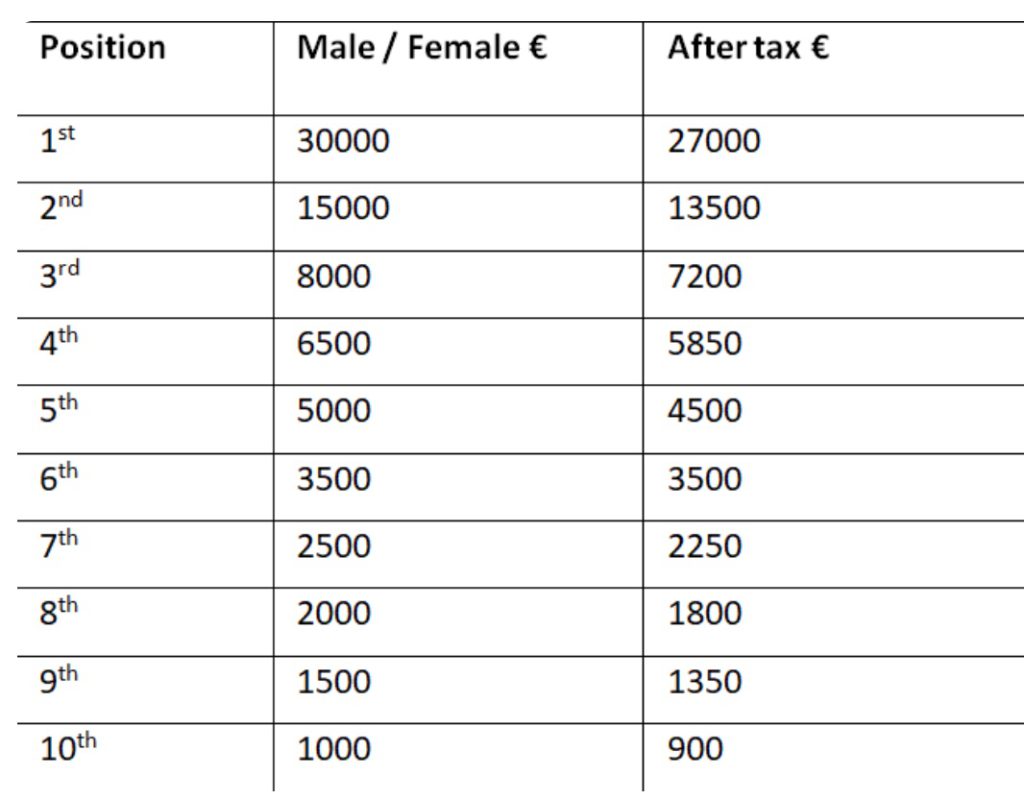 Unlike Challenge Family, Ironman has a great variety in prize money that can be earned depending on the race. A prize purse of 30,000 and 50,000 dollar is most common. In championships athletes generally get to divide 350,000 dollar and for the Ironman World Championship that is 750,000 dollar.
Ironman prize purse breakdown: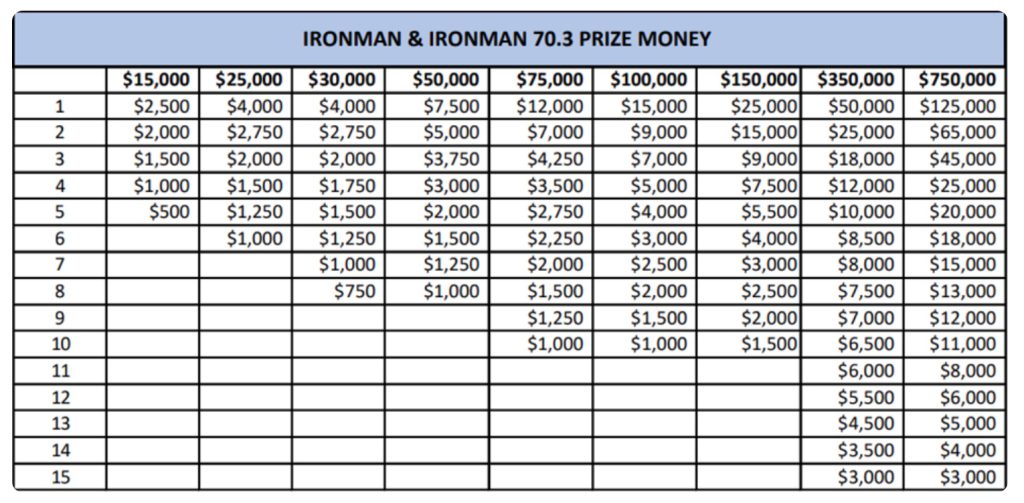 Challenge Family World Bonus and PTO End of the Year Bonus
Besides the prize money athletes can earn per race, there are two rankings: the Challenge Family World Bonus and the PTO End of the Year Bonus.
With the Challenge Family World Bonus the athletes who ended up in the top five of the Challenge Family ranking (based on their outcome in Challenge Family races) earn an amount of 25,000 dollars for first place, 16,500 dollars for second, 12,000 dollars for third, 6000 dollars for fourth and 3000 dollars for fifth.
The PTO End of the Year Bonus is 100,000 dollar for first place, 5000 dollar for athletes ranked in position 20-50 and 2000 dollar for athletes ranked 51-100.
Expenses of a pro long-distance triathlete
Travel and other race costs
Of course, then there are the costs. What does a triathlete generally need to spend in order to race all around the world and be in shape? "On average, it costs 750 pound (880 euros, ed.) to get to a race. That's including flights, hotel and car hire. For closer European races (if you are European, ed.), you could probably get that nearer to 500 pound (590 euros, ed.) by being smart. Racing further afield e.g. Ironman 70.3 World Championship in St George will cost 2000 pound (2355 euros, ed.) once you factor in the fact that it's a relatively small place with limited hotels and thousands of people attending for age group racing too", Teagle points out.
Then there is the annual cost of 900 dollar for the pro membership that you need to pay in order to race Ironman events.
Teage explains his average season would consist of seven races of 590 to 880 euros per trip and the Ironman World Championship of approximately 2355 euros. He chose to pay the Ironman pro athlete day fee of 250 dollar per race, as the Ironman pro membership for one year (with unlimited amount of races) is only interesting if you race more than three of their events. That would get to total race costs of approximately 8000 euros.
Other triathlon-related costs
Then there are other triathlon-related costs. Teagle's overview, with costs per year:
Running training shoes: £300 per year (350 euros)
Running race shoe: £200 (235 euros)
Cycling shoes: £200 (235 euros)
Skin suit: £200 (235 euros)
Aero suit: £200 (235 euros)
Wetsuit: £400 (470 euros)
Massage/ treatment: £45 per time (£779.85 per year for minimum of 17 times, 918 euros)
Nutrition: £40 per month (£480 per year, 565 euros) 
Gym/pool membership: £500 (690 euros)
Bike maintenance: £500 per year (690 euros)
Many pro triathletes work with a coach, that would cost them around 350 euros a month, which comes down to 4200 euros per year.
Teagle also adds your bike and wheels – a big investment – need an upgrade every three years or so, which costs around 6500 euros. If you divide that by three, that would mean you reserve 2166 euros per year for that.
Total costs versus income
If you add all these numbers up, you would get to total expenses of nearly 19,000 euros per year.
Of course, how much you earn is highly depended on how much you race and how well you perform, but Teagle still tries to give an idea of what a successful triathlete (but not the best in the world) could earn during a season. If you were to finish top three in five Challenge Family races (one win, two second places and one third place) you could win around 9500 euros. If you add a third place in the Challenge Family The Championship that's another 7250 euros. A second place at an Ironman 70.3 event with a 30,000 dollar prize purse equals 2190 euros. A fifth place at the Ironman 70.3 World Championship (7950 euros), top 50 in the PTO ranking (4420 euros) and a third place in the Challenge Family World Bonus (10,600 euros).
That comes down to a total of prize money earned (in this case that Teagle drew up): 41,910 euros.
If you take that amount and deduct the costs of approximately 19,000 euros, you would be left with an income of 22,910 euros. A little more than 1900 euros a month.
Teagle's conclusion:
"At the end of the day, if an athlete is doing triathlon for the money, then they are probably doing it for the wrong reasons. Some things money can't quantify such as the lifestyle, travel opportunities, and ability to do sport as a job each day. Maybe though, athletes should have backup jobs…", Teagle writes.