In sunny and pleasant Italy, defending champion Thomas Steger and British Emma Pallant-Browne just lived up to their role as favorites. Both athletes struck out during the run of Challenge Riccione and ran to a well-deserved victory after a tough but fine race.
In the calm waters of Challenge Riccione, it was Thomas Steger who immediately set the fastest swim time, but the differences were not huge at that moment; almost all favorites were close together and so the battle for victory was completely open.
Mattia Ceccarelli was one of these favorites and the Italian – who would love to win in front of his home crowd – immediately took over the lead on the bike. He even managed to create a small gap and so, in addition to Steger, Thomas Davis, Chris Mintern and Florian Salvisberg followed at around twenty seconds. Ceccarelli was clearly out to win, because his pace was so high that he was soon able to extend his lead to a minute. Meanwhile, Steger lost the connection to the chasing group and the Austrian had to give everything to rejoin that group.
He succeeded and in the second of three bike laps Steger really got into his stride, quickly closing the minute gap and rejoining Ceccarelli, leaving the other guys behind. On the third lap this situation remained unchanged and so the two leaders – Steger and Ceccarelli – came back together in T2.
During the run, it was defending champion Steger – not against the odds because he is known for his very strong run – which immediately ran away from Ceccarelli and the Italian had to endure a first setback. Within a kilometer, Steger already had a fifteen-second lead, with which he seemed to be laying the foundation for his victory.
Indeed, his lead only grew during the run and so Steger ran to victory quite comfortable in 3:37:41. Ceccarelli got second in 3:39:02 and Salvisberg third in 3:40:14.
Text continues below picture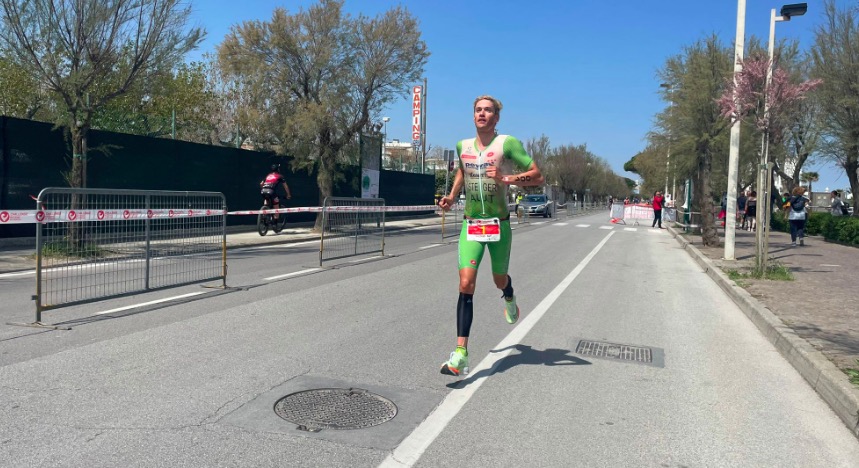 Women's race: Emma Pallant-Browne shows her dominance
In the women's race, the swim was dominated by two ladies, India Lee and Emma Pallant-Browne, which was not entirely unexpected. Things changed on the bike; Pallant-Browne managed to ride away from Lee very soon, who in turn was overtaken by a strong riding Lucy Byram. After about thirty kilometers Byram was thirty seconds behind Pallant-Browne, while Lee was another 40 seconds behind. Behind Lee were women like Marta Bernardi and Lena Berlinger.
After sixty kilometers of biking – and with thirty kilometers to go – the battle was still completely open, because then Pallant-Browne, Byram and Lee were riding very close to each other. This situation remained virtually unchanged in the last thirty kilometers and the three women therefore all started their concluding half marathon at the same time.
During that run, it was immediately Pallant-Browne who left the other two women behind and took a considerable lead. She did not relinquish that lead; on the contrary, it only grew, until Pallant-Browne crossed the finish line first after an incredible strong 3:56:40. Behind Pallant-Browne, the battle for second and third was particularly exciting, but it was eventually won by Byram, who finished after 4:04:59. Marta Bernardi passed India Lee in the closing stages and finished third in 4:05:22.