She didn't only dive under the eight-hour mark on a Long Distance, she provided us with a spectacular battle too: Britain's Kat Matthews was on fire at the Pho3nix Sub8 attempt. Noting a finish time of 7:31:54 hours, she met her target big time. Matthews outran Swiss' Nicola Spirig, who beat sub8 too.
Kristian Blummenfelt beat Sub7 in the men's race.
Previously set time targets
Spirig: 0:50 – 04:19 – 2:45 (7:55 hours, finish time)
Matthews: 0:50 – 04:00 – 02:40 (7:31 hours, finish time)
Swim
Spirig: 54:50 minutes (+4:50)
Matthews: 54:43 minutes (+4:43)
In the first part of the swim, Spirig seemed to live up to the expectations, but during the second part – surprisingly – Matthews' team managed to get Spirig back in sight. Even more so: they ended up overtaking Spirig. While Spirig initially adopted a pyramid approach – with two athletes in front and Spirig in the middle at the back – they later ended up in a long line, just like the team of Matthews, who chose this "line" approach right from the start. Matthews' team seemed to work together much better than Spirig's pacers did, because Spirig had to close quite some gaps to her pacers. Matthews' team was constantly right behind each other.
With about 54 minutes on the clock – both athletes swam nearly five minutes slower than expected – Matthews was first to hop on the bike. After a bit of a messy transition, Spirig followed a few seconds later.
Text continues below picture
Bike
Spirig: 3:53:16 (-25:44)
Matthews: 3:50:06 (-9:54)
That gap that Matthews created in the water, seemed to fade soon once the athletes got onto the bike. Spirig moved forward fast, but once they reached the track, Matthews disappeared again.
No wonder that she did, looking at the speed the team was pedaling. While Matthews reached a speed of 47.1 kilometers per hour, Spirig noted an average of 45.8 km per hour during the first 60 kilometers.
Text continues below picture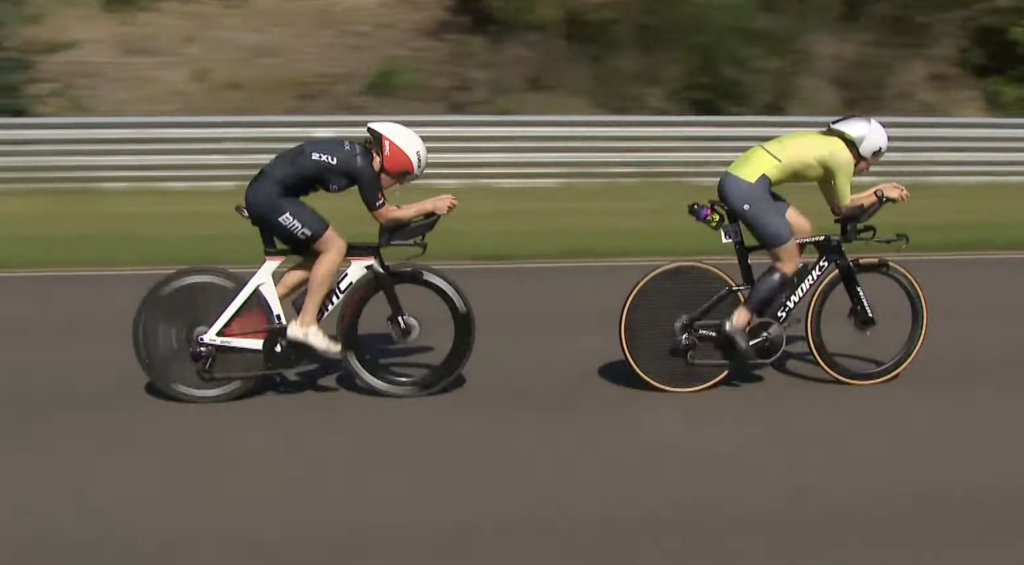 About halfway through the bike part, both Spirig and Matthews were ahead of schedule. While Spirig was more than thirteen minutes ahead of her goal time (7:55 hours), Matthews – who had set herself a sharper finish time – was about five minutes ahead of her 7:31-hour time goal. Spirig may have lost some time to Matthews in the saddle, it was still not as much as expected. After 110K, Spirig was "only" 3:10 minute behind Matthews.
While the men, and also team Spirig, had some smooth transitions on the bike, team Matthews struggled a bit to rejoin the athletes after a swap. It likely cost Matthews some extra energy to try to get back onto her new group of pacemakers – with the help of one pacer, who stayed with her – after she changed her team every half an hour. Because the three new pacers, that would join her, were a bit too far in front, it took an effort to reach them.
With a bike time of 3:50 hours, Matthews was first to get into T2. With that bike time, she reached an average of 46.9 km/h. Spirig rode 46.3 km/h.
Text continues below picture
Run
Spirig: 2:45 (+0:07)
Matthews: 2:46:09 (+6:09)
Both athletes were perfectly on schedule to finish under eight hours. While Matthews started the run with 4:45:13 hours on the clock, Spirig had been racing for 4:48:39 hours when she still had the marathon left.
With an advantage of 3:35 minutes to Spirig, Matthews racked her bike in T2 and put her running shoes on. With a strong pace, Matthews hit the roads for that final discipline. That it was hot today was visible in Matthews face, which was already quite red. With an ice cube in her mount, Matthews tried to cool herself down in the first kilometers of the marathon.
Spirig started her run strong and slowly but steadily moved towards Matthews. While Matthews chose to have only one pacer beside her, Spirig ran with three of her pacers. After 10K, Spirig's deficit had shrunk to less than two minutes.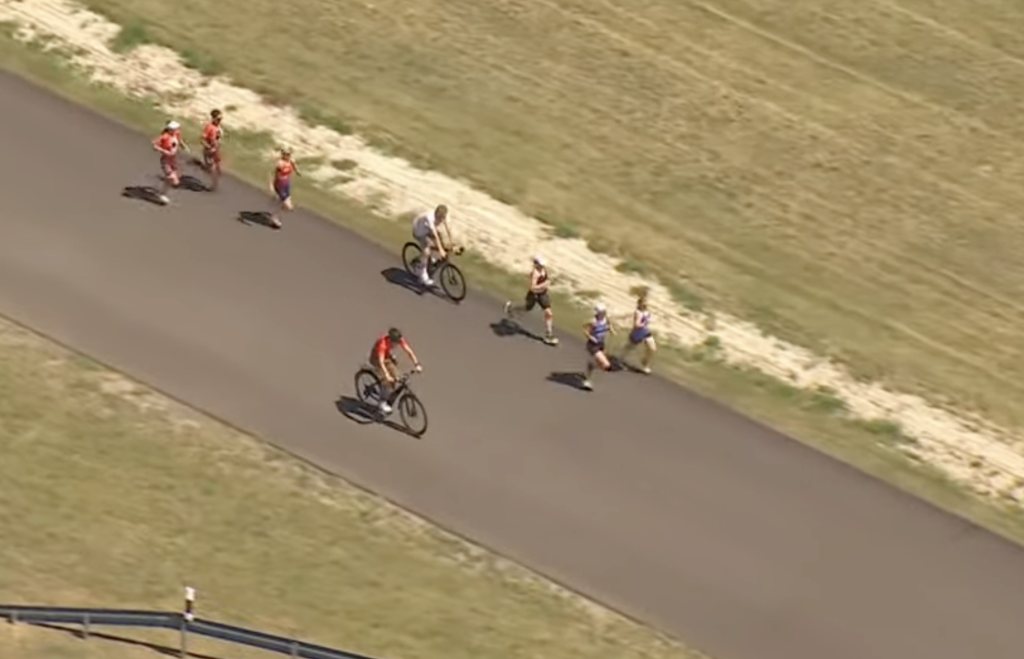 With 28K in the legs, Matthews had to accept there was no way she could keep Spirig off any longer. Spirig's team overtook the British athlete, but it didn't take long – three km to be exact – before Matthews was back on there. While Spirig seemed to start to struggle a bit, Matthews ran back to her leading position, leaving Spirig behind.
In those final kilometers, none of that changed. Matthews slowly but steadily extended her lead. After a marathon of 2:46:09 hours and with an incredible finish time of 7:31:54 hours, she ended up taking the win. Spirig followed 3:35 minutes later, running 2:45 hours.