The weather forecast for Samorin was not good, but in the end the athletes participating in the Collins Cup were quite lucky; under excellent conditions a beautiful race took place with equally beautiful battles. In the end, the win went to Team Europe, team International got second and Team USA – without winning any heat – third. 36 athletes competed, each time 1 versus 1 versus 1, and in each heat points could be won for the team. Participants swam 2 kilometer, biked 80 kilometer and ran 18 kilometer. Below is a brief description of what happened in each heat:
Heat 1: Daniela Ryf, Flora Duffy, Sarah True
As expected, it was Olympic Champion Flora Duffy, who led the 2-kilometer swim and was the first to return to T1 after 25:33 minutes. Ryf followed at 24 seconds and True at 29 seconds. On the bike, however, it was the Swiss Ryf who – somewhat surprisingly – rode much faster than Duffy and soon took over the lead in the race. True also lost a lot of time and followed in third place. Once in T2, Ryf had a lead of no less than 5:37 over Duffy and 7:00 over True. As she ran, Ryf's lead only grew and when she finished in 3:28:50, her lead over Duffy was 6:58 minutes and True followed at 11:30 minutes.
Text continues below picture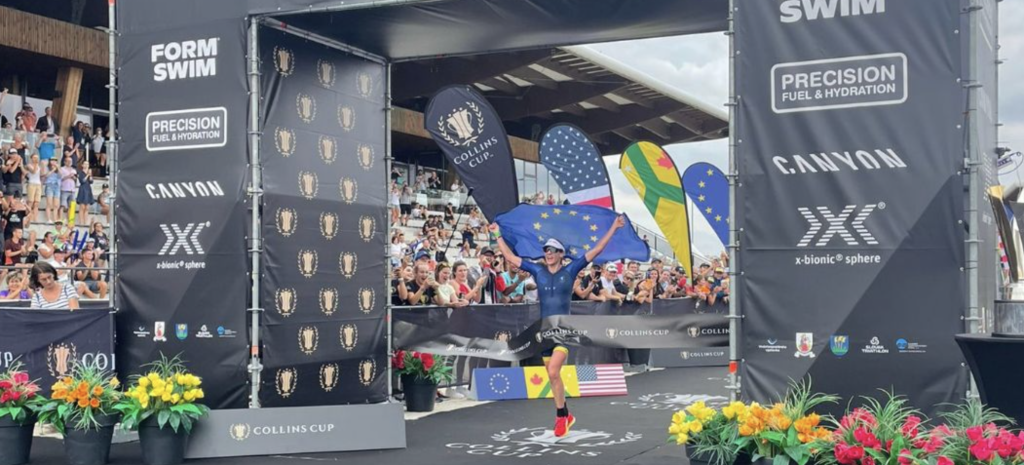 Heat 2: Ashleigh Gentle, Laura Philipp, Chelsea Sodaro
Ashleigh Gentle immediately took the lead during the swim and was able to put Laura Philipp and Chelsea Sodaro more than a minute behind in T1 already. While Sodaro failed to make up her ground during the bike, Philipp managed to do so. In fact, the German athlete took the lead and came back into T2 with a 34-second advantage over Gentle. Sodaro experienced a tough race and faced a 10 minute gap already at this point. During the run, however, Philipp quickly lost her lead again and eventually conceded 2:32 minutes to Gentle, who won the race in a time of 3:30:51. Sodaro finished third at more than 15 minutes behind.
Heat 3: Paula Findlay, Kat Matthews, Skye Moench
Paula Findlay and Kat Matthews were pretty evenly matched during the swim, although Findlay grabbed a minimal lead of nineteen seconds. Moench had to pull out all the stops to stay close, but lost 54 seconds in the water. On the bike, it was perhaps not quite as expected, but it was Findlay who proved far too strong for Matthews and had built up a lead of 4:22 by T2. Then Moench followed in second, as Matthews followed in third and was even 5:24 minutes behind. During the run, Matthews was able to make up some ground and overtake Moench, but Findlay finished first by a wide margin. She did so in a time of 3:31:10. Matthews followed in second at 6:46 minutes behind and Moench in third at 7:30 minutes.
Heat 4: Nicola Spirig, Vittoria Lopes, Sophie Watts
Strong swimmer Vittoria Lopes lived up to her role and came out of the water first, but Nicola Spirig was able to stay close with a gap of only 25 seconds. It made the race particularly difficult for Sophie Watts, as in the water she already lost 2:02 minutes to the fastest woman. Incidentally, the race changed completely on the bike, as Spirig quickly rode toward the lead and came back in T2 with a 5:17 minute lead over Watts and Lopes had dropped to third. She came back 8:16 minutes behind Spirig in T2. During the run, Spirig logically ran out of danger and she won the race after 3:32:44. Lopes was second at over sixteen minutes behind and Watts didn't make the finish. 
Text continues below picture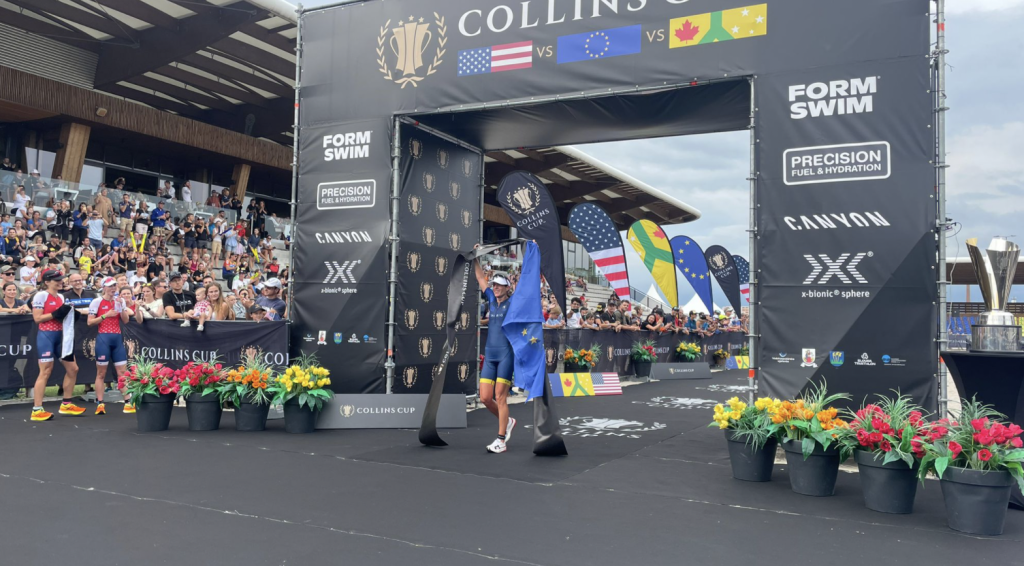 Heat 5: Holly Lawrence, Jocelyn McCauley, Ellie Salthouse
The two eternal competitors Holly Lawrence and Ellie Salthouse stayed close in the water and came out of the water at the same time. McCauley did face a one minute deficit and thus had some making up to do on the bike. She succeeded quite well, because when Lawrence returned to T2 first, McCauley was only thirty seconds behind. Salthouse on the other hand, lost a lot of time while biking and returned to T2 more than five minutes behind. That deficit only grew for Salthouse, as she eventually finished 13:18 minutes behind Lawrence, who won the race in 3:33:10. McCauley was second at 4:33 minutes.
Text continues below picture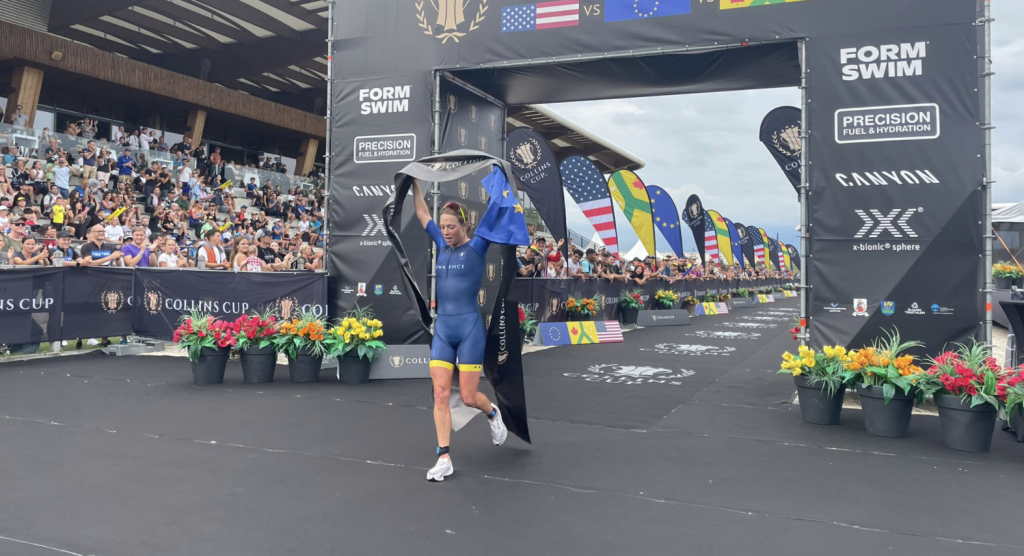 Heat 6: Anne Haug, Tamara Jewett, Jackie Hering
The three women in heat 6 made it the least exciting during the swim. Not only was it the slowest heat in the water, but in addition the three women stayed together and so no differences were made. This did not happen on the bike either and the women proved to be evenly matched; all three came off the bike at the same time only to decide the battle during the 18 kilometers of running. Not entirely contrary to expectations, it was Haug who ran the fastest and eventually won the race in 3:33:57. Jewett was second at 1:44 and Hering third at 5:23.
Text continues below picture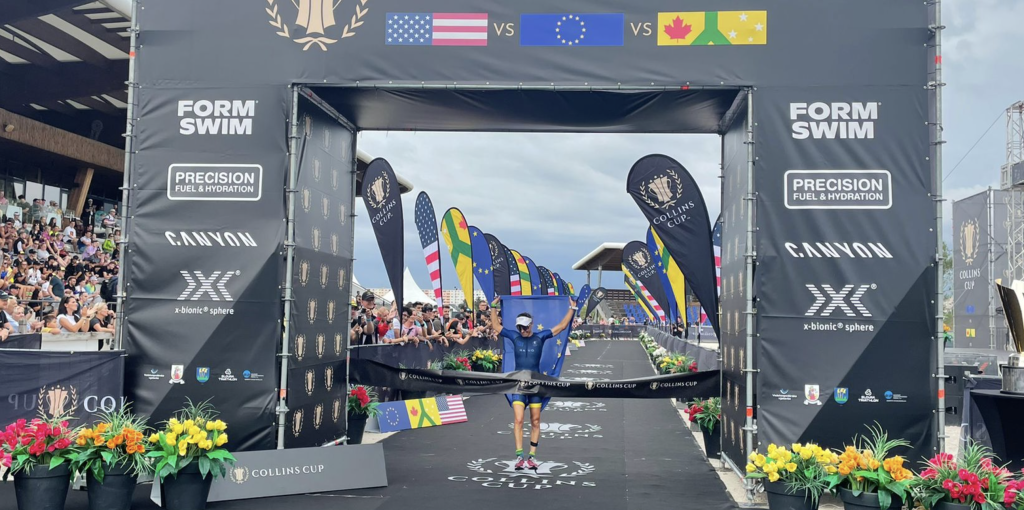 Heat 7: Kristian Blummenfelt, Hayden Wilde, Ben Kanute
While Blummenfelt and Wilde were perhaps the most watched athletes in this heat, it was Kanute who took the lead during the swim and also came out of the water first. Wilde and Blummenfelt did stay very close and thus lost no time. On the bike, Blummenfelt took over the lead after about fifty kilometers and began to build a lead. Once in T2, his lead over Kanute was 1:45 minute and Wilde appeared to have an off-day when he started his eighteen kilometer run over more than five minutes behind. Nevertheless, Wilde did manage to overtake Kanute during the run, but Blummenfelt was far too far away by then. Blummenfelt won the race in 3:09:19 and Wilde was second at 8:36 minutes. Kanute followed in third at 11:57.
Text continues below picture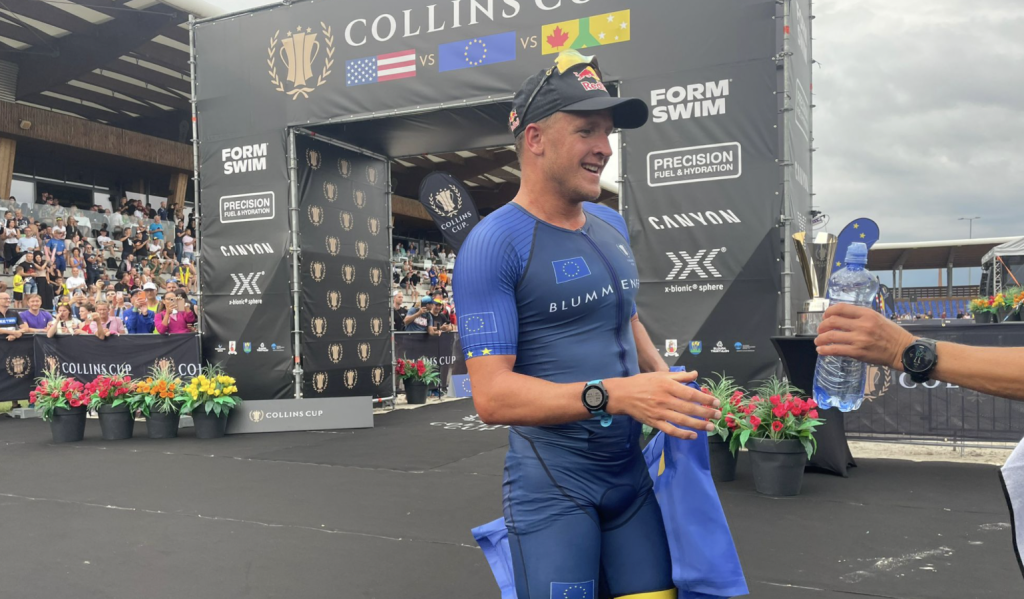 Heat 8: Lionel Sanders, Sam Long, Sam Laidlow
Laidlow was unbeatable in the water and immediately took a lead of more than three minutes over Long and Sanders. On the bike, however, Long and Sanders were able to work together nicely and so in eighty kilometers they rode right back to Laidlow. The three men returned to T2 at the same time. Then, during the run, the most exciting battle of the day ensued; Long and Sanders were initially evenly matched, until Long ran away from Sanders. This did not last long, because Sanders pushed himself a bit extra and ended up running next to Long again. The last few kilometers they ran next to each other constantly, to finally decide the race with a final sprint. In the stadium, Sanders proved too fast and so he ran to victory in 3:12:25. Long finished only two seconds later. Laidlow broke down completely during the run, walking an awful lot and running at over half an hour behind.
Text continues below picture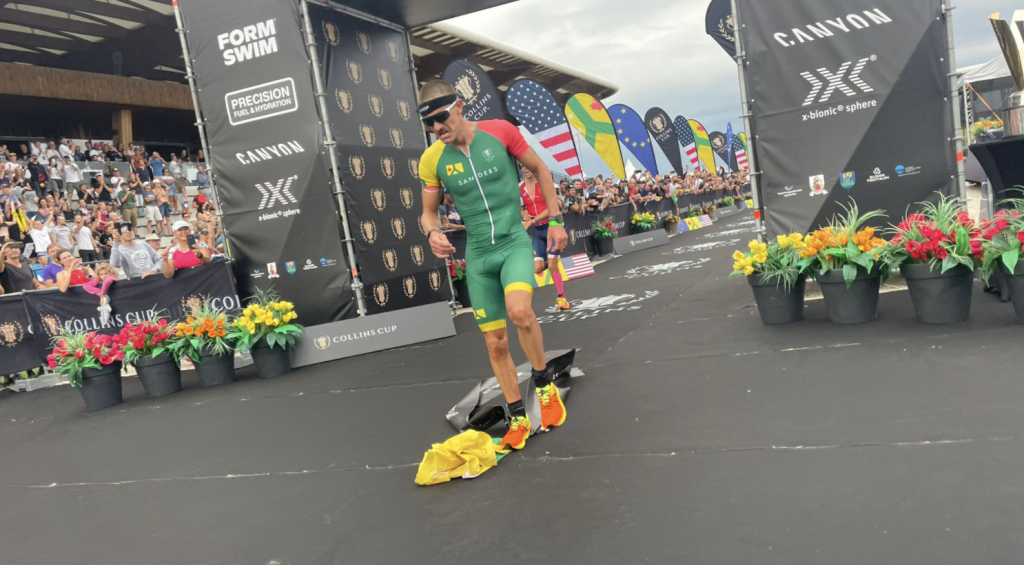 Heat 9: Magnus Ditlev, Rudy von Berg, Max Neumann
The three men in heat 9 stayed close to each other during the swim and all came out of the water at the same time. On the bike, that changed completely, because Ditlev proved – as often happens – to be the strongest biker and when he returned to T2, he had a 3:49 minute lead on Von Berg. Neumann had a tougher time and by then was already nearly thirteen minutes behind. Little changed during the run, then, and Ditlev won the heat convincingly with a 7:20 lead over Von Berg. Neumann finished third at 11:20.
Heat 10: Aaron Royle, Jason West, Patrick Lange
In the water, Royle proved far too fast for his competitors as he came out of the water with a 2:21 lead and immediately had a big lead over both Lange and West. On the bike, Royle did not slacken; rather, he increased his lead. During the eighty kilometers on the bike, his lead grew to 4:48 over Lange and 6:06 over West. Royle was eventually able to run fairly comfortably to victory, which he claimed after 3:19:42. West still passed Lange and finished second at 4:52. Lange was third at 6:24.
Heat 11: Gustav Iden, Matt Hanson, Jackson Laundry
Iden and Hanson stayed strongly together during the swim, but that made it difficult for Laundry to follow. He came out of the water just under a minute and a half behind. That gap only got bigger for Laundry, as he lost a lot of time on the bike and came back to T2 with more than 9 minutes to spare. Iden rode strong anyway, as he grabbed a lead of almost five minutes over Hanson, so he could comfortably start the 18 kilometer leading the race. During that run, he increased his lead a bit more and when Iden finished after 3:11:32, his lead over Hanson was 7:46. Laundry dropped all the way and finished at over twenty minutes.
Text continues below picture
Heat 12: Daniel Baekkegard, Braden Currie, Chris Leiferman
In this heat, all the men went their own ways in the water. Baekkegard came out of the water first and then had a 41 second lead over Currie and 2:49 minute lead over Leiferman. Once in T2, nothing had changed in these positions, but the differences in time had. Baekkegard had a lead of 5:14 over Currie and of 9:12 over Leiferman. That didn't change during the run either, and in the end Baekkegard took the win in 3:13:52. Currie finished second at 7:48 and Leiferman third at 10:49.