During the first and second heat of the Super League Triathlon in Toulouse, Georgia Taylor-Brown did more than enough to build a sufficient lead, allowing her to take the race to herself in the final and decisive heat. Consequently, the top British athlete won by supremacy.
Today's Super League Triathlon featured the Triple Mix, in which athletes completed an ultra-short triathlon three times, each time in a different order. The first heat was a swim-bike-run, the second heat a run-bike-swim and the third and final heat a bike-swim-run. Each heat was interrupted with a short break. Each time, the swim was 300 meters, the bike 4 kilometers and the run 1 kilometer.
Heat 1:
While little interesting actually happened during the swim – Cassandre Beaugrand came out of the water first but the whole group was together – it was different on the bike. Sian Rainsley took off first, but was soon caught by Jeanne Lehair and Georgia Taylor-Brown. Meanwhile, Dutch Rachel Klamer crashed, injuring her hand and wrist badly and was forced to abandon the race. Taylor-Brown logically did not see that happen, as it happened behind her and while running, the British also created a gap on Lehair. It was therefore Taylor-Brown who won the first heat with a ten-second lead, followed by Lehair and immediately after that all the other ladies.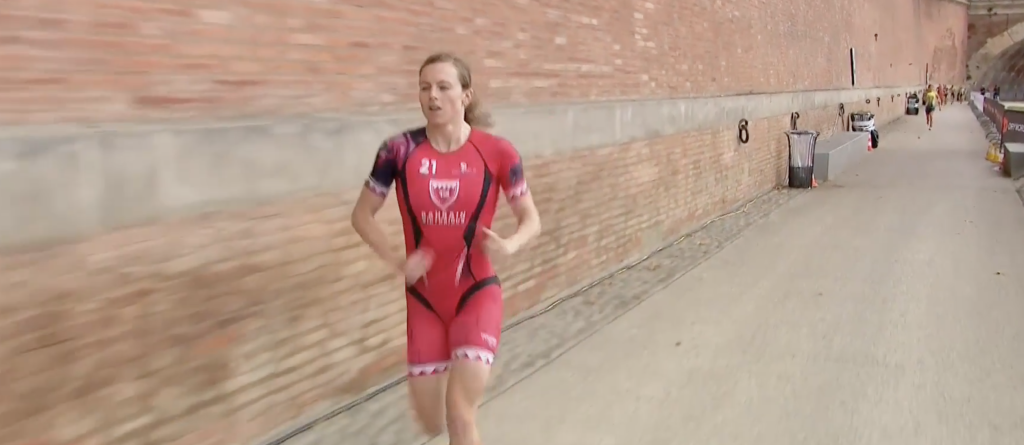 Heat 2:
The first kilometer of running was defined by Beaugrand, who created a small gap on the other ladies. But, because the distance was so short, that lead was actually too small to really make a difference and so the group came together right away in T1. There was some hard riding, yet there were no gaps created on the bike; all the biggest favorites stayed together, although Summer Rappaport was someone who was missed at the front; she was riding ten seconds behind. After the swim, it was Taylor Spivey who finished the heat first, followed by Sophie Coldwell and Taylor-Brown.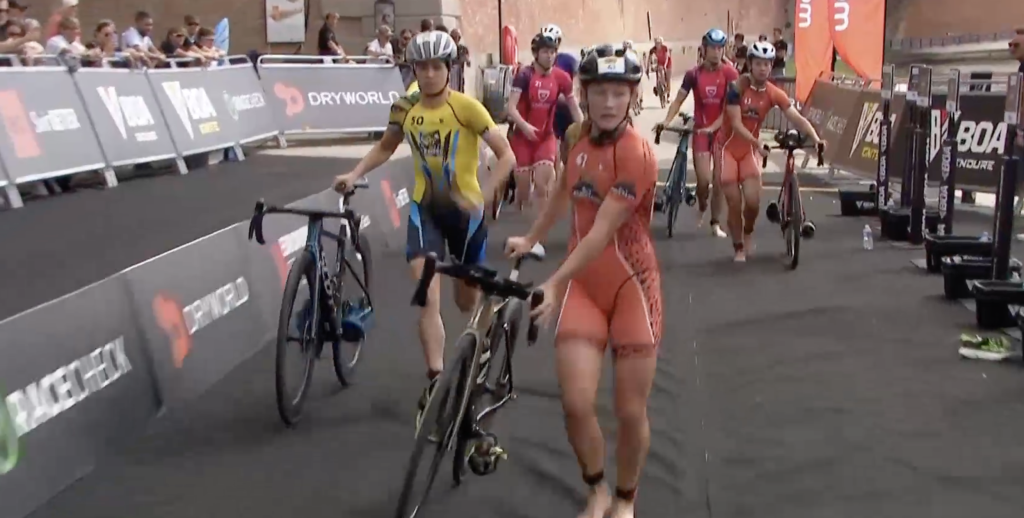 Heat 3:
Based on the differences in the first two heats, the ladies now left in a so-called chase start. First lady was Taylor-Brown, who got away with a 13-second lead over Coldwell and 14 seconds over Spivey. Following behind were Lehair (+17), Verena Steinhauser (+17), Beaugrand (+21), Rappaport (+22), Laura Lindemann (+22), Beth Potter (+23) and Natalie van Coevorden (+26), among others.
While biking, Taylor-Brown managed to immediately increase her lead, as when she dove into the water it was already more than 20 seconds. Behind, things got interesting, as Coldwell, Spivey and Steinhauser found each other and formed a chasing trio.
After the swim – and thus with 1 kilometer of running to go – Taylor-Brown's lead was suddenly a lot smaller, as Spivey was already following at just 13 seconds, Coldwell at 14 seconds and Steinhauser – who did lose a lot of time – at 24 seconds.
During the run, Taylor-Brown, who did not slack off, was nowhere in danger. On the face of it, she ran fairly comfortably to victory. Behind, Spivey and Coldwell ended up making it particularly exciting in the battle for silver and bronze, overtaking each other several times and thus changing positions, and also getting very close to Taylor-Brown in the very last meters. In the end, Taylor-Brown won with a lead of five seconds over Spivey and nine seconds over Coldwell.