It was a blistering, but really blistering race that became extraordinary exciting during the run. That tension during the World Championship Ironman 70.3 was mainly due to an outgoing Ben Kanute, who did hurt Kristian Blummenfelt for a long time. Yet in the end it was the Norwegian who accelerated in the last five kilometers in and thus ran to the world title. Big favorite Gustav Iden abandoned the race crying and many more happened during the race.
During the swim it was entirely as expected Aaron Royle who led the field and the Australian did just that with an impressive high pace; after 22:20 minutes he was already back in T1. The American Marc Dubrick was then following directly behind, but also big favorites like Ben Kanute, Eric Lagerstrom, Jan Stratmann, Frederic Funk, Kristian Blummenfelt and Gustav Iden all followed very shortly. Magnus Ditlev also followed very close, at 44 seconds to be precise, but the Dane caused some open mouths when he ran out of T1 with his bike but forgot to grab his helmet in the process. Meters away he suddenly found that out, left his bike, ran back to retrieve his helmet, but logically he then lost quite a bit of time.
On the bike, at least, Blummenfelt's ambitions were immediately clear – to the extent those ambitions were not already clear – because he immediately rode to the front and took over the lead in the race. He did so with an average speed of over 45 kilometers per hour, just to show how fast it was already going in the early stages of the bike. Directly behind him were Kanute, Royle, Funk and Miki Taagholt, followed by a half-minute gap to Gustav Iden and, behind Iden, many more favorites.
Text continues below picture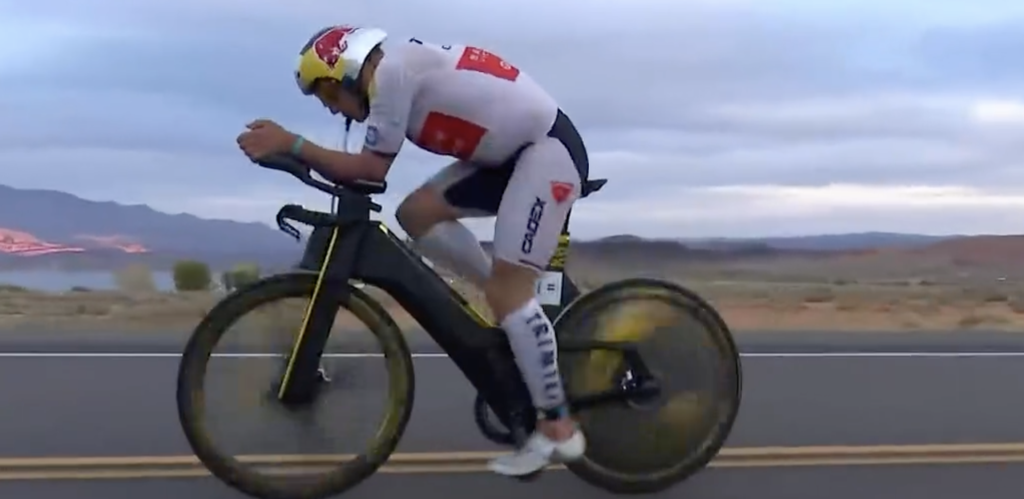 A lot happened in the first half of the bike. First of all, it was especially impressive to see Ditlev quickly find his rhythm on the bike and closed the gap to the leading group. In fact, after about thirty kilometers, he was joining the leaders, while Royle just couldn't keep up with Blummenfelt's pace anymore and thus fell back to the group behind. Meanwhile, Blummenfelt kept doing the leading work constantly and there was no one – Funk, Kanute, Taagholt and Ditlev alike – to help him. Not that Blummenfelt asked for that, as the Norwegian was pushing the pace and looked almost comfortable doing so. Behind the five leaders, Iden and Noodt rode together, still at 30 seconds behind, and behind the two of them it was almost 2:30 minutes of waiting for a huge group of chasers.
A little drama had occurred in that group of chasers shortly before, and the objective viewer might judge that the Ironman referees were to blame. Sam Long, in fact, had been on a huge catch-up race from behind for thirty kilometers and rode to make up minutes of his deficit before joining that huge group of chasers. There he did not hesitate and rode straight to the front, but when he took over the lead position, it was one of his competitors who immediately caught up to him again and started riding in front of him. At that point, a referee ruled that Long, clearly the strongest biker of that group, did not follow the rules and penalized him with a five-minute penalty. It brought back memories of Kona, where the jury also handed out some questionable time penalties, and Long himself was anything but amused. Very indignant and shouting loudly, he asked for an explanation, but unfortunately for the American, it was not forthcoming.
Text continues below picture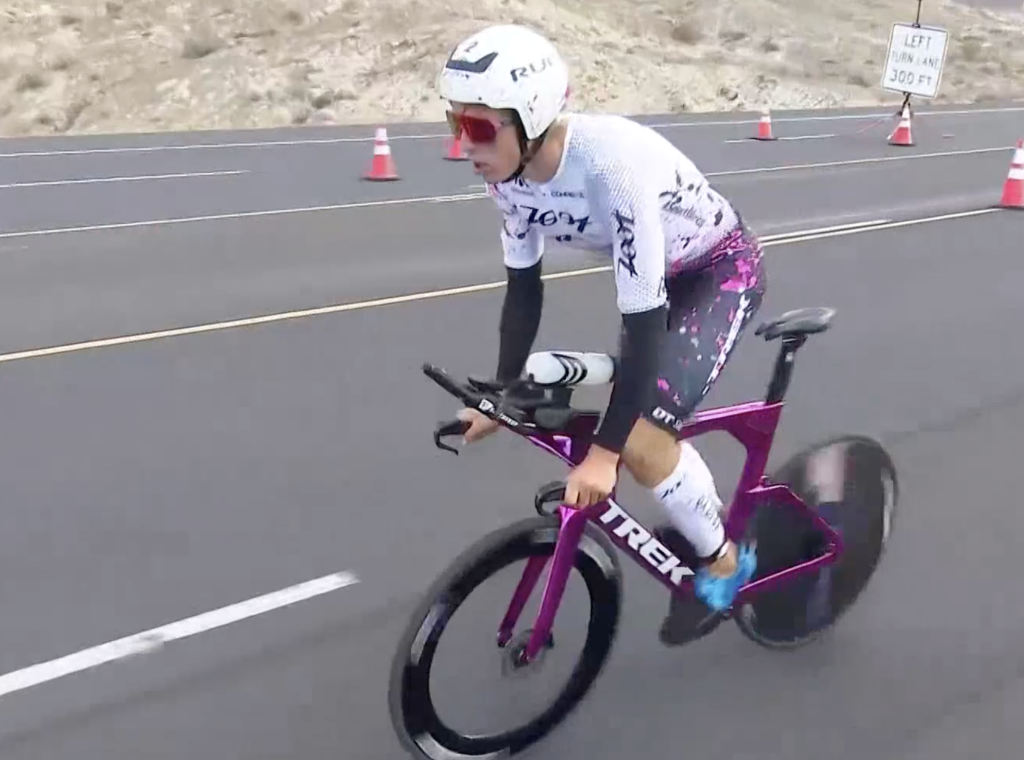 Also in the following kilometers it was constantly Blummenfelt who did all the work at the front, and the Norwegian did so more than successfully; while Funk, Taagholt, Kanute and Ditlev were still in his wheel when sixty kilometers had been completed, the gap of Noodt and Iden had now increased to 1:40 minute. At the same time, the large group behind them had now broken up, so serious differences were emerging between the men in the midfield. Overall, they were all losing time, as when Jackson Laundry was the first from this group to come through, the clock was now at +3:21 minutes already.
From kilometer 65, someone took over the initiative from Blummenfelt: Ditlev thought it was time and increased the pace once again. This immediately was too much for Taagholt, as he lost time in the following kilometers, leaving a leading group of four. Not much later, the pace also proved too fast for Kanute, leaving the leading group with only three men; Ditlev, Blummenfelt and Funk. At the same time, Iden also lost connection with Noodt and lost a lot of time as well; coming through in eighth place after 75 kilometers, he was suddenly more than four minutes behind the four leaders.
In the final kilometers on the bike, which were mostly downhill, Ditlev gave it one more push and so he still created a small lead over his pursuers: once in T2, Blummenfelt came back at nine seconds, Funk at eleven seconds and Kanute at forty seconds. The fastest transition was for the Norwegian and thus Blummenfelt started the closing half marathon first. Perhaps most striking was how much time Iden eventually lost; he began his 21.1-kilometer run ninth and was then 5:22 minutes behind.
The run became particularly exciting right from the start, especially thanks to Ben Kanute. Although Blummenfelt initially took the lead, it was the American who made up for his forty-second deficit within four kilometers and passed the Norwegian on the steepest climb of the run. That was a shock for Blummenfelt, as he had visibly not counted on that, and he immediately started looking back to see who else was coming. There he did not immediately see anyone, as after five kilometers Ditlev was running third at 25 seconds and Funk was then fourth, but more than a minute and a half behind. In any case, the battle between Blummenfelt and Kanute was magnificent, all the more so because Blummenfelt had to pull out all the stops to stay close with Kanute.   
Text continues below picture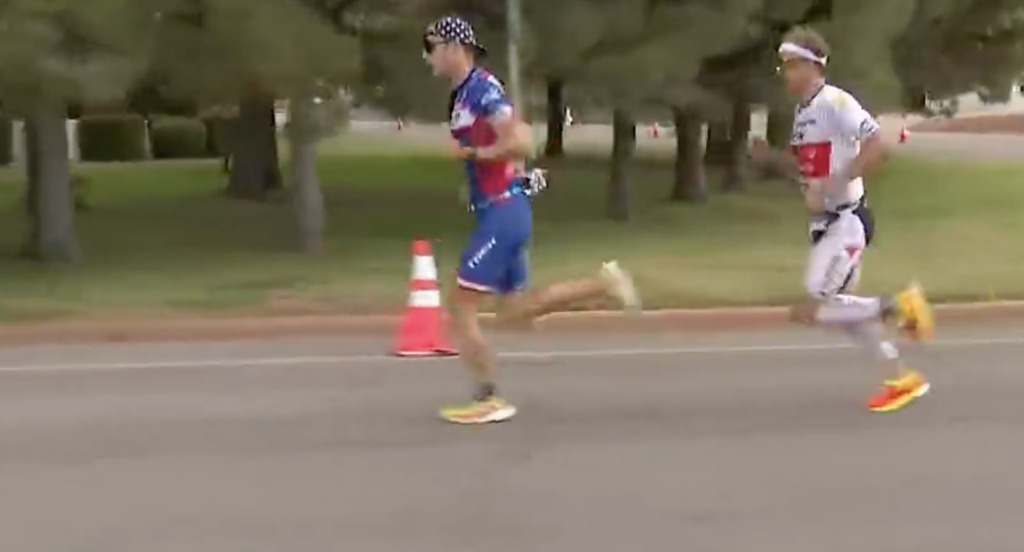 In the kilometers that followed, then, the rest suddenly seemed less interesting; that Ditlev stayed fairly close to the leaders, that Iden lost time and positions very hard and even ended up crying on the ground shortly before he abandoned from the race, that Sam Long, meanwhile, had begun making up time thanks to a strong run. The only thing that seemed to count at this point was the exciting battle between Kanute and Blummenfelt, who kept chasing each other for kilometers. When both men came through after one of the two laps at the point with the most crowd, Kanute impressed even more by asking the crowd to cheer loudly; it must have undoubtedly been impressive for Blummenfelt to see. Still, the Norwegian looked unimpressed and fairly unperturbed he continued to follow his American competitor.
Text continues below picture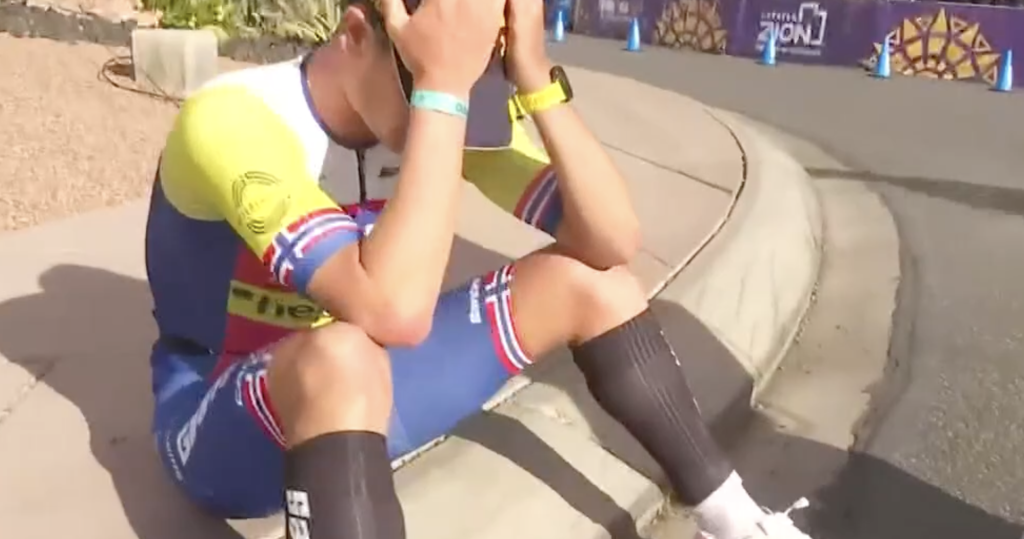 With five kilometers to go, the hardest point – at least in terms of altitude meters done – had been reached and the route was still mostly downhill toward the finish. That was when Blummenfelt, somewhat surprisingly, struck mercilessly and passed Kanute without mercy, directly created a gap.
From then on, things suddenly went very fast and Blummenfelt was in no danger anywhere no more. He ran strong and took the victory in a time of 3:37:12. Ben Kanute was second in 3:38:01 and Magnus Ditlev third in 3:39:52.