It was a 'masterclass triathlon' just given by Taylor Knibb: the American elite athlete not only won the World Championship Ironman 70.3, she did so in a way that will long be remembered. Her supremacy was so enormous that the race actually became boring to follow, but at the same time her supremacy was so impressive that the race was therefore nevertheless epic.
The start of the race was mainly characterized by the cold conditions in St. George; with an outside temperature of four degrees and a water temperature of about 20 degrees, it was anything but really pleasant. Nevertheless, the race started exactly as expected; defending champion Lucy Charles immediately took the lead during the swim. Perhaps more surprising was the fact that none other than the Dutch Lotte Wilms managed to close the gap to the British leader and joined her about halfway through the swim. She did not do this alone, as Taylor Knibb also came to the front, creating a leading group of three women in the water. After 23:50 minutes these three women, with Charles in first position, came out of the water first towards T1. First chasers at that point were Flora Duffy (+00:30), Holly Lawrence (+00:33), Grace Alexander (+00:39), India Lee (+00:42), Ellie Salthouse (+00:44), Rachel Olson (+00:59) and Emma Pallant-Browne (+1:10).
Text continues below picture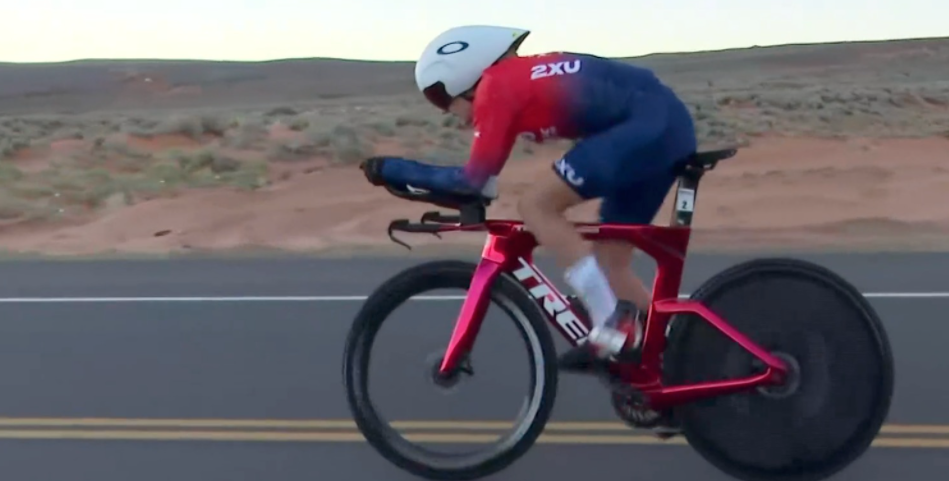 Even though Knibb had a bad transition and not only lost over half a minute but also positions with it, it was still the American who started the bike impressive strong. In the first kilometers she immediately caught up with Duffy and also Lawrence – who had passed her in T1 – and not much later she also passed the at-that-point leading Lucy Charles. For a moment it looked like Charles was parked, but nothing was further from the truth; it was simply Knibb who was flying over the bike course at an almost otherworldly pace. Soon the first serious differences appeared: after twenty kilometers, Knibb had a lead of more than a minute already. It was then Duffy who came through in second and was 1:13 minute behind Knibb. Charles, Lawrence and also the strong riding Paula Findlay were close behind Duffy.
From that moment on it became clear that Knibb was not riding with the handbrake on, because halfway through the bike her lead had already increased to more than three minutes. The chasing foursome was joined by India Lee at that point, but still the five women could not close the gap to Knibb; it kept getting bigger and bigger.
Text continues below picture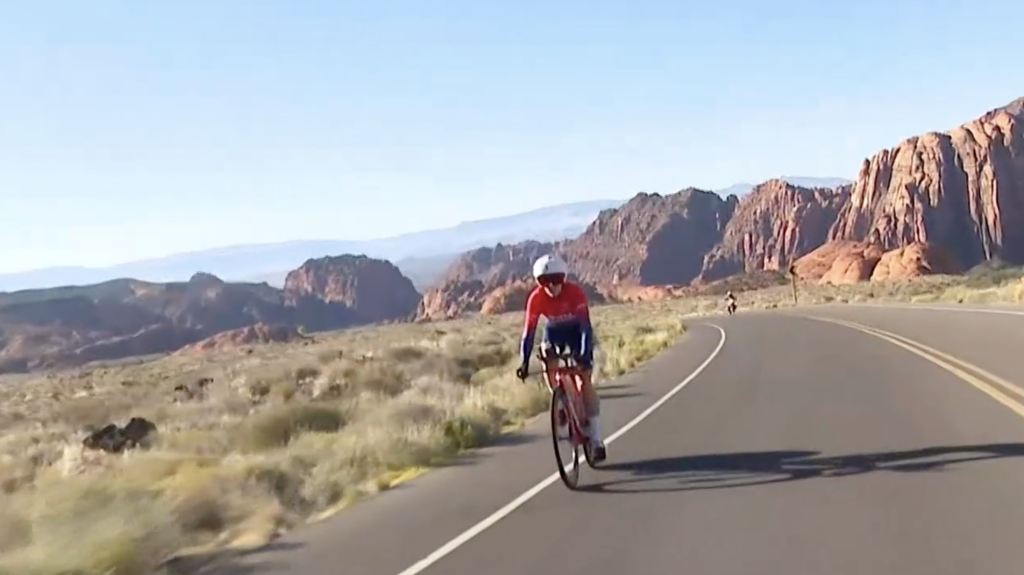 Knibb did not slacken off anywhere and was well focused; she rode her own race, kept up a high pace and did not let anyone come near her in the kilometers that followed. After 65 kilometers, her lead had increased to nearly five minutes. Meanwhile, behind, Lee had had to serve a five-minute penalty and Lawrence was struggling more with the pace, leaving only Charles, Findlay and Duffy to follow. Lawrence had already lost more than a minute on her three companions at that point, so she was riding fifth at more than six minutes behind Knibb. Meanwhile, the livestream commentators were already speculating about with what kind of lead Knibb would start the run, but one thing was already certain at this stage; it had to be crazy or Knibb would miss out on victory.
A lot happened in the last kilometers of the bike; Lawrence lost a lot of time and Charles was dropped by Duffy and Findlay. At least for a while, because in the descent towards T2 the British athlete rejoined the duo and so these three women together returned to the transition area in pursuit of Knibb. They were almost discouragingly behind: at that point they had 6:45 minutes to make up on the Knibb. Lawrence followed as fifth at 9:33 minutes behind.
Text continues below picture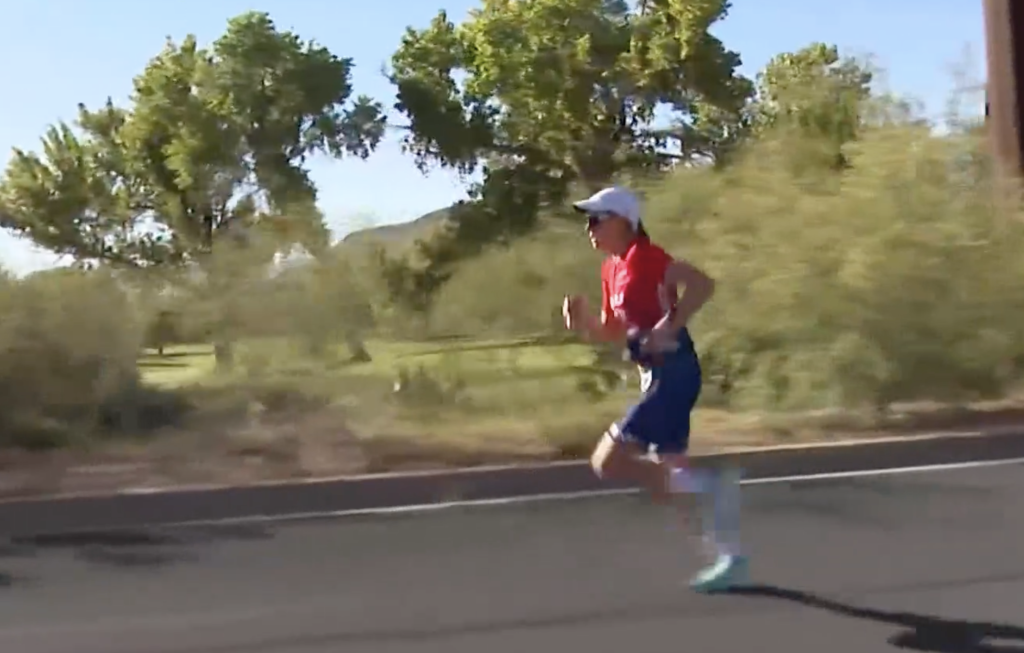 If Charles, Duffy and Findlay were still under the illusion that they could possibly win the race, they were able to let go of that illusion after five kilometers of running; Knibb seemed to have no problem with the tough course – lots of climbs, a little bit of offroad and meanwhile rising temperatures – and even managed to extend her lead to over seven minutes. In that respect, the battle between Charles, Duffy and Findlay was actually more exciting, as they were running side by side and did not give each other an inch in this phase. Stakes for this battle: the silver, the bronze and the always painful fourth spot.
Text continues below picture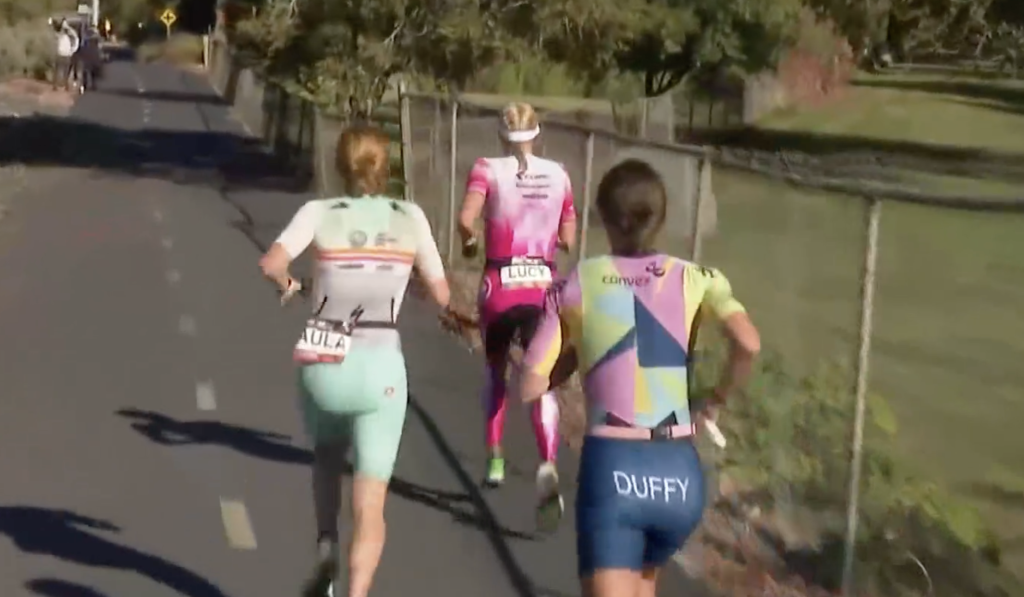 After about ten kilometers into the run, the chasing group finally fell apart. First it was Charles who had to drop out and later Duffy also wasn't able to follow; Findlay ran too fast and continued solo – and thus in second place. Meanwhile, Pallant-Browne, who had a disappointing swim and bike today, was making good progress during the run and was already in fifth place. However, her deficit of over ten minutes did not make it easy for her to run to the front.
While Knibb was able to run relatively comfortabel to victory in the final kilometers, things were still extremely exciting behind. The battle for silver was also decided – Findlay was strong enough to secure second place – but behind, Charles again passed Duffy and, meanwhile, Pallant-Browne, with five kilometers to go, was less than a minute behind those two women. Not much later, Pallant-Browne passed Duffy, so she was fourth and had sight on a podium finish for sure.
At that point, Knibb ran to a blistering victory; she won the World Championship Ironman 70.3 in a time of 4:03:20. By the time Findlay finished second, 5:36 minutes behind Knibb, Pallant-Browne had already passed Charles. It was a bitter pill for the latter, but so for the very strong running Pallant-Browne it meant she took home the bronze. She did so 7:24 minutes behind Knibb.