Max Neumann and Anne Haug just experienced stunning victories at the PTO European Open. Below is our live ticker in which we have posted updates from start to finish. The latest updates are at the top of this page. Now you look back on all the highlights and developments of the race from start to finish.
—Original Message—
At 8:15 am CET. the men's race of the PTO European Open starts and at 9:45 am the women's race starts as well. Expect an exciting battle between Kristian Blummenfelt and Jan Frodeno and Ashleigh Gentle and Daniela Ryf, but there are dozens of other world class athletes racing who are equally among the favorites.
Below you will find comprehensive updates from start to finish, so that you are constantly informed of what is happening before, during and after the race. Be sure to refresh this page: the latest updates always appear at the top. The updates start with a time: that is the time on the race clock. The time for the women's updates (F) and men's updates is different because of the different start times.
——-Updates——-
With the results of the women's race we end our liveticker. Thanks for following us! See you next time.
RESULTS Women's Race:
1 Anne Haug 3:38:01
2 Ashleigh Gentle +2:29
3 Lucy Charles +2:55
4 Emma Pallant-Browne +4:19
5 Paula Findlay +5:33
6 Tamara Jewett +5:50
7 India Lee +7:23
8 Luisa Baptista +8:35
9 Lotte Wilms +9:14
10 Holly Lawrence +9:47
F 3:40:55: Ashleigh Gentle wins the silver in a time of 3:40:31. Just 26 seconds later, Lucy Charles wins the bronze.
F 3:38:01: Anne Haug wins the race in a time of 3:38:01. What an amazing performance by the top German athlete. Supremely powerful!
F 3:32:00: With only 1500 meters to go, the podium seems certain: Anne Haug's lead is nowhere in danger, and Ashleigh Gentle and Lucy Charles also seem certain of their second and third positions.
F 3:22:00: Lucy Charles just overtaken by Ashleigh Gentle and now in third position.
Text continues below picture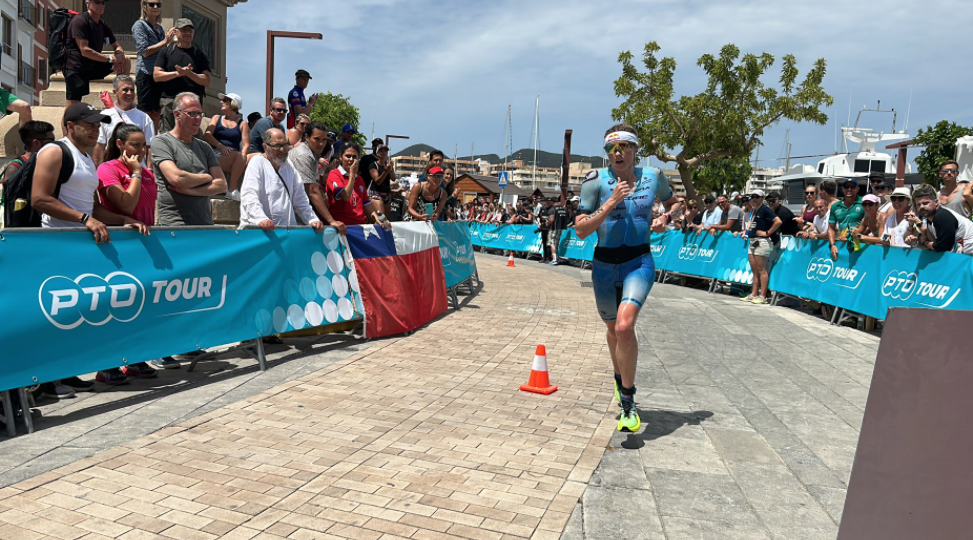 F 3:14:00: After more than 10.5 kilometers, Haug continues to fly and so the German sees her lead widen rapidly: 39 seconds on Lucy Charles now and 57 seconds on Ashleigh Gentle. Paula Findlay (+3:06), Emma Pallant-Browne (+3:07) and India Lee (+3:07) make the battle behind them very exciting.
F 3:05:00: Nice to see: Anne Haug and Lucy Charles briefly cheering each other on as the ladies switch positions.
F 3:02:00: Eight kilometers done and ten kilometers to go and Anne Haug is only ten seconds behind Lucy Charles. It won't be long before she goes directly over Lucy Charles. In this respect, the tension is much less than in the men's race, as nothing and no one seems to be able to keep Haug from victory.
F 2:54:10: Things are going fast now: Anne Haug is only forty seconds behind Lucy Charles with twelve kilometers to run and seems to be on fire for victory. Ashleigh Gentle is still third and is also only a minute behind Charles. Of course the race is still wide open, but Haug's pace is by far the highest.
F 2:45:30: Anne Haug seems to be the fastest runner at the moment. The German former World Champion has already advanced to second place and is quickly catching up to Charles.
F 2:42:00: It is the fast women who run to the front. Lucy Charles obviously in the lead after 2 kilometers and Ashleigh Gentle and Anne Haug then follow at a minute and a half. India Lee also remains with the two chasers.
F 2:33:40: Paula Findlay, Ashleigh Gentle, India Lee, Rebecca Clarke, Fenella Langridge and also Lotte Wilms are following a minute and a half behind. Anne Haug made up a lot of time in the final kilometers on the bike, coming in 2:06 minutes behind Charles in T2.
F 2:32:05: Lucy Charles is back in T2 and starts the run with a nice lead. 18 kilometers to go in the women's race.
Extra: Max Neumann crosses the finish line!
Text continues below picture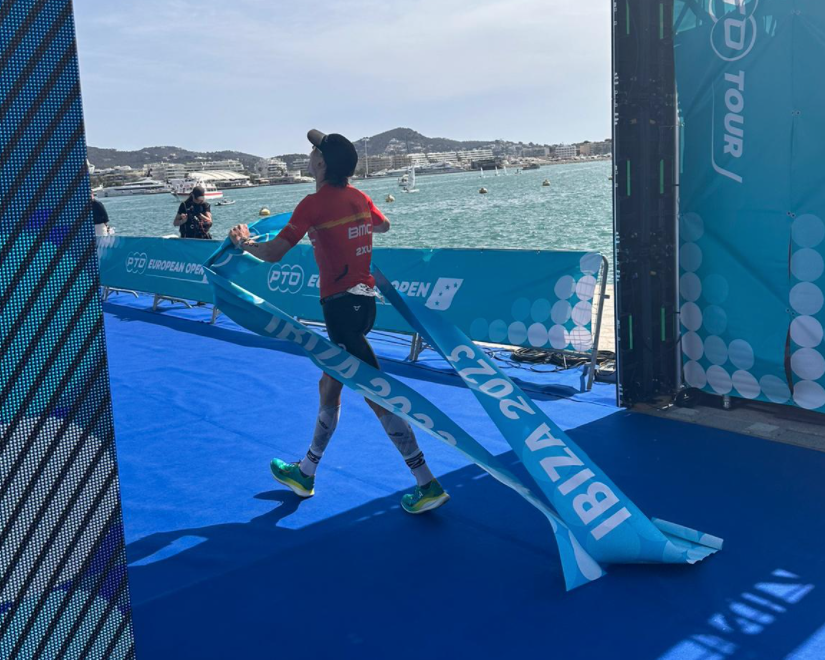 F 2:06:00: Back to the women's race. Lucy Charles is still supreme after more than 60 kilometers on the bike. She leads by a minute and a half on Ashleigh Gentle, Paula Findlay, Lotte Wilms, India Lee, Rebecca Clarke and Fenella Langridge. Anne Haug follows in tenth place at 2:51 minutes.
RESULTS MEN's RACE: Finish top ten:
1 Max Neumann 3:13:47
2 Kristian Blummenfelt +00:27
3 Magnus Ditlev +1:50
4 Jan Frodeno +2:16
5 Jason West+2:19
6 Alistair Brownlee +3:17
7 Daniel Baekkegard +4:16
8 Ben Kanute +4:22
9 Kyle Smith +4:46
10 Aaron Royle +5:07
3:13:47: After a thrilling finale, Max Neumann won the PTO European Open. With a finishing time of 3:13:47, he ultimately stayed 27 seconds ahead of Kristian Blummenfelt. The bronze was for Magnus Ditlev who finished 1:50 minute after the winner.
3:09:00: 1500 meter to go for Neumann and 19 seconds ahead of Blummenfelt. The final stage is to be enjoyed.
3:07:00: Or is it possible after all? Insanely exciting because with 2 kilometers to go Blummenfelt is only 23 seconds behind Neumann and his pace is about ten seconds per kilometer faster….
3:03:00: Neumann seems to be holding the race: with three kilometers to go, he is thirty seconds ahead of Blummenfelt. Making up ten seconds per kilometer seems even too much of a good thing for the Norwegian.
3:00:00: With exactly three hours on the clock, four kilometers left to run. Neumann is fighting for all he's worth and still looks strong. Blummenfelt continues to catch up but still has 34 seconds to make up.
2:54:20: Things are about to get tight in the men's race: with 5.5 kilometers to go, Neumann is still defending a 39-second lead over Blummenfelt. Meanwhile, Ditlev is third and only ten seconds behind Blummenfelt. Brownlee now drops away and is fourth at 1:16 minutes. Fifth is Jan Frodeno at 1:37 minute behind. By far the fastest runner of the day is Jason West, who now lies sixth at 2:36 minutes behind.
2:49:50: With seven kilometers to go, Blummenfelt is now running second. He is only 42 seconds behind Neumann and running over ten seconds per kilometer faster!
F 1:13:40: Meanwhile, Lucy Charles continues to ride incredibly strong. After 30 kilometers on the bike, she still has a 1:15 minute lead over a large chasing group of eight women. At 2:30 minutes, a second group follows with a number of favorites like Ryf and Pallant-Browne.
2:45:00: Blummenfelt is not running, but flying. The Norwegian is going fast and getting closer and closer to the leader. Neumann now in the lead with a six-second lead over Brownlee and 33 seconds over Ditlev. Blummenfelt only 52 seconds behind in fourth position. Kyle Smith drops away but is still fifth at 1:01 minute behind. Frodeno follows in sixth at 1:27 minute.
2:44:00: There goes Neumann: exactly halfway through the run he runs away from Brownlee and so we have a new leader in the race.
2:40:10: Neumann has joined Brownlee: so the Australian is now in the lead of the race together with the Brit. Will he take the lead solo directly?
2:35:50: Things are about to get exciting. With only eleven kilometers to go, Neumann is only seventeen seconds behind leader Brownlee. Ditlev, now third, is also only 39 seconds behind. The men are getting closer together.
2:31:00: Brownlee is looking forward to the win: the Brit is unleashed and going fast. Nevertheless, Neumann, just passed Smith and now second, is suddenly closing in fast: he is still only 25 seconds behind the leader. Blummenfelt, still over a minute behind, meanwhile slowly but surely runs away from Frodeno.
F 55:00: Lucy Charles looks very strong on the bike, as women like Anne Haug (+3:15) and Daniela Ryf (+2:50) get no closer.
2:24:40: Brownlee holds a 12-second lead after three kilometers, so Smith follows in second and Neumann is third at 28 seconds. Ditlev does not seem to have good running legs and follows in fourth at 45 seconds. Blummenfelt and Frodeno make it exciting, running side by side in fifth and sixth positions. They are a minute and a half behind the leader.
2:23:00: Brownlee is now making the difference and running away from Smith. It's no surprise either, with a pace hovering around three minutes per kilometer. So that's about twenty kilometers per hour. Bizarre!
F 48:08: After fifteen kilometers on the bike, Lucy Charles is holding up great: she is 1:20 minute ahead of Lee, Perez Sala, Clarke, Langridge and Wilms. Shortly behind them, Paula Findlay is catching up and Ashleigh Gentle is also making up time.
2:20:00: Brownlee and Smith run side by side, occupying the first two positions. The pace is fast, entirely as expected. Brownlee seems to be running just a little stronger.
2:15:00: The running course consists of several laps so the athletes meet regularly.
Text continues below picture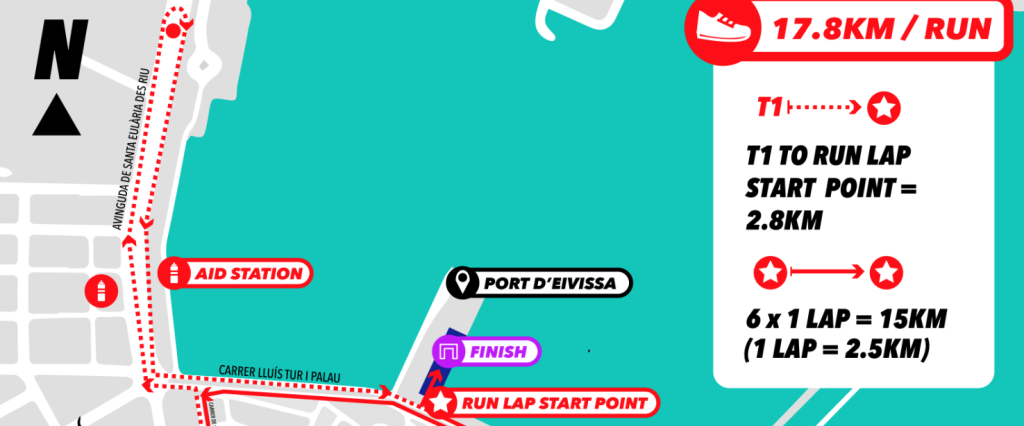 2:14:00: We are getting everything we hoped for! Smith, Brownlee, Neumann and Ditlev started the run. Eighteen kilometers. There a minute behind Blummenfelt, Royle and Frodeno in pursuit, in turn followed a few seconds later by Bishop and Kanute.
2:08:30: Ben Kanute, meanwhile, rejoined Jan Frodeno and Kristian Blummenfelt. Strong performance from the American and three incredibly fast runners together with only five kilometers to go on the bike.
F 35:50: Lucy Charles is riding strong: she significantly increases her lead over Wilms and Clarke and is now riding at over a minute ahead. The second group with Perez Sala, Lee, Langridge and Lawrence are still riding at a minute and a half.
2:01:30: The men only have eight more kilometers to bike before they begin their eighteen-kilometer run. Still in the lead are Brownlee, Smith, Neumann and Ditlev. Bishop and Royle follow at 44 seconds and Frodeno and Blummenfelt at a minute. Still, Kanute also stays connected and now follows in ninth place at 1:17 minutes.
F 26:00: Following the top three are Fenella Langridge, Sara Perez Sala, Holly Lawrence and India Lee a minute and a half behind Lucy Charles. Ashleigh Gentle follows in ninth at 2:11 minutes behind and Chelsea Sodaro in 16th at +2:34. Close behind them again are Daniela Ryf and Anne Haug at 2:43 minutes behind.
F 24:50: Lotte Wilms and Rebecca Clarke came out of the water second and third, just under half a minute behind Lucy Charles.
F 24:19: Lucy Charles added a little extra gas in the second swim and came out of the water first after 24:19 minute. The British athlete was supreme in the swim and will now try to defend her lead on the bike.
Text continues below picture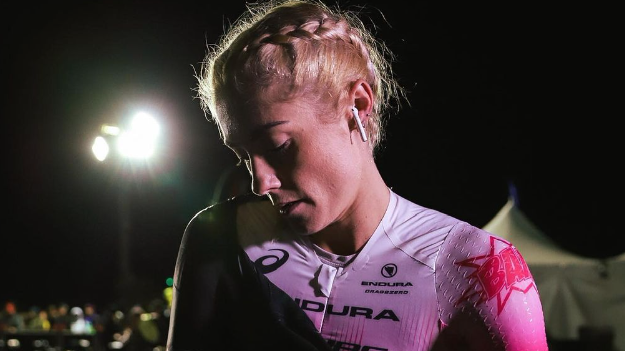 1:50:30: Blummenfelt, too, now seems to be struggling with the pace again: he is ten seconds behind the second small group that includes Bishop, Royle and Frodeno.
1:46:14: With twenty kilometers to go on the bike, things are changing in the men's race. Still four leaders, but in the second group Ben Kanute now has to pass. He can no longer keep up the pace and is fifty seconds behind the leaders (and twenty seconds on the chasing group).
F 12:00: India Lee, Fenella Langridge, Sara Perez Sala and Holly Lawrence follow at forty seconds.
F 11:43: Lucy Charles first back after a kilometer swim, 11:43 minutes: she dives into the water for her second lap now. Lotte Wilms also strong, as she follows in second at eleven seconds, with in her feet Rebecca Clarke.
1:41:00: Ditlev tries to close the gap to the leading group and succeeds: four leaders now thus. Neumann, Smith, Brownlee and Ditlev are twenty seconds ahead of Royle, Bishop, Frodeno, Blummenfelt and Kanute.
F 07:00: The women have only been in the water for seven minutes and Lucy Charles is already leading the race solo. Unprecedented how strong the British swims but we're used to it of course.
1:34:00: The chasing group is just under two minutes behind. In that group Kallin, Baekkegard, Angert, Hogenhaug and Funk.
1:32:10: In the men's race, differences are now emerging. Neumann, Smith and Brownlee have a fifteen-second lead over Frodeno, Royle, Bishop, Ditlev, Blummenfelt and Kanute. They have passed the fifty-kilometer mark.
F 01:00: Entirely as expected, it is Lucy Charles who takes the lead. The main question will be: who can follow? Last year, for example, the Dutch Lotte Wilms managed to stay with the British.
F 00:00: The women have now started!
1:25:00: The women's will start in five minutes. A spectacular list of participans there as well.
Text continues below picture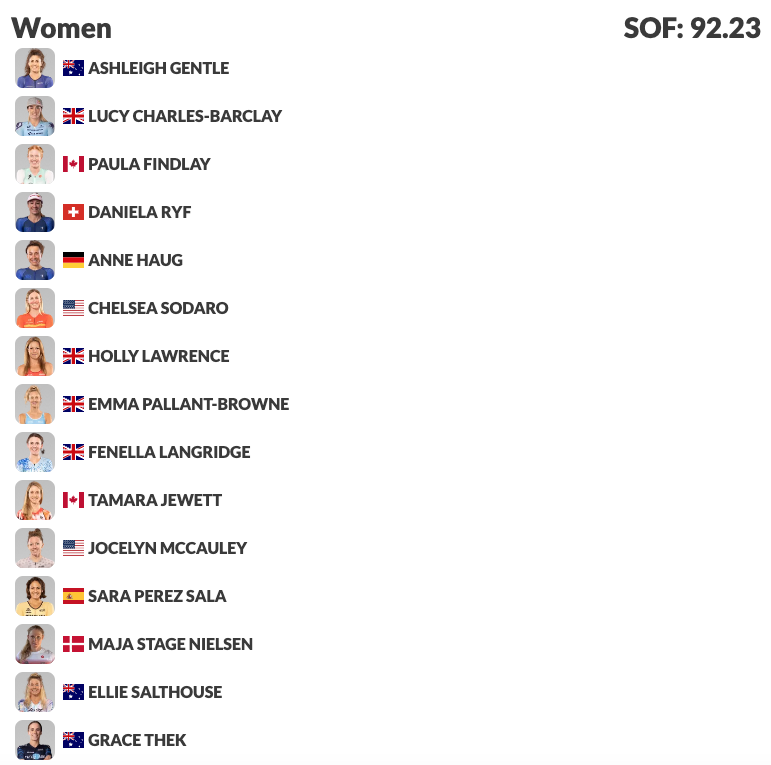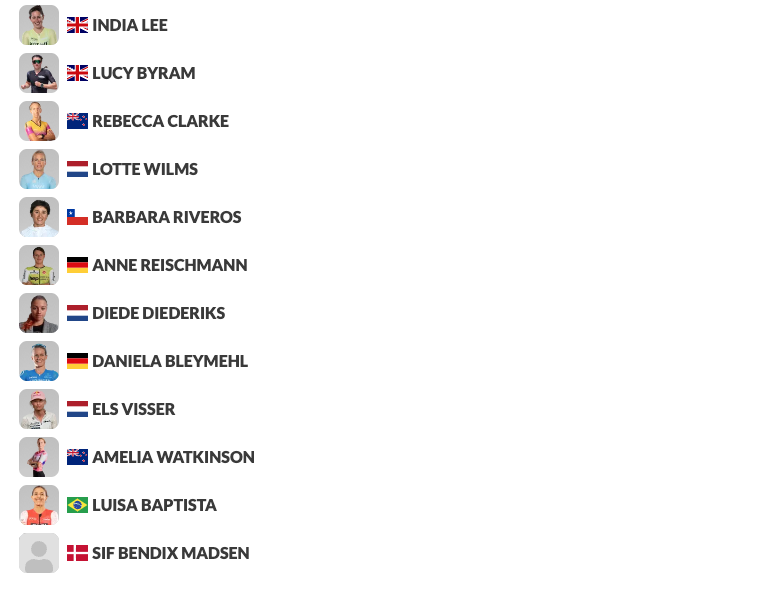 1:22:00: Frodeno is still not taking the lead and thus not doing any leading work. It is a picture we do not know: the German usually always pulled his own plan, but now seems fine to follow the leading group.
1:20:00 – Little happens for a while but by now the athletes are halfway through the bike leg. The leading group of nine is riding together just fine and Ditlev took the moment to catch his breath. Meanwhile, the women will start in ten minutes.
1:09:40: The time has come: Ditlev and also Blummenfelt have joined the leading group of now so nine athletes. Will the Dane immediately take over the lead? He is obviously cycling the strongest of everyone.
1:05:30: There is one man stealing the show right now and that is Magnus Ditlev: he is going full throttle and is only thirty seconds behind the leading group, so he has already made up more than a minute. Blummenfelt can't keep up with him and is now ten seconds behind Ditlev and thus forty seconds behind the leading group.
Text continues below picture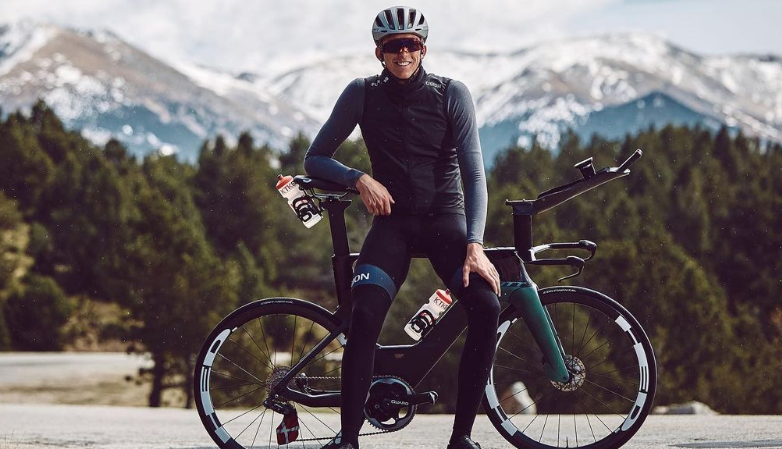 1:03:00: Striking detail: Cameron Wurf is rapidly losing time on the bike and is already four minutes behind. The man who is normally one of the fastest cyclists, maybe even the fastest cyclist, seems to be having an off day.
1:01:00: In the leading group, it is mainly Kyle Smith who is doing the leading work. The New Zealander looks particularly strong on the bike. Jan Frodeno has not yet ridden in the lead and seems to be mainly keeping quiet. Ideal position for the German so far.
59:00: With almost an hour on the race clock, Ditlev again makes up time on the leading group: he is less than a minute behind. Only Blummenfelt can follow him at the moment, which is really in the Norwegian's favor, because he is also advancing to the front now.
54:05: The lead group has passed the 21 kilometer mark on the bike, so they are at a quarter of the bike leg. Still Smith, Brownlee, Royle, Neumann, Kanute, Frodeno and Bishop together. The group with Ditlev and Blummenfelt is still riding 1:10 minute behind.
49:40: Strong performance by Thomas Bishop: he has joined the leading group, which now consists of seven athletes. Behind, Ditlev has indeed opened the throttle: with speeds well over fifty kilometers per hour, he – and with him Angert, Blummenfelt and Baekkegard – are catching up to the leading group. At this point they are 1:10 minutes behind.
45:00: It is now Magnus Ditlev who has taken the lead in the chasing group with Kristian Blummenfelt. That means the pace will pick up: it sounds likely the gap to the front will decrease now.
41:15: What is happening today? Kristian Blummenfelt continues to lose time and is already a minute and a half behind: another 15 seconds lost thus. Frodeno and Brownlee are comfortably in the leading group and seem to have the best papers for now.
Text continues below picture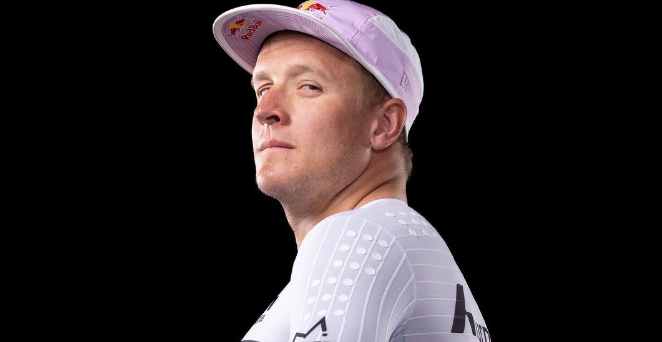 37:45: A tricky position for Thomas Bishop: the Brit is riding 15 seconds behind the leading group and also has no one with him. So, he is riding between two groups and has to go it alone for now.
34:20: For now Blummenfelt does not look very strong and over the first five kilometers on the bike he has lost another 15 seconds. The Norwegian has plenty of strong men around him so no need to worry just yet. The day is still long.
33:20: Somewhat striking: RaceRanger is being used to prevent drafting, but the leading group is riding at particularly close distances from each other.
32:00: A lead group of six has formed on the bike: Brownlee, Smith, Royle, Kanute, Frodeno and Neumann. Bishop and Angert just missed the connection and a little further back Blummenfelt is trying to close the gap to the front.
27:00: The bike course for today: a 2-kilometer run-up and then four rounds of 19 kilometers. Each lap a decent climb and descent.
Text continues below picture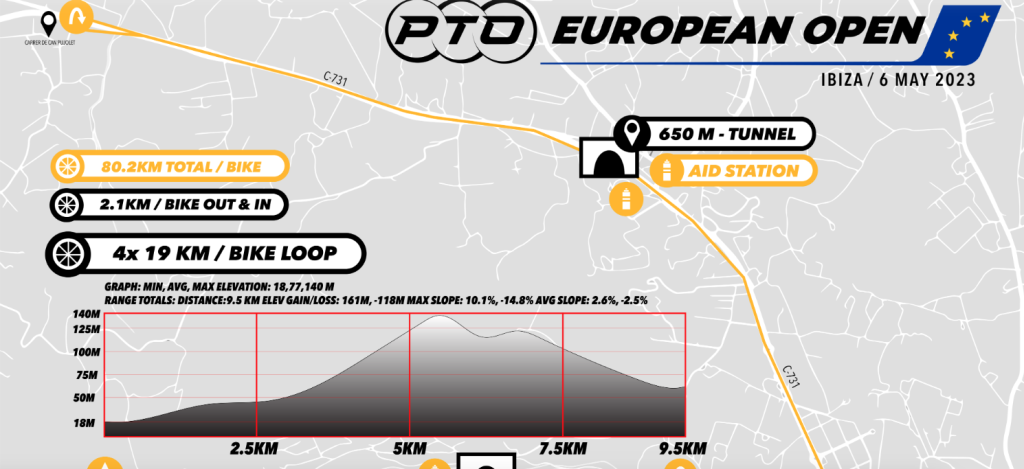 24:30: Behind them, things are getting exciting as Kristian Blummenfelt is a minute behind. He is in a group that includes Jason West, Rudy von Berg, Frederic Funk, Filipe Azevedo and Robert Kallin. Powerbikers Magnus Ditlev and Kristian Hogenhaug are also in this group, while Cameron Wurf is 20 seconds further back.
23:30: The differences are small: Kyle Smith, Andrea Salvisberg, Max Neumann, Daniel Baekkegard, Florian Angert, Thomas Bishop and Ben Kanute are all within 20 seconds of the leader.
22:39: Aaron Royle first out of the water: 22:39 minute is the swim time. Jan Frodeno follows at one second and Alistair Brownlee at three seconds.
21:15: It looks like some guys from the second group are connecting with the lead group. It remains difficult to see, but we are approaching the swim exit and then we will know more.
17:00: Moral winner for now is Jan Frodeno. The German will start biking ahead of Kristian Blummenfelt and is in control for now.
11:36: Magnus Ditlev and Cameron Wurf follow forty seconds behind. The Dane and Australian are arguably the strongest cyclists in the field and will undoubtedly advance to the front soon.
11:25: Kristian Blummenfelt follows as 14th, halfway through the swim. The Norwegian is 28 seconds behind.
10:56: Australian exit: one kilometer has been swum and another lap of one kilometer follows this landlap. Aaron Royle leads the field: 10:56 minute over one kilometer. Right behind him Jan Frodeno, Alistair Brownlee, Kyle Smith and Andrea Salvishberg. Also immediately behind are Florian Angert, Thomas Bishop, Daniel Baekkegard, Max Neumann and Ben Kanute.
07:30: Biggest question for today seems perhaps: what is Jan Frodeno capable of? The German, seen by many as the greatest of all time, has not competed for almost two years. The pressure will be particularly high for him.
Text continues below picture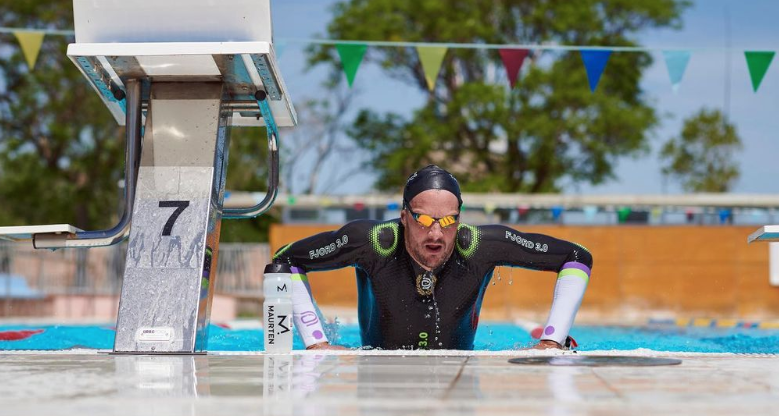 03:15: As expected, it is Aaron Royle who is currently leading the swim. Kristian Blummenfelt is looking for a tactical position to the right of the group, a bit out of the scramble.
02:15: In the water, the group stays together as a big unit. It is expected that the first differences will be made soon, but not for now.
00:00: And we're on our way! Water temperature: 18.3 degrees.
-1:00: The athletes are introduced one by one and then we get started!
-5:00: Jan Frodeno jokes to Kristian Blummenfelt: "Maybe I'll wait for you during the run."
-7:00: Magnus Ditlev is also considered one of the favorites: the Dane finished second at the PTO US Open late last year, just behind Collin Chartier who was recently caught using EPO. So Ditlev will be extra keen on a victory now.
-10:00: Conditions are perfect for now: the water is calm, there is no wind and athletes are allowed to swim with wetsuits.
-15:00: We'll start with the men's race in fifteen minutes. What a field of participants: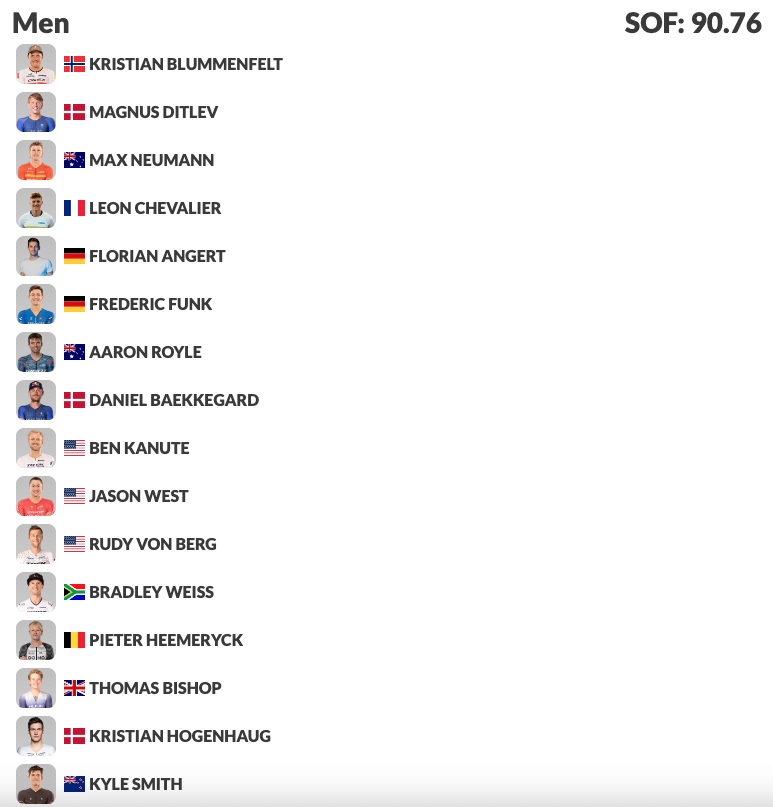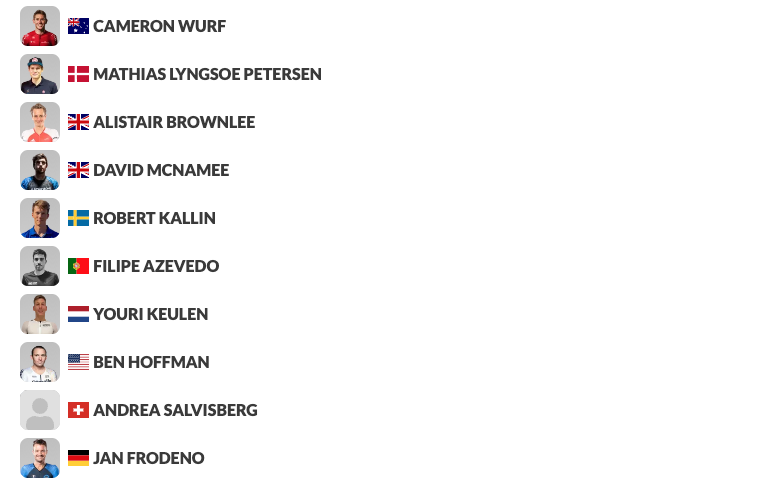 -23:00: The race starts with a 2km swim: athletes will swim two loops of 1km including an Australian exit.
Text continues below picture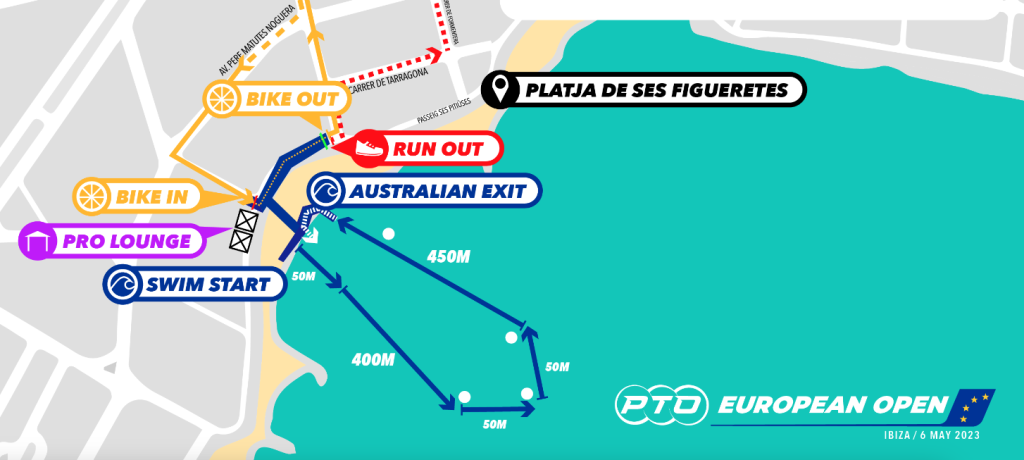 -25:00: Unfortunately, there are also a number of cancellations for the race. Best-known names are Sam Laidlow and Patrick Lange, both of whom were seen as podium contenders.
-35:00: The PTO European Open takes place in Ibiza and involves the 'PTO 100' distance: all athletes swim 2 kilometers, bike 80 kilometers and run 18 kilometers.
-38:00: Biggest favorite among the women seems to be Ashleigh Gentle: she has never lost a PTO race where she was at the start. Most competition is expected from frequent world champion Daniela Ryf.
-40:00: With forty minutes left until the start, we are getting ready for a great race. Biggest favorites in the men's race: Kristian Blummenfelt, Jan Frodeno and Alistair Brownlee.