While almost all the attention went to today's race in Ibiza, Ironman 70.3 St. George also just took place. That race was won by Sam Long and Jeanni Metzler. The two winners made sure the race was not really exciting; they ran to victory quite easily without really being in danger.
As always, Sam Long had quite a bit of time to make up after the swim: he came out of the water in fifteenth place and was then 1:41 minute behind the leaders . That didn't last long, because after only about ten kilometers on the bike, he had made up his deficit and went into the lead together with his compatriot Dylan Gilespie. Gilespie hung on for quite a while, but well before the end of the bike leg Long took off again and then headed towards T2 on his own. When he got there, he had a lead of nearly three minutes over three chasers: in addition to Gilespie, Trevor Foley and Jackson Laundry. Lionel Sanders followed in fifth, but was then four minutes behind.
During the run, Long did exactly what he needed to do: consolidate his lead. When Long crossed the finish line after 3:43:05 and thus taking the victory, he saw Foley finish second 2:21 minutes later. At 3:06 minutes, Laundry finished third. Gilespie dropped far away, leaving Sanders fourth, more than five minutes behind winner Long.
Text continues below picture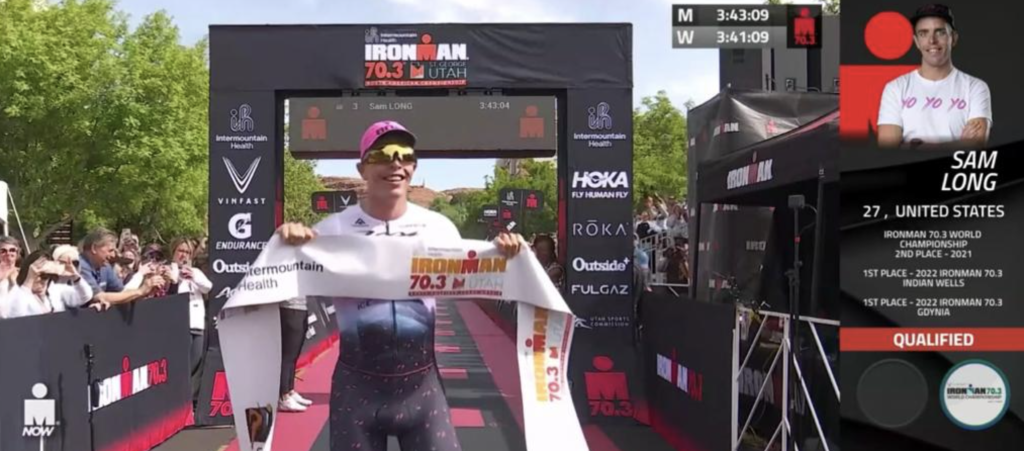 As in the men's race, the winner of the women's race, Jeanni Metzler, also had time to make up after the swim: she came out of the water in third place and then faced a deficit of 1:12 minute. It took her longer to catch up to the head of the race, because at first it was American Lauren Brandon who continued to lead solo. After a little over forty kilometers on the bike, Metzler nevertheless came to the front and joined Brandon. Skye Moench also hooked up and due to the high pace that was then being driven, Brandon lost connection in turn. Once back in T2, Moench and Metzler had a lead of over 2:20 minutes over Rach McBride, Anna Bergsten and Lauren Brandon.
During the run, Metzler immediately grabbed a huge lead, over a minute within a few kilometers, and that lead wasn't in jeopardy anymore either. She won the race in a time of 4:16:42 and was ultimately a minute ahead of Skye Moench. Danielle Lewis finished third, 1:41 minute behind Metzler.