She was already considered the biggest favorite – if only because she defended her title from last year, St. George – and Taylor Knibb just showed why she was the biggest favorite at the World Championship Ironman 70.3 in Lahti. The American was in the lead for most of the day and with great power she just crowned herself Ironman 70.3 World Champion once again.
Triathlon Today published a live ticker from start to finish, with constant updates. Those updates can be found below, with the most recent updates at the top. If you want an overview of the full race, you should read the updates from bottom to top.
Live Ticker:
Final standings:
1: Taylor Knibb 3:53:02
2: Kat Matthews +4:03
3: Imogen Simmonds +4:53
4: Emma Pallant-Browne +5:32
5: Paula Findlay +7:30
6: Laura Philipp +9:25
7: Marjolaine Pierre +10:10
8: Amelia Watkinson +10:27
9: Daniela Ryf +10:55
10: Anne Reischmann +13:15
3:57:56: An equally big smile from Simmonds. Caught up in the closing stages, but going home with a wonderful third place finish.
3:57:05: Matthews crossed the finish line with a huge smile and claimed second place. Finishing in a time of 3:57:05, she was just over four minutes behind the winner.
3:53:02: Taylor Knibb does it and prolongs her world title!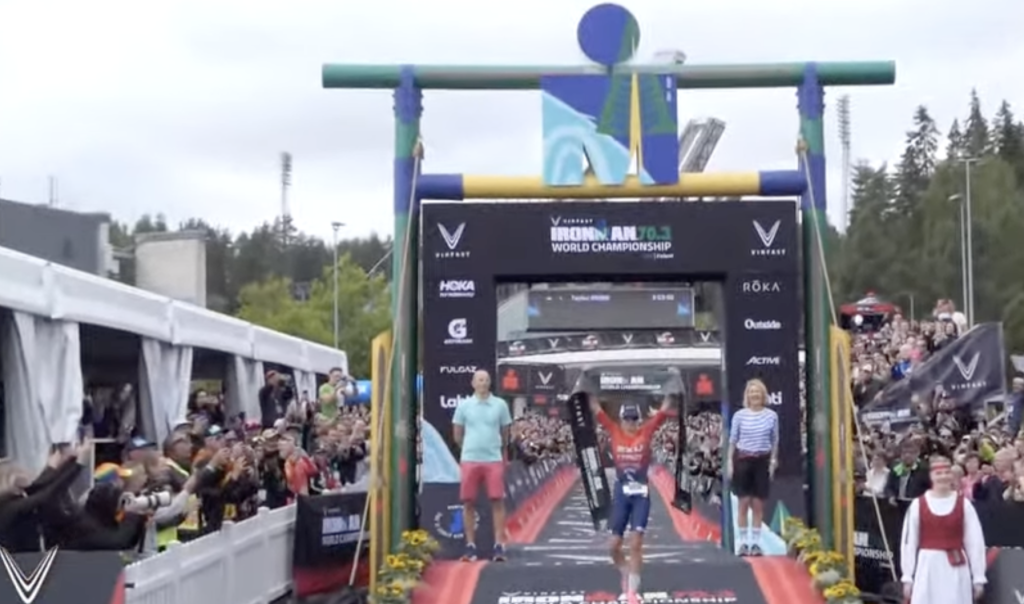 3:46:00: A new number two. Matthews has passed Simmonds and is now running second.
3:42:30: And now things are going fast all of a sudden: Matthews has already made up another thirty seconds and is thus still thirty behind Simmonds. Will the Swiss again – like at the PTO Asian Open last week – succumb in the final kilometers?
3:40:14: Matthews is closing in on Simmonds and running within a minute with just over five kilometers to go. The battle for silver is going to be an exciting one.
3:37:20: Knibb is not worried about her victory: she even took a moment to visit the toilet for twenty seconds. What a luxury that that's possible.
3:32:00: Five kilometers to go for the already 'golden Taylor Knibb'. But what will happen behind? Will Matthews perhaps still be hunting toward Simmonds? Simmonds is running at 4:14 minutes behind Knibb and Matthews follows at 5:29 minutes.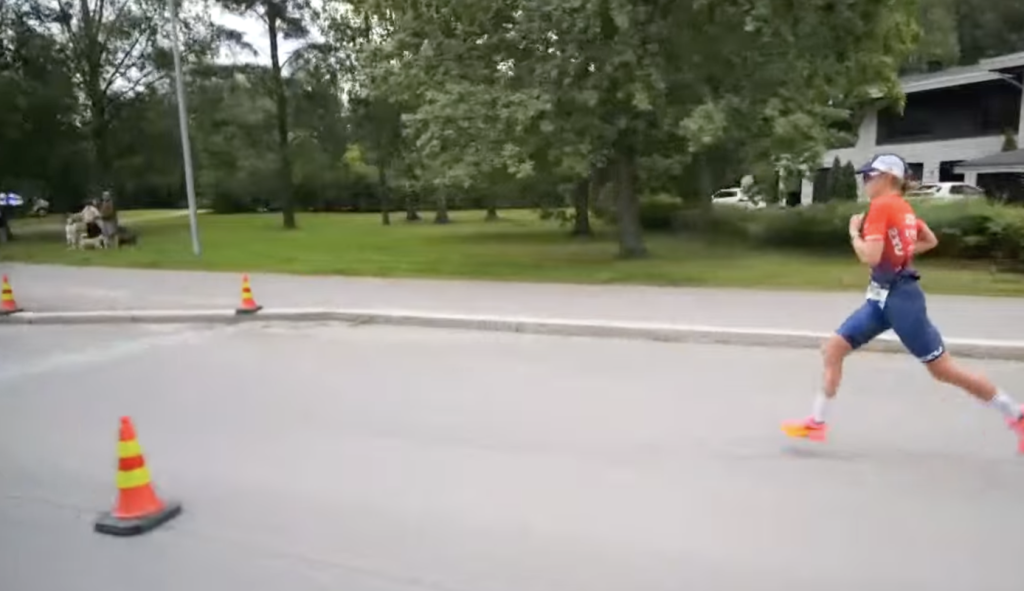 3:29:00: Speaking of resilience, Matthews is now running away from Pallant-Browne again and thus seems headed for a strong third place finish.
3:22:30: Meanwhile, Knibb has 'only' eight kilometers to go that separate her from title prolongation and she is probably already beginning to celebrate a bit. Her lead remains very stable so she has little to worry about.
3:19:00: Wonderful to watch: Matthews does not give in and keeps running a meter ahead of Pallant-Browne. Beautiful battle!
3:13:00: Halfway through the run, Pallant-Browne has made up her deficit to Matthews, putting both women in a tie for third place. Simmonds is holding her own for now; she is 3:50 minutes behind Knibb, but is still defending a lead of nearly two minutes over her two pursuers.
3:11:00: Amelia Watkinson now also passes Daniela Ryf, who thus now drops back to eighth place.
3:09:30: It's all happening pretty far behind Knibb. The American is literally flying down the course. Almost halfway through the run, she isn't taking it easy anywhere.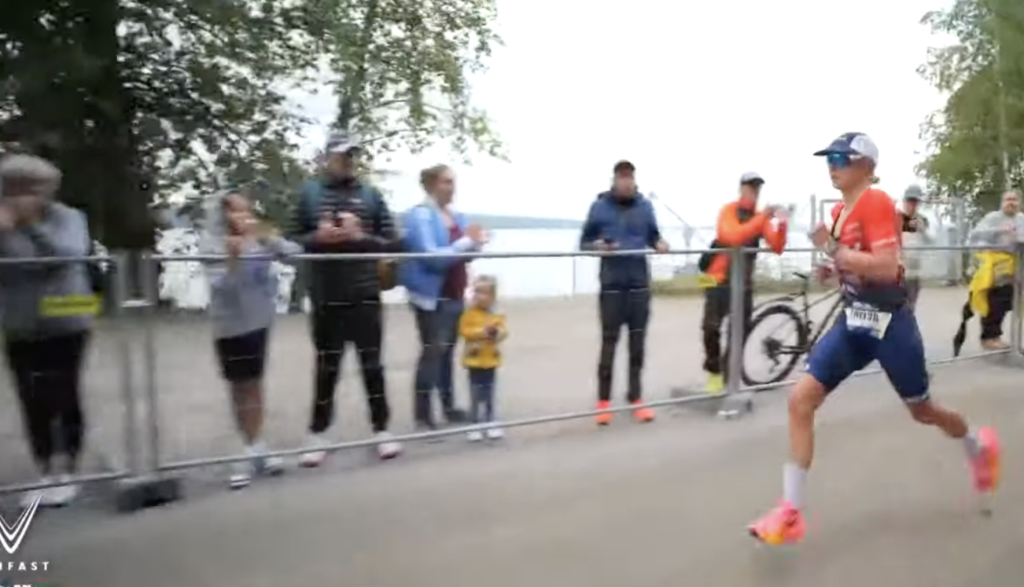 3:06:30: Wonderful battle for third place. Pallant-Browne runs back to Matthews and has only 12 seconds to make up. She is already watching her rival's back.
3:02:00: After the first five kilometers into the run, the balance can be tentatively taken. Knibb looks set to prolong her world title and is 3:29 minutes ahead of Simmonds. Matthews follows in third at 5:36 minute, Pallant-Browne fourth at 5:53 minute, Findlay fifth at 6:52 minute, Ryf sixth at 8:24 and Philipp seventh at 8:25. And as we speak Philipp passes Ryf, no doubt a painful moment for the Swiss.
2:55:30: Meanwhile, Simmonds just seems to be getting into her rhythm better and has managed to pick up her pace a bit. She is now 3:20 minutes behind Knibb, but is still nearly 2:20 minutes ahead of the third woman, Matthews. The women have now completed a quarter of the half marathon.
2:54:00: Daniela Ryf is clearly not enjoying her best run today. She runs considerably slower than the women in front of her and also sees Laura Philipp getting closer.
2:48:20: In the opening stages of the run, Simmonds looks like she is going to be the woman in problems, more than anyone else. In two kilometers, she immediately loses a minute on Knibb, and meanwhile she also sees the women from behind closing in. Matthews (pictured) is making a serious difference there and is now running further away from Pallant-Browne, who in turn is running away from Findlay, who in turn is running further away from Ryf.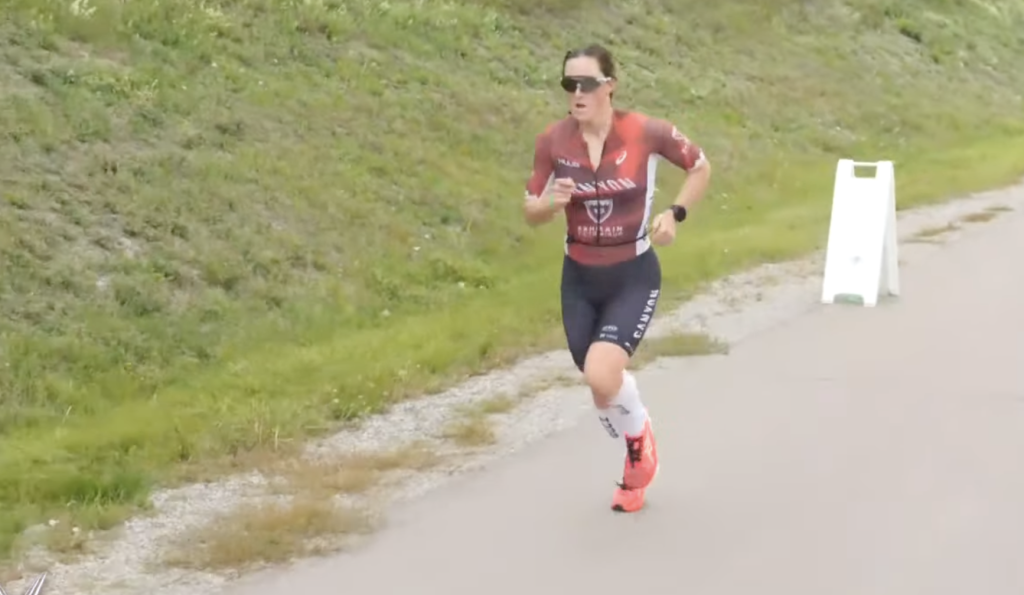 2:44:00: In the chasing group, it is Matthews who gets off to the most energetic run start. After half a kilometer of running, she has a 15-second lead over Pallant-Browne, nearly 20 seconds over Findlay and nearly half a minute over Ryf.
2:42:00: After the chasing group, Laura Philipp (seventh, +6:47) and Amelia Watkinson (eighth, +6:53) also returned to T2.
2:39:30: Just before entering T2, the chasing group also conquered the steep climb. Once in T2, Ryf, Findlay, Pallant-Browne and Matthews were just over five minutes behind Knibb.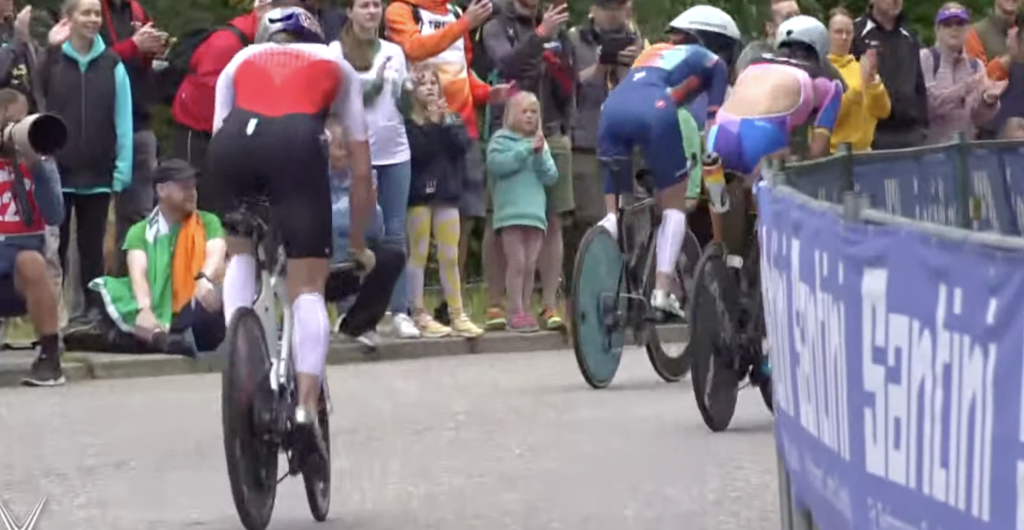 2:36:30: Simmonds is now in T2 as well. The Swiss has held up well and is looking at a 2:10 minute deficit. On to the run!
2:34:20: Knibb is in T2 and has a lightning fast transition. With a swim time of 24:45 and bike time of 2:07:52, things are going fast today!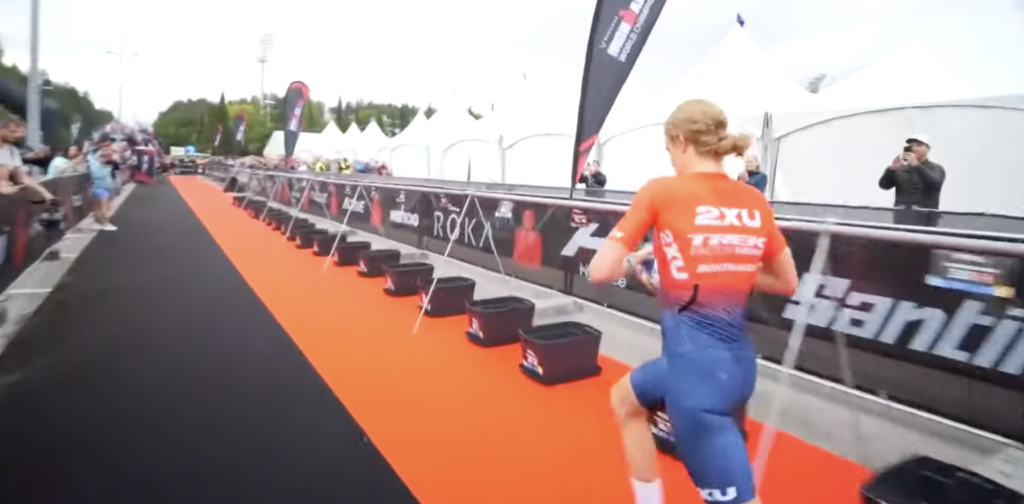 2:31:00 – Knibb is now – just before the end of the bike leg – on the steepest climb of the course. It's still a long way to go. She's going full speed and shows no signs of fatigue.
2:26:00: Two laps are run to a total of 21.1 kilometers. And as with the bike course, there are quite a few elevation gains during the run.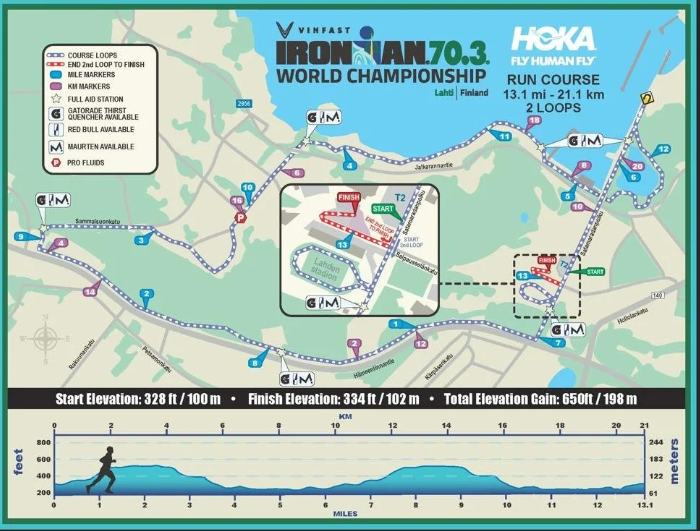 2:23:00: The last kilometers on the bike and once in T2 we can finally see the real gaps. What can we actually expect from the run?
2:16:00: The most exciting battle now appears to be the battle for the silver and bronze. For now, Simmonds is holding on in second position and still has a few minutes ahead of the big names behind her.
2:12:00: The eight fastest women after 71 kilometers on the bike: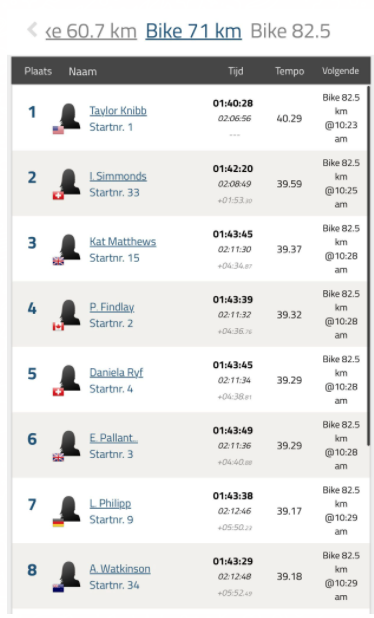 2:03:00: Knibb isn't holding back anywhere. On the short climbs, she is standing on the pedals. That she cycles so strongly is no surprise; not for nothing did she recently sign a contract as a professional cyclist, something she combines with her existence as a pro triathlete.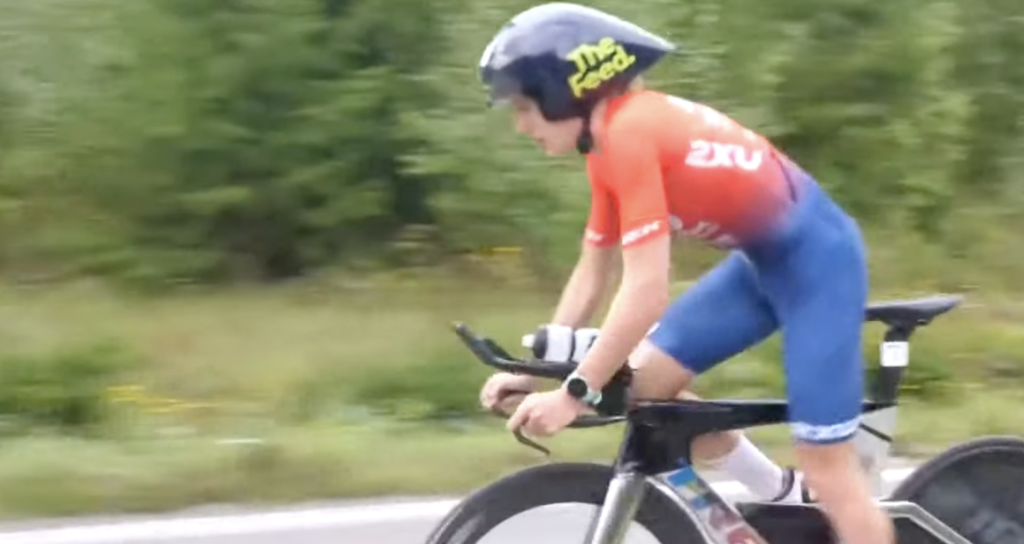 1:59:00: At the same time, there have been several races where Knibb completely broke down just during the half marathon and lost minutes of lead – and thus the win. We'll see, but at least the Ironman 70.3 World Championships are completely on!
1:55:00: On a 'normal' day, Pallant-Browne is probably the fastest runner in the chasing group. But closing a four-minute gap (already) is not so easy at a half marathon. Knibb seems to be right on track to prolong her world title.
1:53:00: Taylor Knibb smells blood; she keeps on pushing and even in the last thirty kilometers on the bike, she is not taking it easy anywhere. Her lead has already increased to over a minute and a half on Simmonds and over four minutes on Matthews, Findlay, Ryf and Pallant-Browne.
1:45:00: As if Holly Lawrence wasn't struggling enough, she just had to enter the penalty box for a Stop&Go. It was particularly crowded there, by the way, as there were about eight women with time penalties. Among them were Tamara Jewett and Ellie Salthouse.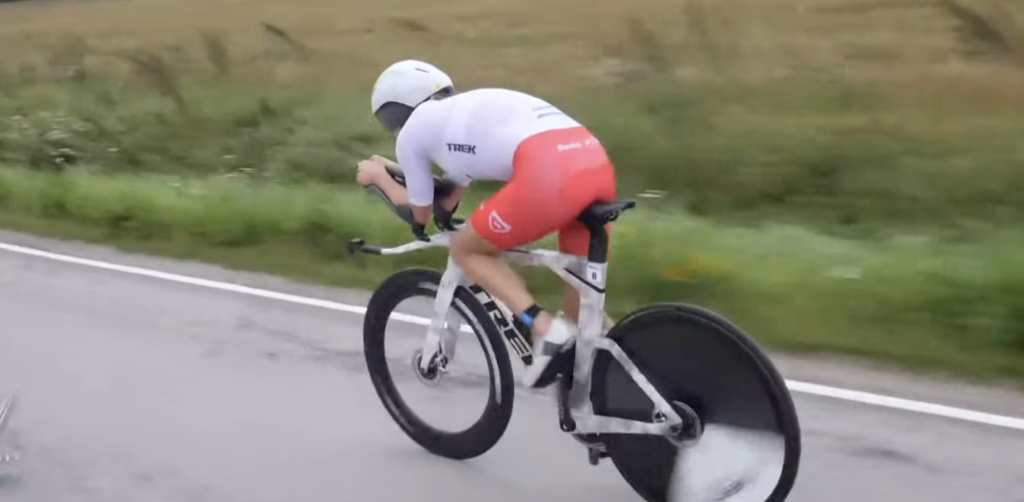 1:42:00: Laura Philipp, meanwhile, can't get the gap towards the big group closed: the German even loses some extra time and is now riding almost a minute and a half behind Matthews, Findlay, Ryf and Pallant-Browne.
1:41:00: Just how fast Knibb is riding is demonstrated by the group of favorites that is in pursuit, but keeps losing time. Another 30 seconds lost and so now at a 3:30 minute gap. Among others in that group is Paula Findlay.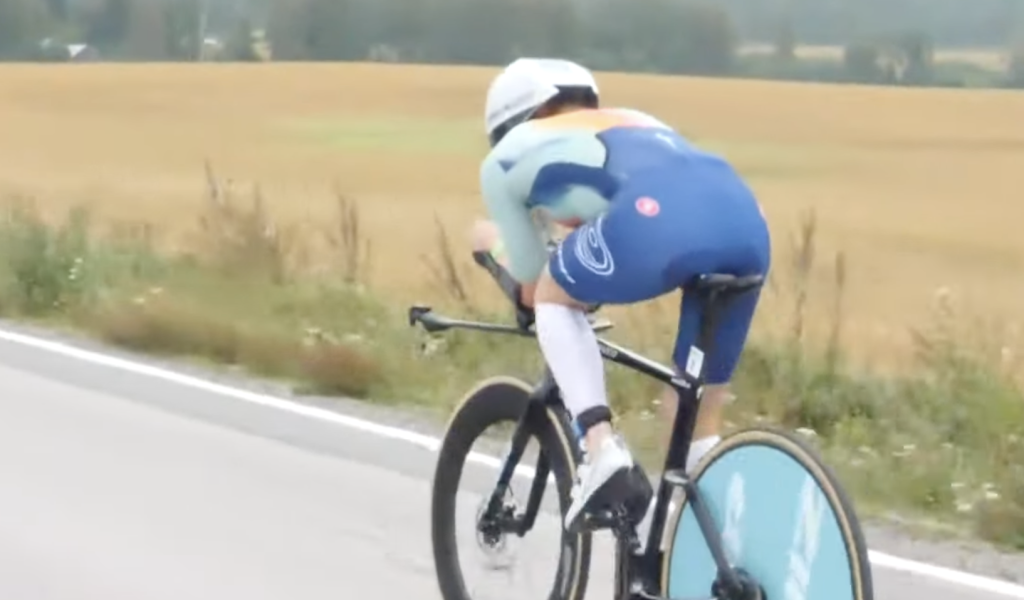 1:37:00: Unfortunately, a real off-day for Holly Lawrence. The British was considered one of the most dangerous contenders, but is riding nearly six minutes behind.
1:35:00: Taylor Knibb has already completed fifty kilometers on the bike and looks back for a moment. There she sees one thing: nothing. Her lead is getting bigger and bigger. Is there anyone in a position to keep her from the world title?
1:26:00: Despite Laura Philipp also continuing to lose time – she is now riding 4:27 minutes behind Knibb – the German did ride inside the top ten. She now is in eighth postion and now has to bridge over a minute to the large group ahead of her.
1:24:00: Not only is Knibb's lead over Simmonds' growing, but all the other women cannot stand up to Knibb's pace. The large chasing group is now riding at almost three minutes, so they lost almost a minute over the last 15 kilometers.
1:21:15: And there she goes. Knibb is flying and after forty kilometers on the bike, her lead over Simmonds is already almost a minute. The American is going all-in at this point.
1:17:00: Daniela Ryf is eager to move forward, as she is currently averaging 4.4 watts per kilo. Impressive!
1:14:00: The bike course is one lap of 90 kilometers, including several short but tough climbs. The bike course is certainly not easy.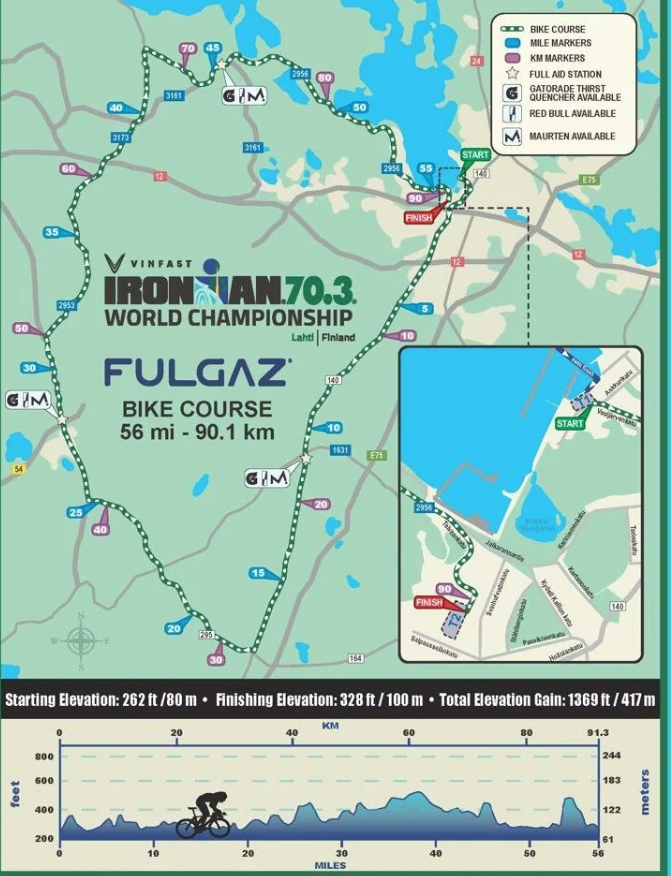 1:11:30: Taylor Knibb does all the leading; Simmonds follows. That suits Knibb because she almost always makes the difference on the bike.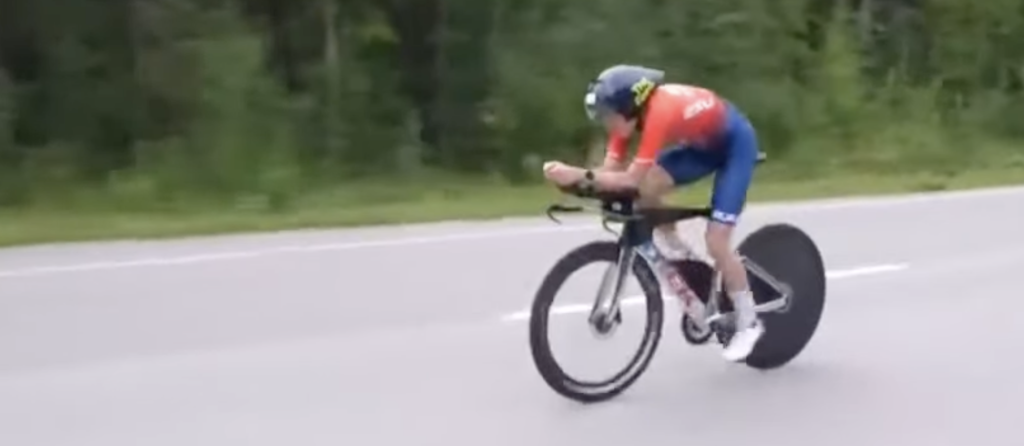 1:04:00: Taylorr Knibb and Imogen Simmonds are going well. The two of them are riding in the lead and seeing their lead increase. The group of big favorites – Ryf, Findlay, Matthews, Pallant-Browne as well as Salthouse and now Buckingham – is riding just over two minutes behind after 28 kilometers.
52:00: Meanwhile, Holly Lawrence (+2:35) and Laura Philipp (+3:26) sink into the field and further behind. The race is still young, but their start is anything but flawless.
50:00: Behind Oliveira and Lee is a group of very strong athletes: two minutes behind are Daniela Ryf, Paula Findlay, Kat Matthews, Ellie Salthouse and Emma Pallant-Browne. So, a lot of the favorites together!
48:00: Lucy Buckingham follows third at the timing point and is 50 seconds behind. She is thus cycling a bit in no man's land, as behind Buckingham, India Lee and Pamella Oliveira follow at 1:40 minute.
47:00: Simmonds was also very strong at the PTO Asian Open last week. Simmonds fell just outside the podium then, as she was overtaken in the closing stages by Chelsea Sodaro, but her fourth-place finish demonstrated her strong form.
46:15: Taylor Knibb is definitely blazing. After 14 kilometers on the bike, she is in the lead. Only one lady can follow at this point: Switzerland's Imogen Simmonds.
35:00: Ironman reports that there are "too many viewers," so the live stream is not working. They experienced this problem in previous races as well. The organization is asking for patience and will make the replay of the race available after the race….

30:00: Of the race favorites, Laura Philipp has the biggest deficit at this point. She comes out of the water in 24th place and faces a 2:44 minute deficit.
27:00: Daniela Ryf falls just outside the top ten and comes out of the water in eleventh place. The Swiss has a deficit of 1:26 minute.
26:00: Following the first three women are Caroline Pohle (+0:09), Imogen Simmonds (+0:10), India Lee (+0:34), Ellie Salthouse (+1:22), Hannah Berry (+1:22), Kat Matthews (+1:23) and Holly Lawrence (+1:24) to complete the top ten out of the water.
24:43: Lucy Buckingham is the first athlete out of the water, followed immediately by Pamella Oliveira and Taylor Knibb.
15:00: So while the race cannot be watched at this point, negative comments continue to pour in on Ironman's channels. Ironman announced a perfect and free livestream, but it went offline after three minutes.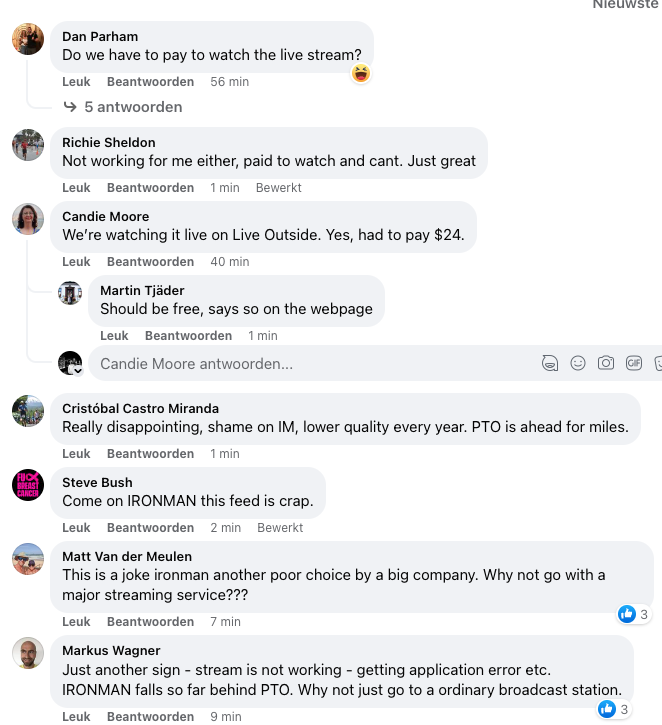 10:00: People are heavenly criticizing Ironman because of the not working livestream. It's a pain in the ass for a lot of people, judging on their comments at Ironman's channels.
4:00: One thing was certain; Britain's Lucy Buckingham set off hard and immediately tried to gain a gap on the rest of the field.
3:00: Three minutes into the race and there is an error for the livestream. Big bummer so far!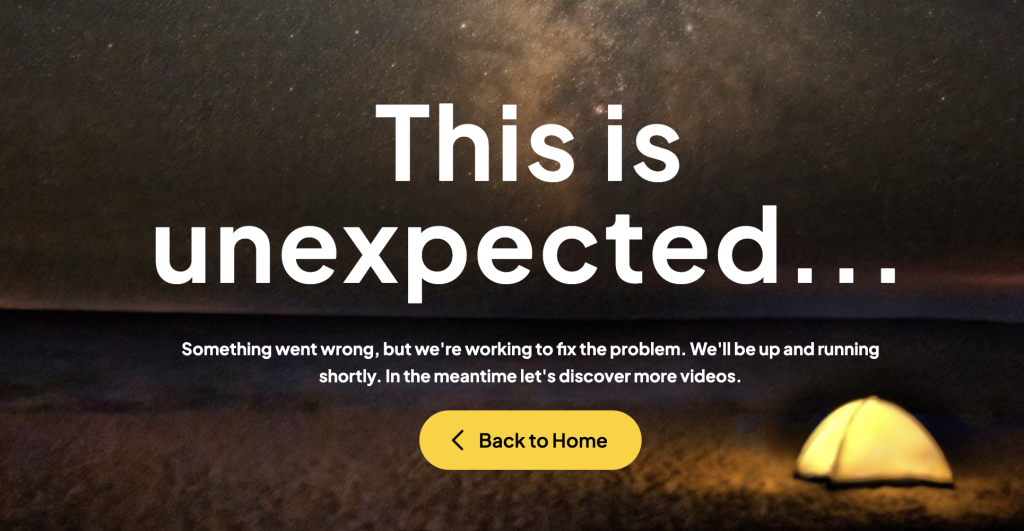 00:00: And we're off for the World Championship Ironman 70.3!
-5:00: Five minutes to the start and the pro athletes are called forward one by one!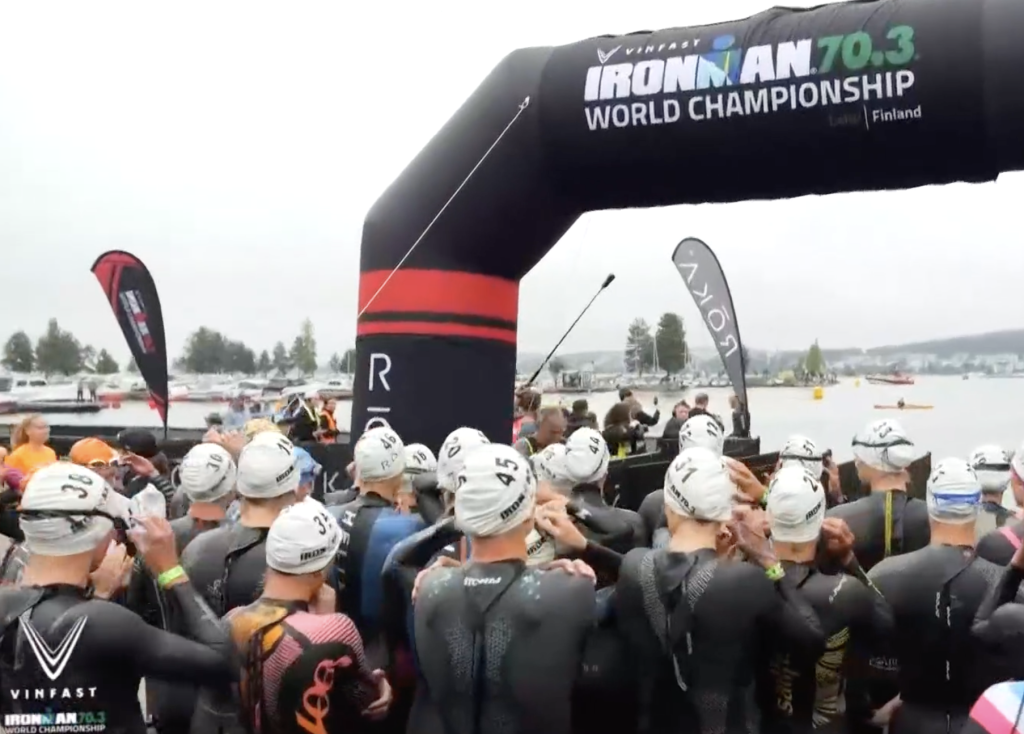 -7:00: The water is completely flat, there is no wind and the water temperature is perfect at 19 degrees. Fast swim times are expected.
-10:00: Biggest absentee today is Lucy Charles-Barclay. The top British athlete has been dealing with injury for a long time, did appear in action at the PTO US Open last week but will let this IM World Championship 70.3 pass her by.
-15:00: 15 minutes until start and the pro women are diving into the water for their warm-up. Daniela Ryf looks relaxed and concentrated.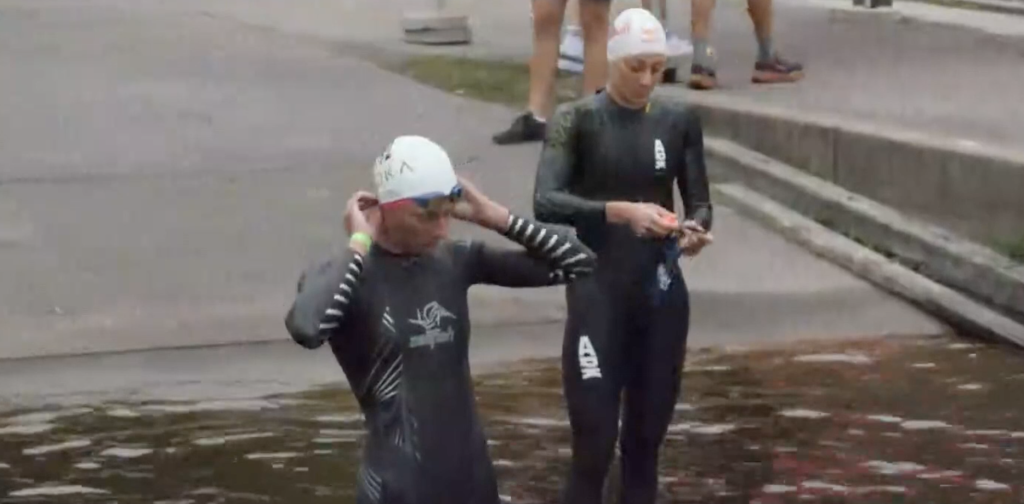 -23:00: Knibb hints shortly before the start that she especially hopes other athletes don't constantly tap her during the swim. "They always try to get in my feet, but then often push me on the shoulders", she laughs.
-25:00: Today's swim course: 1.9 kilometers.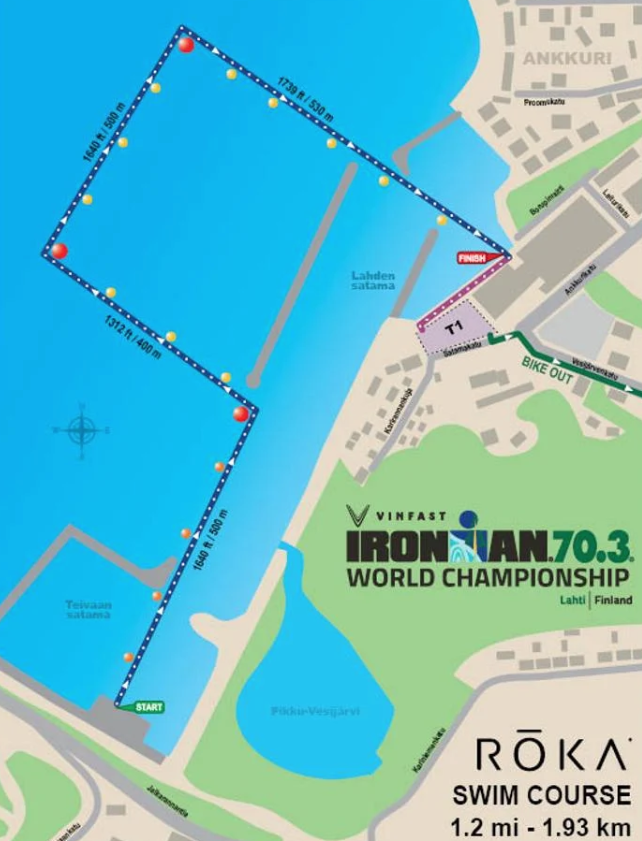 -31:00: Athletes are not allowed to enter the water in the warm-up (yet) – also because of the fog – and because of the postponement of the start, you see participants doing their warm-up on land en masse.
-36:00: What will Daniela Ryf be capable of today? Until about two months back, hardly anyone believed she would still perform at the worlds highest level, until she won Challenge Roth in the fastest time ever on a Long Distance. Many eyes are therefore on the multiple World Champion today.
-39:00: Taylor Knibb may be the defending champion; the world-class American athlete has only done five Middle Distance races in her career so far. She focuses mainly on the Olympic Distance, so in that respect she is really only a newcomer to this longer distance. Impressive that she already holds the world title anyway.
-43:00: The full start list can be found here. Taylor Knibb can expect a lot of competition in the battle to defend her title.
-45:00: So while we now have to wait another 45 minutes for the start, we can get ready for a battle between an amazing list of athletes. Some of the favorites: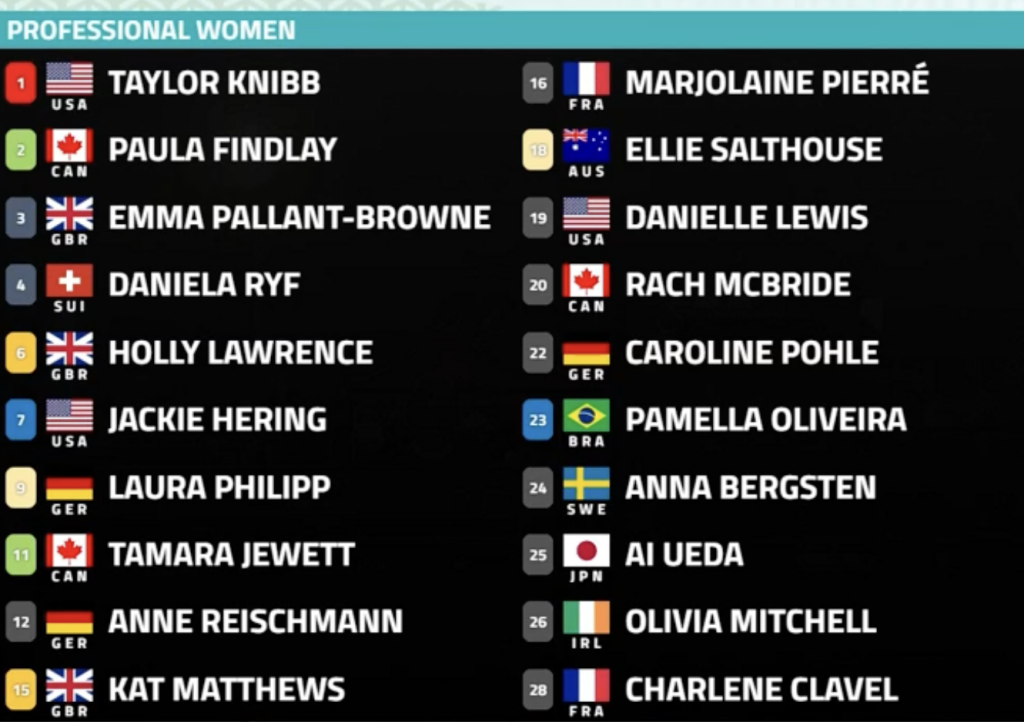 -20:00: With twenty minutes to go, the swim start was delayed by thirty minutes due to fog in Lahti.
-30:00: With an outside temperature of 13 degrees early morning and a water temperature of 19 degrees, things are looking pretty nice in Lahti.