After a spectacular first edition of Challenge Barcelona, in which athletes raced right through the centre of the metropolis and more than 3,200 participants took off, Youri Keulen and Imogen Simmonds crowned themselves winners. In a direct duel, Keulen defeated multiple Olympic and World Champion Alistair Brownlee, among others.
That the Dutch Youri Keulen is a world-class athlete has been clear for some time – he has already won a number of major races and recently finished sixth at the Ironman 70.3 World Championships in Lahti – but today he showed it once again the best way possible. Challenge Barcelona had the distances being somewhat different with a 1.5km swim, 60km bike and 15km run. Keulen actually raced pretty strong from the start, and behind Wilhelm Hirsch (18:29 minutes), Ander Noain, Aaron Royle, Alistair Brownlee and Nils Lorenz, among others, Keulen came out of the water in ninth place, just 20 seconds behind the leaders.
Bike: Keulen shows his world-class skills
On the bike, Keulen quickly rode to the front; not that he was taking it easy there, because bold as he is, he immediately took over the lead from Brownlee and so a leading group with both Keulen, Brownlee, Hirsch, Royle and also Lorenz eventually remained. For sixty kilometers, the pace of the five men was particularly high, flying through the centre of Barcelona at speeds well over fifty-five kilometers per hour, with most of the leading work being done by Keulen and Brownlee. Due to the high pace, no one in the chase was able to get closer to the leading group and once back in T2 the five leaders had a 2:30 minute lead over the first competitors.
Run: Brownlee takes initiative, Keulen finishes it cold-blooded
During the run it was very briefly Hirsch who took the lead, but after one kilometer Brownlee passed him already. At high pace Brownlee kept pushing, but he just couldn't manage to get rid of Keulen. For kilometers, the Dutchman kept following Brownlee, always about ten seconds behind. With five kilometers to go, however, Keulen thought that was enough and took over the lead from Brownlee in a very impressive way.
Of course, Brownlee didn't give up easily either and what ensued was an unparalleled duel between the two. Keulen kept picking up the pace, meter by meter, trying to force a gap, but Brownlee kept running alongside the Dutchman, his face increasingly in a grimace. Until there was only one kilometer to go and Keulen put on a final and serious acceleration: it proved too much for Brownlee, allowing Keulen to run to a spectacular victory.
Keulen won the race in 2:29:15. Brownlee was second in 2:29:36 and Hirsch was third in 2:30:55.
Text continues below picture: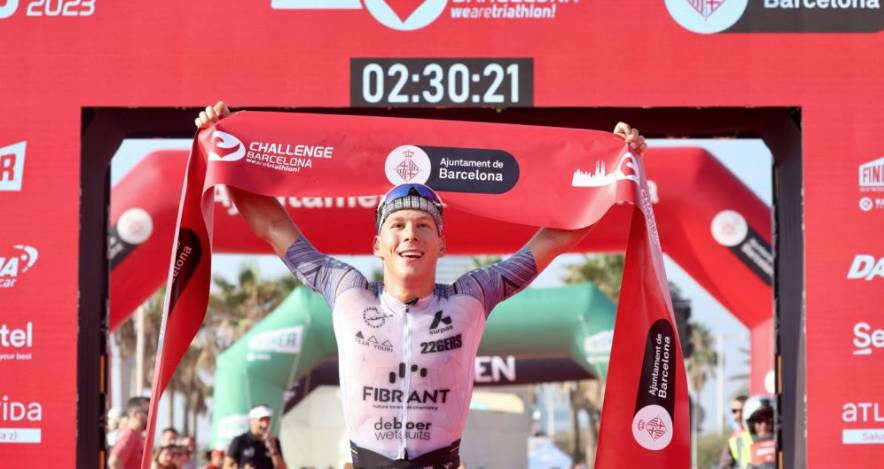 Women's race – Simmonds catching up and dominates the run
In the women's race, Imogen Simmonds did not necessarily start the race very strongly: Lucy Buckingham recorded the fastest swim time (19:11), followed immediately by Sara Perez Sala. Just under a minute behind, Caroline Pohle followed in third, but Simmonds followed in seventh at 1:20 minutes. So, at that point, Simmonds had quite a bit of work to do.
Simmonds did so on the bike, although it took her some time to do so. First it was Buckingham and Perez Sala who took off in pairs, but after about thirty kilometers Perez Sala unfortunately dropped out of the race: she turned out to be sick and unable to continue. A big disappointment for the Spanish athlete, as she grew up in Barcelona and therefore obviously would have been extra happy to win the race.
Very shortly thereafter, Pohle rode towards Buckingham and just before the end of the bike, Simmonds, who experienced a particularly strong second half on the bike, also managed to connect with the first women. Buckingham, Pohle and Simmonds therefore started the half marathon with the three of them at the same time.
During the run, it quickly became clear that Simmonds was the strongest; she took the lead right away and never relinquished it. During the run, Simmonds decided the race in her favor and eventually won Challenge Barcelona in a time of 2:49:44. Buckingham was second in 2:52:38 and Pohle third in 2:53:09.