With the National Football League (NFL) regular season coming to a close today, many teams will be sent packing for the offseason after a season filled with COVID-19 interruptions. Many of these athletes will take up off-season activities to pass the time
There are a few retired NFL players who have taken on an Ironman event, including Hines Ward, Don Davey and Darryl Haley.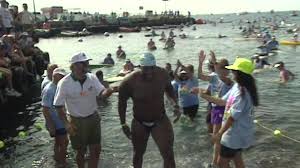 Darryl Haley played for the New England Patriots, Cleveland Browns and Green Bay Packers during the 1980s and, in 1995, went on to complete the Ironman World Championship in a time of 16:44:15. The 6'6, 300 pound offensive lineman has been coined the "World's Largest Triathlete." Haley now runs a bed and breakfast in Virginia and continues to support local organizations and promote health and wellness.
Hines Ward, a former Pittsburgh Steelers wide receiver, completed the Ironman World Championship in 2013 as part of the "Got Chocolate Milk" campaign. Ward, who is a two-time Superbowl champion, finished Kona in 13:08:15 after just eight months of training and completing a sprint, Olympic and half-distance in his build up to the event. Ward was guided through his triathlon journey with the help of tri legend Paula Newby-Fraser.
"For people out there who are on the verge of wanting to do it, always questioning of whether do it, I'm living testament that it can happen. I'm someone who had never run over a mile and in less than eight months finished Kona," Ward said after the race.
Don Davey was a defensive end with the Green Bay Packers and later the Jacksonville Jaguars, playing in the NFL for eight seasons. A year after Hines Ward completed Kona, Davey went on to finish the race in Hawaii in in a time of 13:54:57. Davey's most recent race was in 2018 at Ironman Florida where he raised funds for victims of Hurricane Michael.
With my Dallas Cowboys eliminated after a loss today against the New York Giants, perhaps the next NFL player to give triathlon a try will come from that team… enjoy the offseason guys!