"As long as there is no professional ban for convicted dopers, I have to accept his participation. But I find it difficult to accept that he is being promoted by the organizers." That's how German triathlete Boris Stein started an Instagram post yesterday after the Professional Triathletes Organisation (PTO) shared a photo on Instagram of Austrian triathlete Michael Weiss. The 2004 Olympian was convicted for doping in 2005 and banned for two years as of November 2011.
In the meanwhile – and probably after some negative response – the PTO decided to remove the photo. Stein's Instagram story, however, remains online. "I don't want to be mentioned in the same breath as him," Stein writes. "It is a disastrous sign of a clean sport and parents cannot recommend a professional career to their children in this sport. Last but not least, he takes money away from clean athletes."
In 2011 Weiss received a two-year ban for blood doping in 2005 – at the time he was part of Austria's national mountain bike team. According to the Austrian anti-doping agency Nationale Anti-Doping Agentur Austria (NADA), Weiss had his blood enriched through transfusions in a lab.
Even though Weiss served his sentence and is allowed to race again, it's not the first time that he there's been negative attention for his past. At July 27, 2019, during Challenge Prague he was called a doper by Age Group triathlete Hermann Schöberl, which prompted Weiss to slap the athlete in the face.
Stein's Instagram story with a blurred image of Weiss: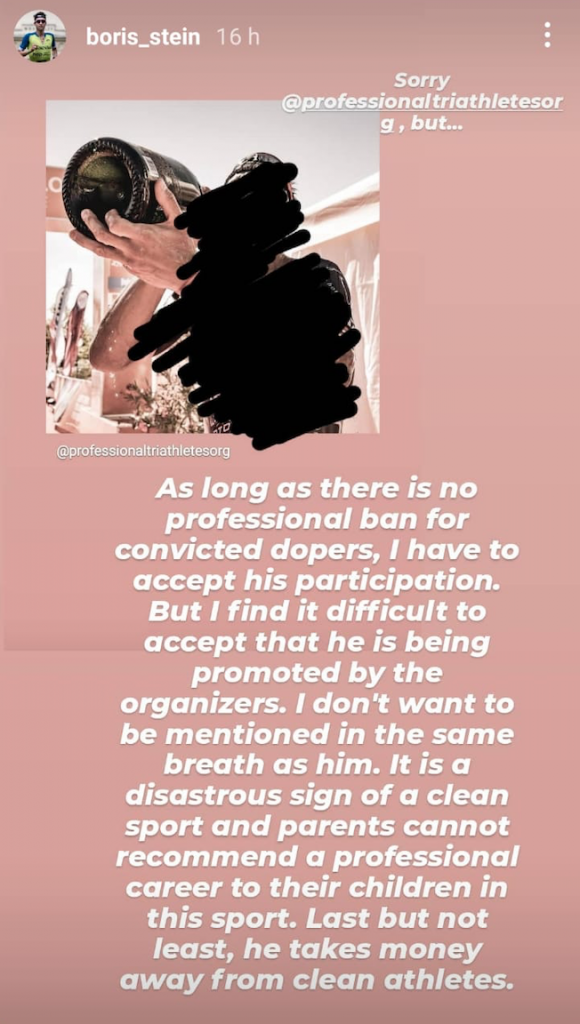 The original photo from Weiss' Instagram account: