"One thing is for sure: no one is drawn to pro triathlon for the dough," is the painful, but true, conclusion Cody Beals draws from analyzing his financial situation. Every year the top Canadian triathlete shares a detailed overview of his finances outlining income from prize money, income from sponsor deals and all his expenses. Now that the crazy year of 2020 is two weeks behind us, Beals posted his so-called "Pro Triathlon Budget, Pandemic Edition." So how much did Beals financially suffer from last year's lack of racing?
Firstly, Beals explains his financial situation had finally reached a reasonable level just before Covid-19 came along. "From my rookie pro season in 2014 to a top-20 PTO ranking and a top-5 TriRating last year, my income level progressed from 'preteen babysitter' to 'moderately successful accountant.' It took several years grinding away at triathlon to match my earnings potential in my previous job as an environmental science consultant," Beals explains in his blog.
Despite there being no races for most of 2020, Beals earned a steady income thanks to some loyal sponsors. "When international racing ground to a screeching halt, my earnings from prize money, bonuses and appearance fees were decimated. But thanks to sponsorship, my income only took a 30 percent hit compared to the past couple years."
Financial overview 2020
The below figure summarizes the development of Beals' financial situation – before taxes – over the last seven years, the column furthest to the left representing 2020.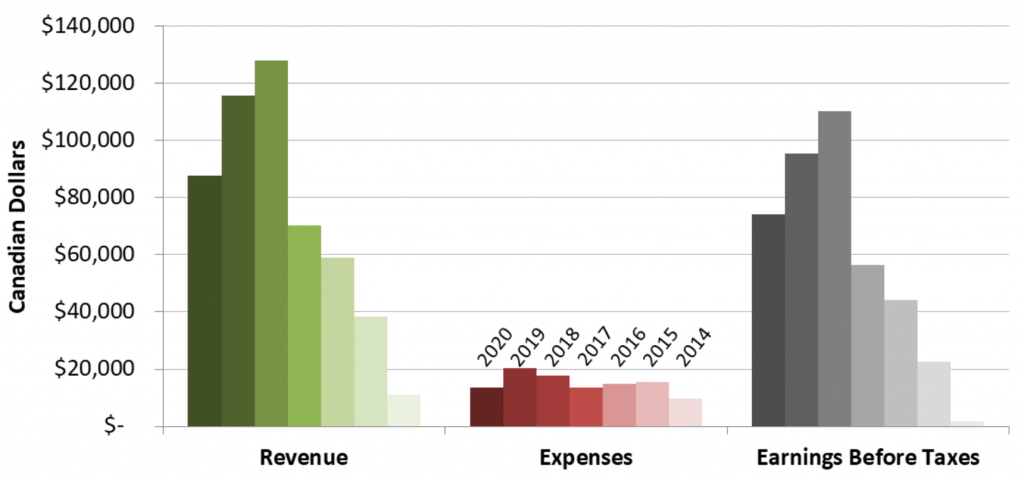 A detailed breakdown of all these expenses and revenue is given in the following graph, both in Canadian and US dollars. Beals says he prioritizes "autonomy, minimalism, and simple living over material wealth," which means he strives to keep expenses low.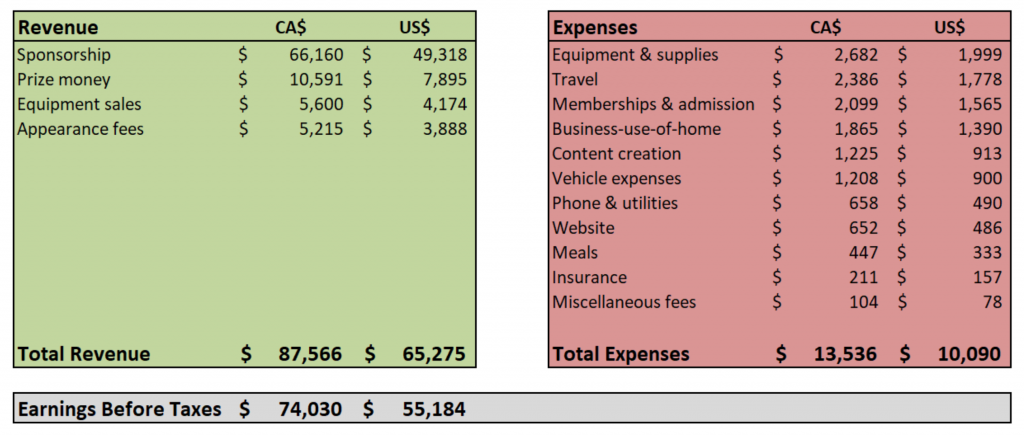 Prize money
"A pandemic-ravaged race calendar forced me to race locally for most of the year and also to branch out into shorter formats (including my first draft-legal race)," Beals says of his slimmed down race calendar in 2020. Beals describes the Professional Triathletes Organisation, which paid top athletes a year-end bonus, as a "ray of hope" in this tough year. He also says the PTO's decision to pay every athlete at the PTO 2020 Championship was a "revolutionary development."
5th – Ironman Florida: US$4,000
21st – PTO Championship at Challenge Daytona: US$2,500
6th – Canadian Pro Triathlon Championship: CA$750
Ironman VR primes: US$500
2nd – C3 Old School Pro Long Course Triathlon: CA$250
3rd – C3 Old School Pro Sprint Triathlon: CA$200
10th – Ironman 70.3 Campeche: $0
Total: CA$10,591 / US$7,895
Sponsorship agreements
This year Beals was able to be of extra value to sponsors by sharing more content on his social media channels, but he fears that if there's another year like 2020 he will either have to step up his "marketing game" or start losing revenue from sponsors deals.
"I feared the worst when most of my sponsors scheduled a call at the start of the pandemic," Beals writes. "It was a relief to hear that all my contracts were safe for 2020. Unfortunately, the outlook for 2021 isn't so rosy. I'm anticipating more attrition and turnover in sponsorship than every prior year of my career combined."
Appearance fees
The biggest hit was taken in a category on the balance sheet that Beals actually hoped to grow in 2020: appearance fees.
"This category has been a relatively small revenue stream for me in the past, but 2020 would have seen major growth if only – you guessed it – it weren't for the pandemic. The cancellation of several races I was targeting (including missing out on defending my title at Ironman Mont Tremblant) cost me over 20,000 CAD in appearance fees alone, not to mention prize money and bonuses." Beals explains he made up for part of this loss by attending some (online) speaking gigs.
Breakdown monthly expenses
With a mortgage of approximately CDN$150,000 and a low interest rate, Beals is able to keep his housing expenses rather low – even though he had considered moving to a bigger place in 2020. "In hindsight, I'm relieved I stayed put! With a costlier house, the financial impact of the pandemic could have been a nightmare rather than an inconvenience."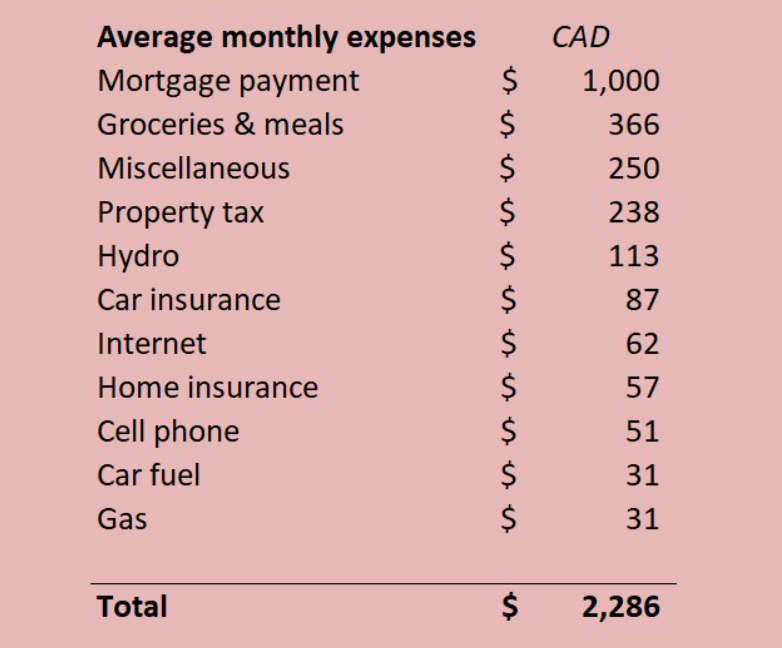 "I found space for reflection"
While the Covid-10 pandemic brought stress into many people's lives, Beals also noticed some positive effects. "It stripped away much of the complexity," he says. "The pared-down life I was left with was shockingly pleasant at times. In the stillness, I found space for reflection. What was worth adding back into my life? What were my priorities? Making a lot of money still isn't high on the list. Nor becoming a social media influencer, building a coaching empire or even winning Kona. For now, I just want to live authentically, train purposefully and race fast", he concludes.
More details on Beals' budget can be found on codybeals.com.