Make it two for two for Great Britain's Lucy Charles-Barclay – the three-time Kona runner up took her second straight Z Pro duathlon race, although this win was considerably closer than last weeks.
This round of the Z Pro Tri Series features a duathlon format – a time trial bike that finishes up a steep grade, a 5.1 km run, and finishes with a points race on the bike. Charles took fourth in the time trial, achieved the maximum points available for the run (points are handed out based on average pace) and then took third in the points race to eek out a win over Meredith Kessler and Beth Potter. Kessler and Potter each finished with the same amount of points, but the win went to Charles-Barclay because she was the top finisher in the final points race.
Great Britain's Ruth Astle took both of the bike legs, but was well-back on the run.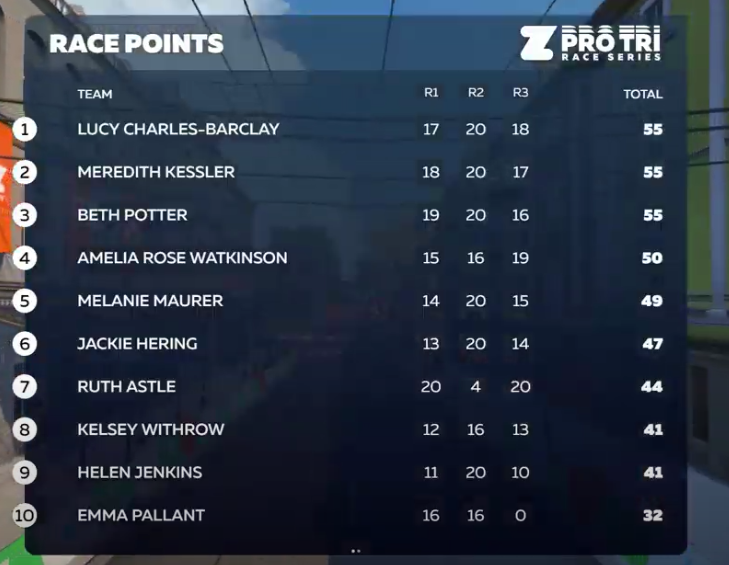 No stopping Costes
After originally being named the men's winner last week despite missing the run portion of the race, Antony Costes was eventually relegated to fourth. Today he didn't leave anything to chance, taking the time trial, the maximum points on the run and then topping the standings in the points race. Belgium's Kenneth Vandendriessche took second in the overall standings, while Australia's Aaron Royle rounded out the podium.
The man who eventually took the win in last week's race, Jackson Laundry, found himself struggling to keep up as the treadmill he has access to has a maximum speed of 3:23/ km, which was only enough to net him 12 points in the run. He ended up eighth in today's race.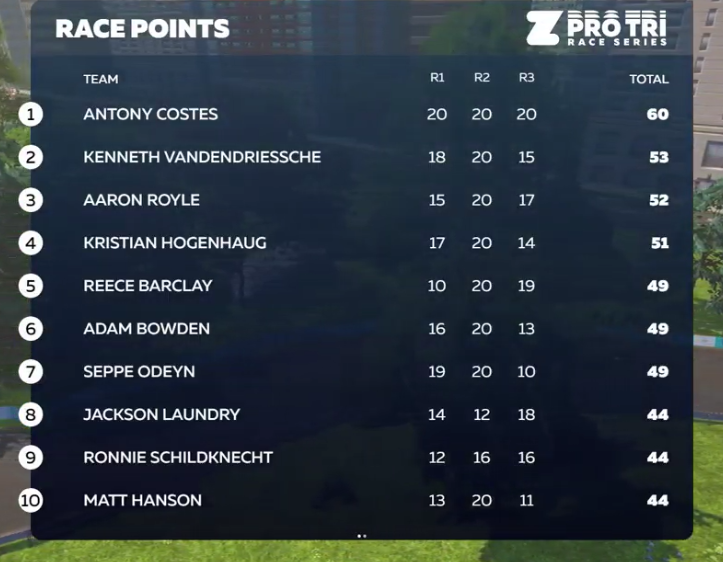 You can watch today's race below: