In hot conditions – it was 32 degrees Celsius at 6.30 in the morning and the humidity was 96 percent – Challenge Cancun was just won by Spain's Javier Gómez and Argentina's Romina Palacio Balena. Gómez lived up to his role as favourite, while Balena provided a wonderful surprise.
It was Spain's Victor Benages who led the race off the start and was first out of the water after the 1.9 km swim which he finished in 24:44. Just two seconds behind him were David Castro Fajardo and favorite Javier Gomez. A little further behind were other contenders including Andy Potts and Patrik Nilsson, still very much in the hunt.
On the bike Potts rode right to the front, taking the lead and, after 16 km, was already a minute ahead of the group. It was clear that Potts was going all out to gain a huge lead before the run, but the move didn't last long because after only a few kilometres Potts had a puncture and lost his lead.
Text continues below picture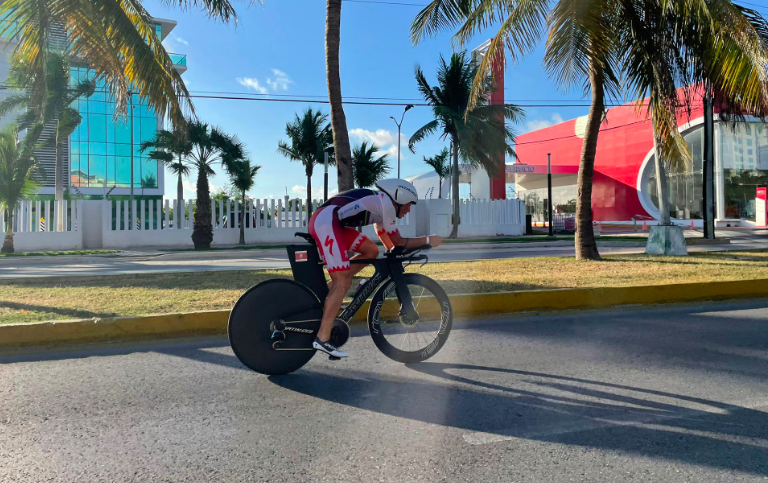 From that moment on it was Gómez who moved in front by himself, but in the meantime Potts quickly got back into his rhythm and rode to second position. After 50 km Potts was just 43 seconds behind Gomez. Elliot Bach was third, just four seconds behind Potts. At the same time it was Switzerland's Ruedi Wild who was also moving through the field. After the swim he was outside the top ten, but after 50 km on the bike he had moved to fourth, but was more than two minutes behind Gómez.
In the last 30 km of the bike Potts once again took the lead, overtaking Gómez. For a moment the American looked like he might get clear, but Gómez fought back and in the end the two came into the transition area after just under two and a half hours of racing. Wild had moved up another place and came back into the transition area in third, 2:55 behind the leaders. Other big names including Michael Weiss and Tyler Butterfield followed over five and six minutes behind.
During the run, Gómez showed his world-class running skills and pulled away from the rest of the men. From the first km onwards he increased his lead over Potts and had a three-minute gap by 15 km. Potts didn't just have to deal with Gómez pulling away, Wild worked his way up and, after 15 km, the two were running side by side in the battle for the second place. Over the next few kilometers it appeared that Potts wouldn't be able to keep up with Wild's pace.
In the end it was Gomez who crossed the line first in 3:46:36, living up to his favorite billing. Behind him, Wild took second in 3:50:37 (+4:01) and Potts was third in 3:51:13 (+4:37).
Injury for favorite Anneke Jenkins, Romina Balena surprises
In the women's race, pre-race favorite Anneke Jenkins took the lead and set the fastest swim time. When she came out of the water in 29:06 she had some company as Annie Kelly followed just three seconds behind. Romina Palacio Balena was also right there and entered the transition just behind after Jenkins.
On the bike, however, Jenkins quickly pulled away and, after 16 km, had already gained more than a minute on the first two chasers. There wasn't much change over the next 30 km – after 50 km Jenkins had about a minute and a half lead on her two chasers, and, even though she didn't have a huge lead, Jenkins seemed to be comfortably on her way to the second transition area.
Text continues below picture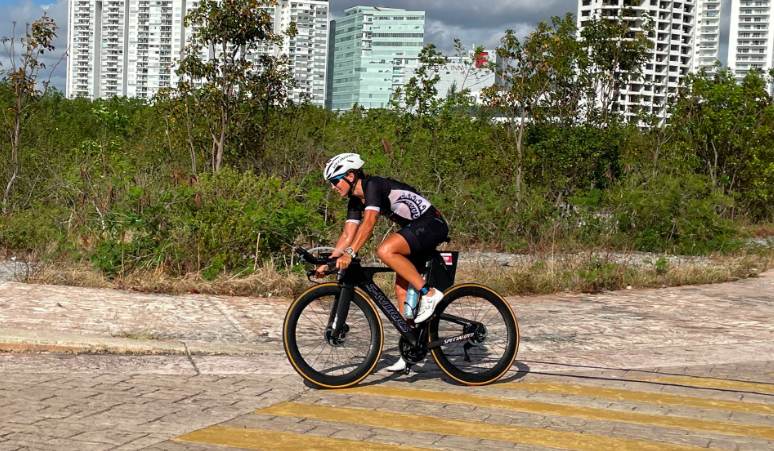 Jenkins arrived at T2 in first in just under three hours of racing. Balena and Kelly were about a minute down at the end of the 90 km bike.
However, things changed during the run when Jenkins suddenly had to abandon the race due to an injury, having to give up on what appeared to be certain victory. Suddenly Balena who was in the lead, which she held to the finish line. Balena took the win in 4:34:32, with Kelly second in 4:38:32, with Palmira Alvarez rounding out the podium in 4:41:17.