France's Arthur Serrieres and Switzerland's Loanne Duvoisin took today's Xterra Czech Republic full-distance race in Prachatice today. The pair finished the 1.5-km non-wetsuit swim in Kristanovicky Lake, the 33-km mountain bike in Sumava National Park and 10.5-km trail run that finished in the 14-century city center of Prachatice in 2:26:41 and 2:52:11.
Text continues below picture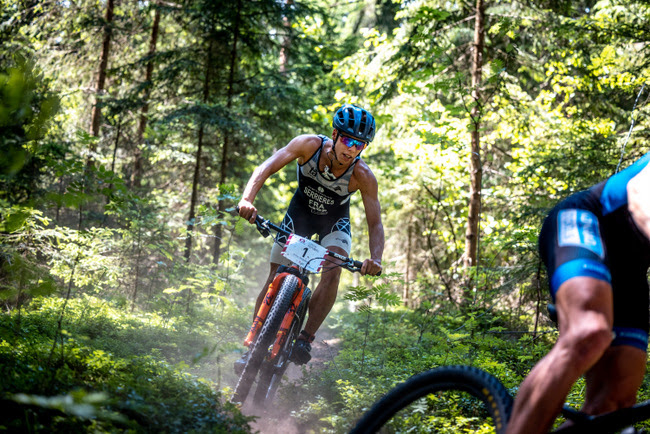 This is the third straight Xterra win in the Czech Republic for Serrieres and the first full-distance win for Duvoisin. Second in the men's race was home-town hero Lukas Kocar (2:28:15), while Sessieres' countryman Arthur Forissier (2:29:41) rounded out the podium. You can find the elite men's results here.
Duvoisin led the women's race from the gun and had the day's fastest swim, bike and run times to finish three-minutes ahead of Czech Helena Karaskova Erbenova (2:55:43), with Italy's Sandra Mairhofer (2:58:43) taking third. You can find the elite women's results here.
Tomorrow the top-25 men and women in each race will compete in a made-for-TV Xterra short-track event in Kristanovice over a 400-m swim, 8-km bike and 2-km run.