It was a win in her first Xterra event for the Netherlands' Diede Diederiks today, while the Czech Republic's Lukas Kocar took the men's race.
The short, speedy event featured a two-lap, 400 m swim, four 1.5 km mountain bike laps with jumps and berms, followed by a 2.6 km, two-loop run. All the athletes competing today will also be racing at tomorrow's Xterra European Championship.
Italy's Matilde Bolzan provided lots of excitement on the bike as she rode her way into contention, but it was Diederiks, the 2019 Dutch Cross Tri National Champion, who ran through the field from sixth to first to take the women's win. Behind her Bolzan and France's Solenne Billouin found themselves in a sprint for second, with the Frenchwoman eking out the win by a second.
Text continues below picture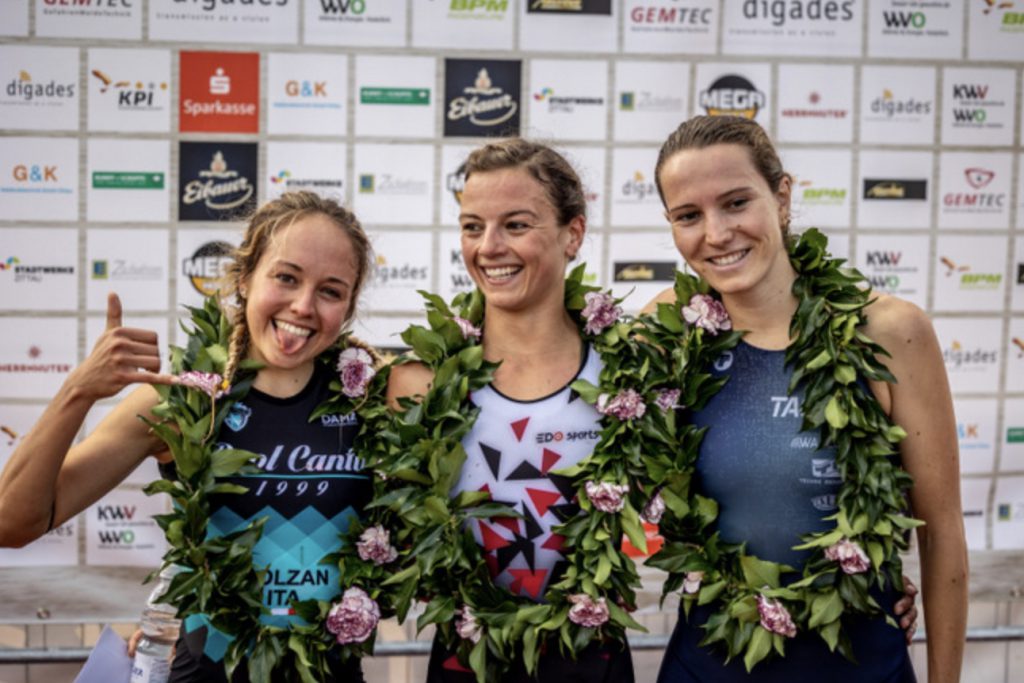 Elite Women's Results
Pl
Name, NAT
Final
Swim
Bike
Run
1
Diede Diederiks, NED
38:38
06:02
20:19
10:43
2
Solenne Billouin, FRA
38:42
05:54
20:12
11:03
3
Matilde Bolzan, ITA
38:43
06:25
19:22
11:25
4
Eleonora Peroncini, ITA
39:06
06:20
20:00
11:16
5
Loanne Duvoisin, SUI
39:11
05:51
21:01
10:43
In the men's race a big group came out of the water close together, but Kocar put his stamp on the race early in the bike, eventually pulling clear and staying away to the finish. France's Arthur Serrieres and Arthur Forissier managed to run their way to the second two spots on the podium.
"It feels amazing to win, what a great feeling," Kocar said after his win. "I went full gas from the start of the bike and all the way to the finish. I knew Serrieres was a strong runner so I went all-out on the first lap and halfway into the second before I could relax a little bit and enjoy the finish."
Text continues below picture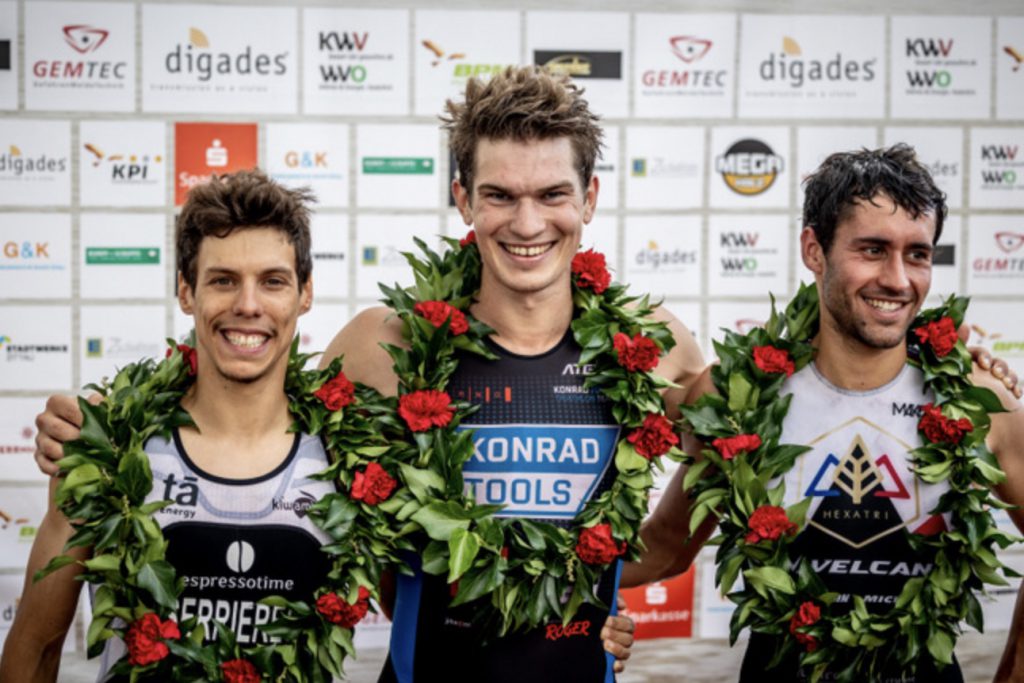 Elite Men's Results
Pl
Name, NAT
Final
Swim
Bike
Run
1
Lukáš Kocar, CZE
32:47
05:00
17:05
09:25
2
Arthur Serrieres, FRA
33:10
05:06
17:32
09:09
3
Arthur Forissier, FRA
33:21
05:13
17:33
09:17
4
Maxim Chane, FRA
33:36
05:03
17:34
09:41
5
Jens Emil Sloth Nielsen, DEN
33:39
05:35
16:49
09:30