"For me, running is freedom and allows me to disconnect from the world. It calms down my thoughts and, although it's such a simple activity, it helps me find the balance between body and mind. I'm really excited to be joining the Asics Team. The brand philosophy of 'A Sound Mind in a Sound Body' resonates with me a lot."
Kristian Blummenfelt recently announced his new shoe partner on Instagram: Asics. We already saw "Big Blu" – his nickname – run in Asics when he ran to a new Ironman world record in Cozumel, but also when he earned himself an Olympic gold medal and when he won the World Triathlon Championship Series.
Asics has two carbon shoe models: the Metaspeed Sky and the Metaspeed Edge. The Sky is good for runners that increase their stride length when they pick up speed more than they increase their cadence. The Metaspeed Edge is good for athletes who increase their speed by bringing their cadence up more than that they increase their stride length. The Asics Metaspeed Sky is Blummenfelt's preference.
With Blummenfelt joining the Asics squad, the brand now sponsors both Olympic triathlon champions, as Flora Duffy is also part of the Asics family. Bermuda's "Golden Girl" also runs in the Asics Metaspeed Sky, of which she even received her own customized version after the Olympics. See picture below.
Text continues below picture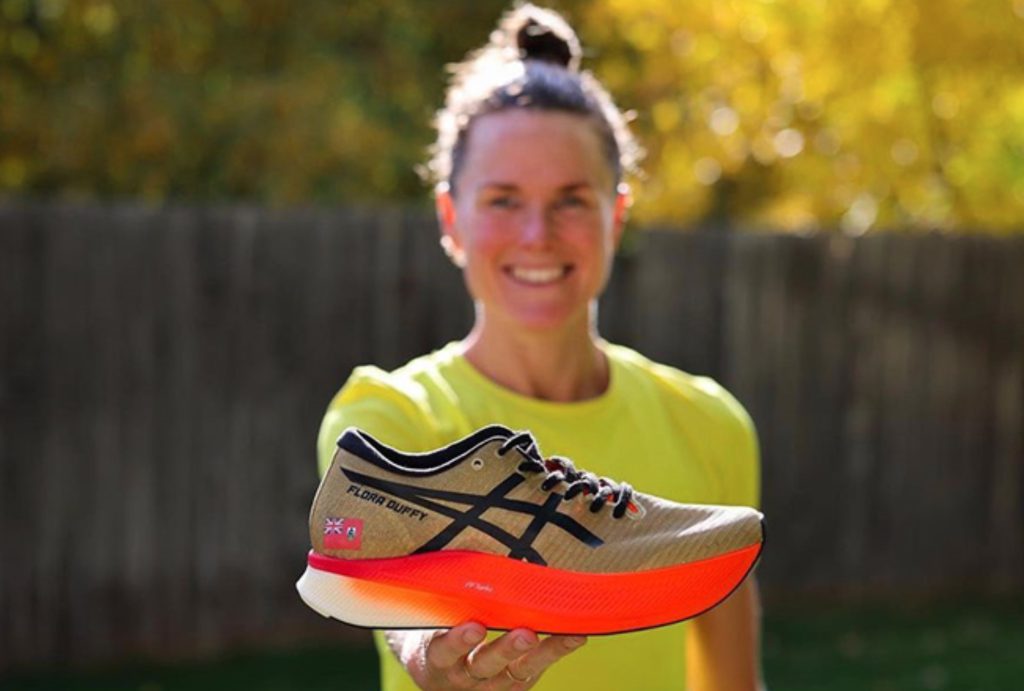 Blummenfelt announced his new shoe partner in the video below:
View this post on Instagram