Belgium's Marten van Riel goes viral since winning Ironman 70.3 Dubai last weekend in a world record time of 3:26:06 hours. No wonder that people are interested to know what he eats before and after a race, what shoes he prefers to run on in training and races, what his favorite triathlon distance is, how his toe is doing, how he feels about the prize money situation in triathlon and much more. Also, did he benefit from a motorbike during Ironman 70.3 Dubai, like some other athletes stated? Van Riel keeps it "Riel" and answers the questions.
First things first, a real important question: What does Van Riel eat the day before a race? "Pad Thai or fried rice", he answers. For the after race meal, he prefers something unhealthy. "Disgustingly good fries with Joppie sauce (a Belgium/Dutch sauce with herbs), he writes.
'What is your favorite distance in a race', another question reads. Surprisingly, it's not the Sprint-, Olympic- or Middle Distance that has Van Riel's preference. Instead, he mentions to enjoy racing the Super League Triathlon Enduro Format, which consists of three extremely short triathlons and has no breaks.
"Comparison is the thief of joy"
On a more serious note, Van Riel was asked what is the best advice that he was ever given. "Comparison is the thief of joy", he says. "Focus on improving yourself, not on what others are doing."
Dance party
A nice tip for Van Riel fans and general triathlon enthusiasts is the Spotify playlist that he likes to listen during his training sessions, which is 'Dance Party'.
Favorite training shoe
Even more important than the music that Van Riel likes to listen to, are the shoes he prefers to run on during training. That's the Nike Vomero, Van Riel explains, as it has a wider toebox. "Perfect for easy and long runs."
Favorite race shoe
And that he promotes Nike is not because it's a sponsor, because for short-distance or technical races he actually favors the Asics Metaspeed Sky's, because "it's a lot more stable". On the other hand, longer distances, Van Riel prefers to race in the Nike Alphafly.
Winning Hawaii or becoming Olympic champion?
A tough question: would Van Riel rather win Ironman Hawaii or Olympic gold? "I want to go all in, one more time, for the Paris Olympics", he explains. "But after that I will go full for long course and try to perform in Hawaii." And if he really had to choose, that last one would be his biggest goal, winning Kona.
Van Riel on project Sub7: "Need I say more?"
Now that we're talking about long course anyway, how does Van Riel feel about the Pho3Nix Sub7 project? "Very cool", he states. "I'm even thinking of doing my own sub5 project. Open the Tarbella Dam for the occasion. Ride behind a 680 HP Porsche Cayenne Turbo GT and run on bionic legs; need I say more?", he seems to be making a critical remark.
Text continues below picture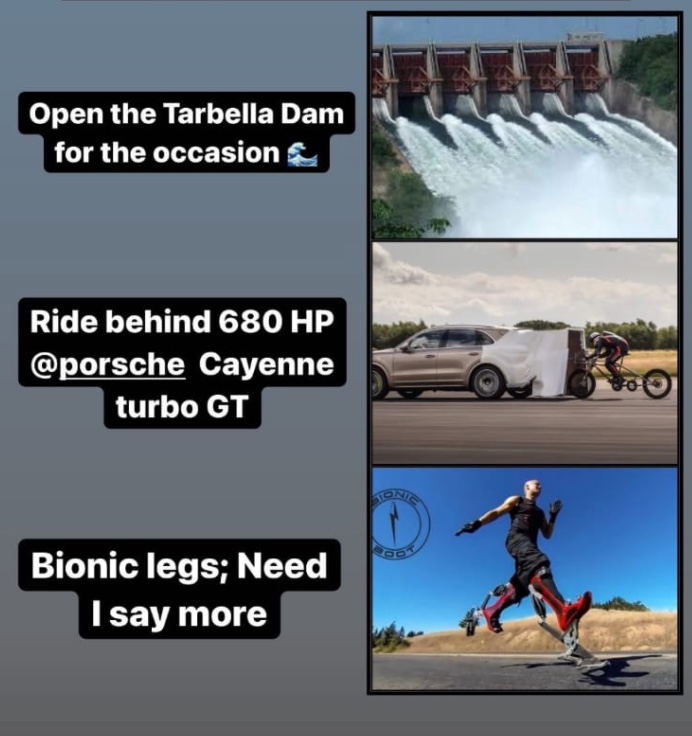 Financial situation for triathletes
'On a scale of 1-10, how hard is it to live from triathlon earnings?'. "This might surprise people, but I would say a 5. Triathlon is not a sport where you will become a multimillionaire, but there are a lot of sports where it's harder; that have almost no prize money or sponsors and lean entirely on government funding. There are a lot of variables though: which country you are from, how much you want to invest (time and effortwise) in your PR, your level, and a lot more. So probably some very high-level athletes are not making much, while some lower-level athletes, that know how to sell themselves, earn a decent living."
Another interesting question that Van Riel can now answer is: what hurts more, a sprint or a 70.3? "Easy: short distance", he writes under a photo of himself stumbling across the finish line after a photo-finish sprint with Britain's Alex Yee.
Drafting at Ironman 70.3 Dubai
A critical question comes from an athlete that asked whether Van Riel was helped by motorbikes during the bike part of Ironman 70.3 Dubai. "Saw a lot of speculation online", Van Riel starts his answer. "The lead car and motor left a huge gap, usually about 100-200 meters. Daniel Baekkegard and I played super fair, both leaving 20 meters or more (while the rule is 12). There is a little car 'suck' from the other lanes on the bike, but in my opinion that didn't impact the speed that much and everyone had that. It's just a superfast course with great wind conditions, on the first 45 km there is a light headwind and on the way back the wind picked up a little, and we had considerably more tailwind."
Favorite run and bike session
Finally: 'What is your favorite 70.3 run and bike session?' "Run: 2×2 miles and 6×1 mile threshold. 2 miles (ca. 3.22 km) at 3:12 min/km and 1 mile (ca. 1.61 kilometers) at 3:05 min/km." And then for the bike: "4×25 minutes at race watts with 5 minutes rest."
How is the toe?
And for those interested: "Because many of you asked: the shoe looked a lot more dramatic than the feet."