France's Aurelien Raphael just ran to a big, but surprising win at the Super League Triathlon Arena Games in Munich. It weren't the top favorites who did it today, as both Belgium's Marten van Riel and Britain's Alex Yee struggled throughout the heats. It was Australia's Max Stapley who finished with a silver medal, while Germany's Justus Nieschlag earned bronze on home soil.
Format
Athletes got a chance to qualify for tonight's finals through two heats that took place in the morning. For the finals, they had to complete another three short triathlons. The first heat consisted of 200 meters of swimming in the pool, 4 km of cycling in Zwift and 1000 meters of running on a self-powered treadmill. The second heat started with a run, then a bike part and finally, a swim. For the final stage, athletes started in the order of their accumulated finish times of the first two heats. That final heat consisted of another swim-bike-run over the same distances.
Stage 1: Alex Yee loses touch, Raphael wins
Against everyone's expectations, top favorites Van Riel and Yee were behind after the first swim part. It was America's Chase McQueen who was first out of the water, soon followed by Raphael and Stapley. Van Riel exited the pool with a three-minute deficit, while Yee got out of the water in last position, seven seconds behind the first man. Given his big deficit, Yee couldn't virtually join the group on the bike. Despite pushing enormous watts – having a heart rate of 180+ beats per minute – Yee couldn't get them back into sight.
With a group of seven – everyone except for Yee – the men changed to the run. Yee was about 10 seconds behind at this point. Raphael took off fastest, Van Riel followed his lead, just like Stapley did. Britain's Gordon Benson dealt with a faulty treadmill and therefor couldn't finish his race in a normal manner. At the finish of stage one, it was still Raphael in front, Van Riel in second (+0:01) and Stapley in third (+0:04).
Stage 2: Van Riel is off, Nieschlag wins
Fired up because of his defect treadmill, Benson took off like a rocket in the first meters of the run. Stapley took over the lead after about 400 meters, while Pozzatti and Yee settled in third and fourth place. In the final meters, Yee moved forward. That saw Stapley head onto the bike part in first place, Yee in second and Pozzatti in third.
While it was Yee missing the group on the bike during the first stage, it was now Van Riel who clearly struggled. The Belgian athlete saw his gap towards the big lead group soon increase to double digits. While the entire group entered the water simultaneously – within a second from each other – Van Riel had to wait 20 seconds before he was able to put his goggles on. Nieschlag dominated the swim and managed to win the second stage. McQueen got out in second (+0:01) and Stapley in third (+0:02). Yee was five seconds behind, while Van Riel finished last, with a 29-second deficit.
Text continues below picture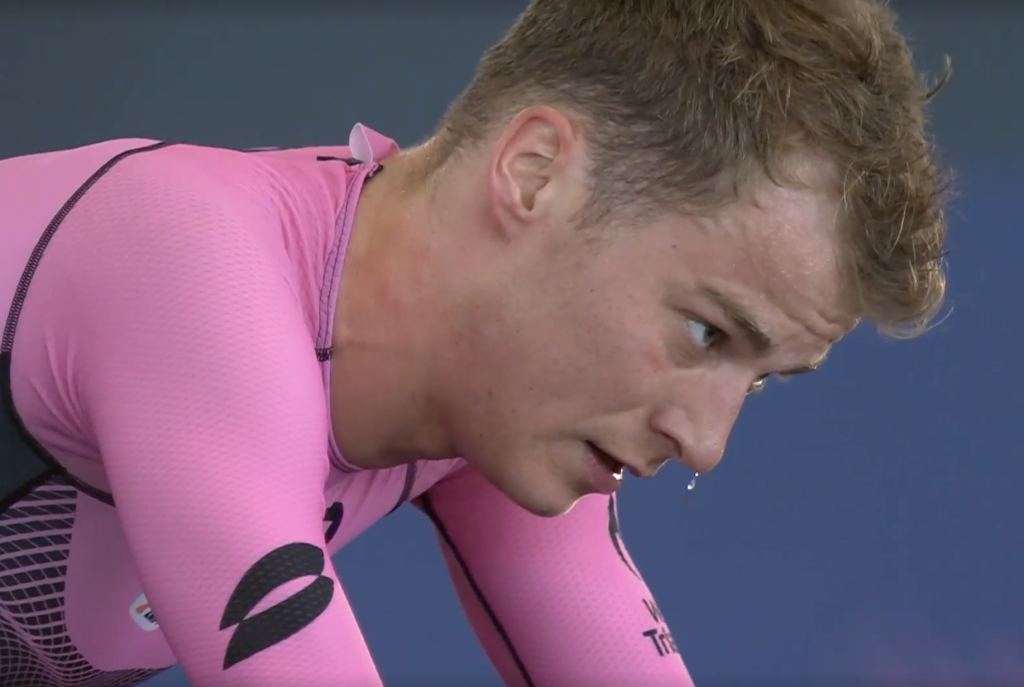 Stage 3: Raphael puts the hammer down
Given the finish times after the first two stages, Raphael got to dive into the water in first place, followed by Stapley, McQueen, Nieschlag, Pozzatti, Yee, Benson and Van Riel (in this same order). With a 27-second deficit, Van Riel was last to get into the water. Raphael maintained his lead during the swim, and found a group with McQueen, Stapley, Pozzatti and Nieschlag as soon as they changed to cycling. Yee, Van Riel and Benson couldn't bridge the gap to that lead group.
Once out on the run, Raphael showed what he came for. He was soon ahead of his competitors and made it clear that nobody was getting between him and the win today. Raphael ended up taking a big win, sharing the podium with Stapley and Nieschlag, who finished second and third respectively.
Fourth place was taken by Pozzatti, McQueen took third, Yee finished in sixth, Benson in seventh place and Van Riel was last to cross the line.