The race had wonderful winners who especially dominated the run, but there were spectacular and exciting battles going on for the second and third spot in both the men's and women's race of Challenge Salou. The race which, due to the low temperatures in the morning was changed to a duathlon over 4 kilometers of running, 85 kilometers of biking and 21 kilometers of running, was won by Danish World Long Distance Champion Kristian Hogenhaug and British Fenella Langridge.
While an incredibly large group of around thirty athletes emerged after the first run, it was Robert Kallin, Kristian Hogenhaug and Ruben Zepuntke who led off with the three of them after about 50 kilometer. Most impressive and maybe surprising was the ride of Kallin, who did not let himself be impressed by his competitors and single-handedly began to dictate the pace for dozens of kilometers. He did this at such a high pace that he constantly held the lead over the trio, was the first to change in T2 and had built up the lead on the large chasing group, which was getting smaller by the minute, to about two minutes.
During the run, however, it was Hogenhaug who quickly took over the lead and showed why he is World Champion; his pace was so high that he slowly but surely secured his victory. From behind, however, more and more men started to run to the front, including Roberto Sanchez Mantecon and Emil Holm, who took over the second and third positions in the very last meters and thus kept Zepuntke and also Kallin from a podium finish. Another more than good runner was Thomas Steger, but the Austrian ended up eight seconds short of third place.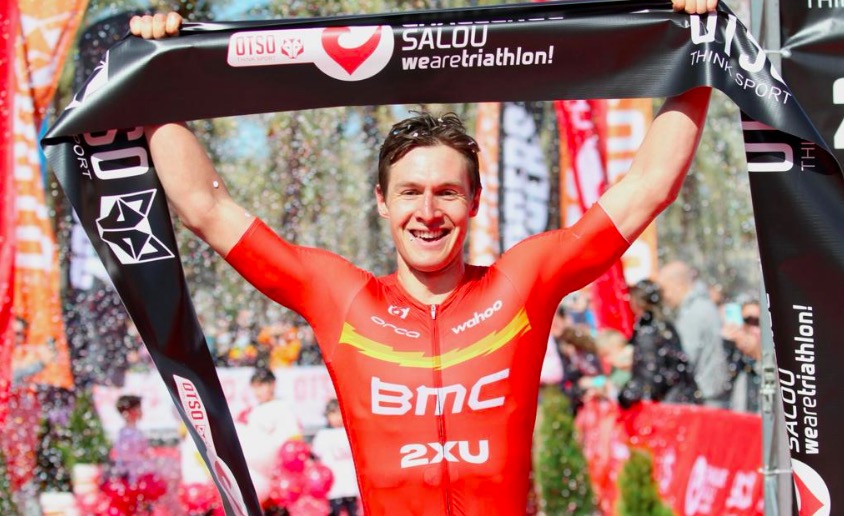 No holding back for impressive Langridge
The women's race was dominated from the start by three ladies: Dutch Els Visser, British Fenella Langridge and Swedish Lisa Norden, who also defended her title today. The three did ride together for the full 85 km, even though there were some speed changes every now and then to see if anyone could escape from the leading group. That didn't work out and Visser and Norden came back to T2 at the same time, followed by Langridge a few seconds later.
The British athlete felt it was time to take control of the race at that point and thus took the lead. She quickly ran away from Visser and Norden, who continued to run side by side, and was able to increase her lead to about two minutes. Visser and Norden were evenly matched until the Dutch top athlete accelerated again in the very last of four laps and proved to be the stronger of the two. Unfortunately for Norden, she also lost too much time in the final phase to a very strong running India Lee, who eventually finished third.
Results M:
Kristian Hogenhaug 3:24:07
Roberto Sanchez 3:24:50
Emil Holm 3:24:56
Results V:
Fenella Langridge 3:50:41
Els Visser 3:52:36
India Lee 3:53:09
We did some top three interviews for Challenge Family as well, which you can see here: