Who was hoping for an exciting final of the Super League Triathlon Arena Games, got lucky today, because the finals for the eSports World Championship title in Singapore turned into an exciting event, as one of the favorites was soon out after cramping on the run, while some outsiders brought their A-game. It may have been Britain's Beth Potter who was crowned world champion, after a nerve wracking final stretch Hungary's Zsanett Bragmayer took the win of the day.
Format
After races in London and Munich earlier this year, today, athletes battled for the title of the eSports World Championship in Singapore. Again, they swam 200 meters, biked 4 km and ran 1000 meters three times – in a different order during stage two (run-bike-swim) – and with a short break in between. The first two stages decided on the start times of the final stage. Unlike in London and Munich, today athletes swam in open water. The bike and run part still took place in Zwift.
Stage 1: swim-bike-run
It came as no surprise to see Jessica Learmonth (GBR) exit the water in first place. Sian Rainsley (GBR) followed in second place, Bragmayer in third, and Taylor-Brown and Potter in fourth and fifth. It didn't take long for the latter two to move back up, though. However, Learmonth was really pushing the pace in front, not allowing them to get her back in sight. Over 4 km, she created an advantage of seven seconds to her greatest rivals.
Just like in London, Learmonth lost some of that precious time in transition. Despite, this little hiccup, Learmonth managed to keep Potter – who approached fast – off for a big part of the run, but with still a three-second advantage to Potter and only 100 meters to go, Learmonth suddenly crashed. With Learmonth completely cramping up, it seemed like she would be out after this first stage. Potter took off with the win of this first stage, Rainsley crossed the virtual line in second place (+0:06) and Bragmayer came in third (+0:09).
"I felt really good, but my hip just blocked completely. I couldn't continue", Learmonth said while sitting down, trying to get the cramp out.
Text continues below picture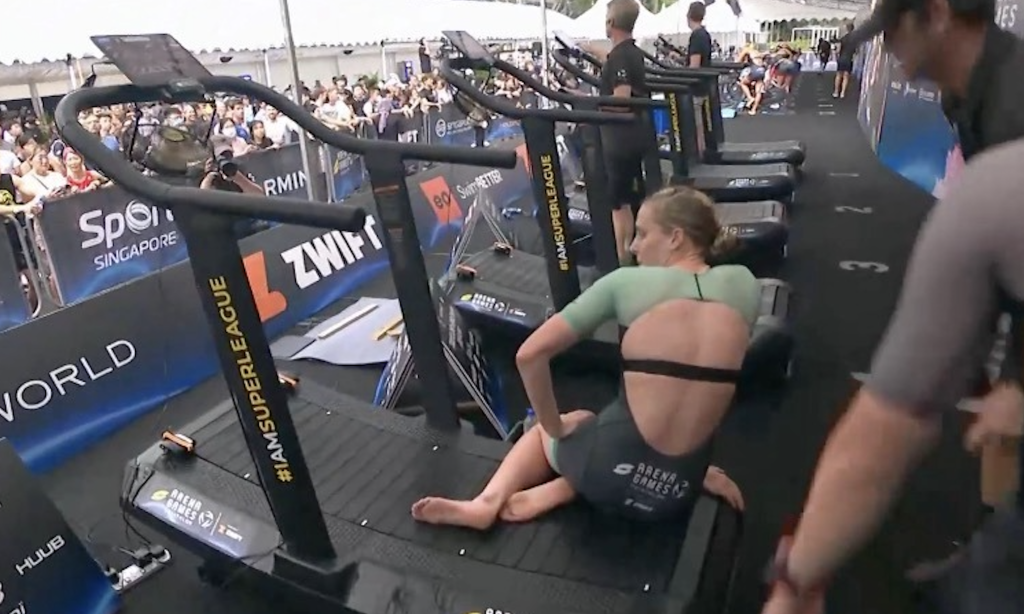 Stage 2: run-bike-swim
It was Dutch' Barbara de Koning who took off strong on the run in stage 2. Although, Potter and Bragmayer soon came breathing down her neck, De Koning managed to stay in first place until T2. Taylor-Brown finished the run around eight place. On the bike, Potter and Bragmayer soon took over the lead. With Potter only a few meters ahead of Bragmayer, she was first off the bike. After a good run through the long transition, it was Bragmayer who was first in the water, though.
Potter, being a weaker swimmer in comparison to Bragmayer, wasn't able to catch back up with her opponent. That means Bragmayer won stage 2, Potter took second (+0:09) and Taylor-Brown swam to third place (+0:21).
Text continues below picture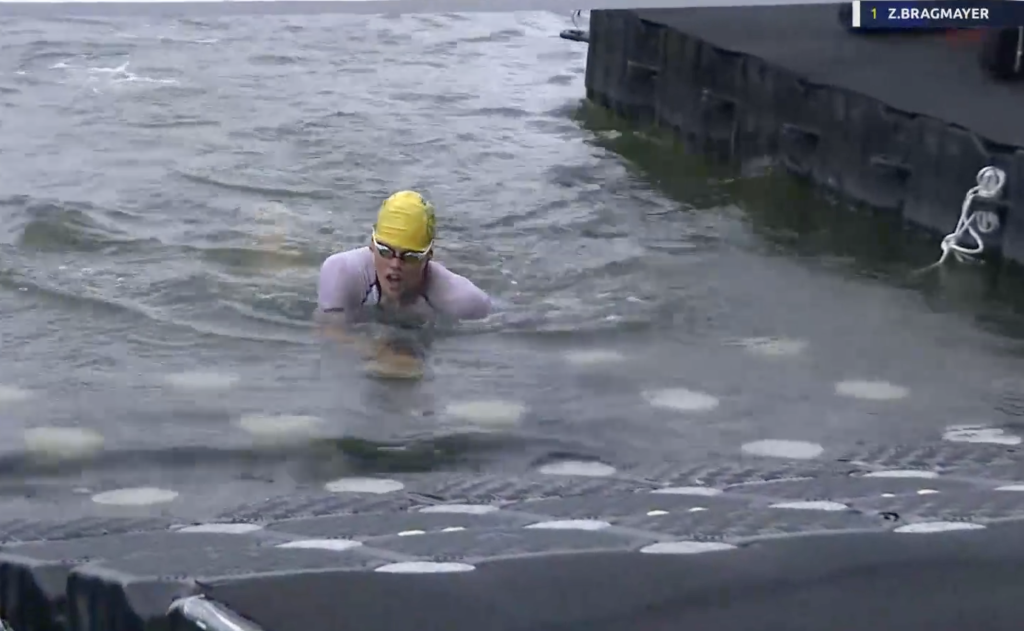 Stage 3: swim-bike-run
Twenty seconds ahead of the rest of the field, Bragmayer and Potter jumped into the water simultaneously. While the final race between these two was exciting to watch, the world title was within reach for Potter, as her biggest opponents were far behind now. Three seconds in front of Potter, Bagmayer ran towards her bike. Rainsley got out of the water in third place, and Taylor-Brown exited with a 27-second deficit in fourth.
On the bike, the side-by-side battle between Potter and Bragmayer continued. Potter was able to earn herself a second in the saddle, but once on the treadmill, Bragmayer was on fire and created a two-second lead to Potter within 500 meters. Bragmayer – who surprisingly had to race this morning in the repêchage too unlike most other athletes – was able to extend her lead in the final stretch. That means it was Bragmayer who took the win of the day, Potter who crowned herself world champion and ran across the line in second. Taylor-Brown completed the podium.
Text continues below picture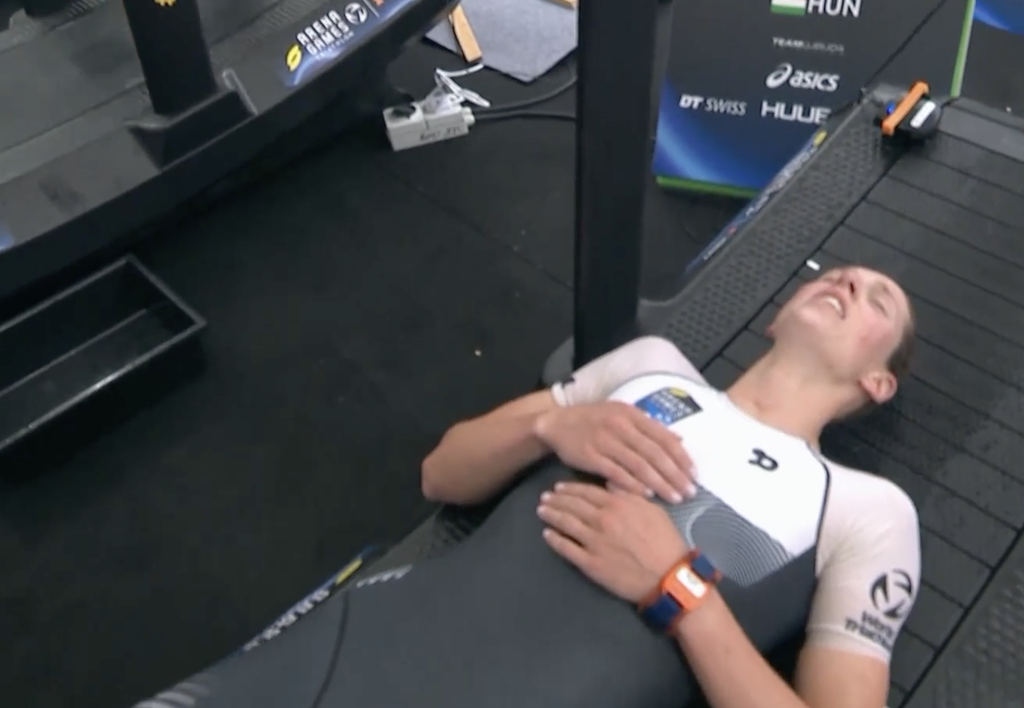 Final World Championships results