Multiple editions of the Tour of Flanders, the Strade Bianche and stages of the Grand Tour were won on this bike: the Canyon Aeroad has already proven to be a successful bike, but it has returned even stronger: with the new Aeroad, which is available in some nice new colors and many models. Canyon just presented the 2022 Canyon Aeroad. Important detail: many models are currently in stock, so you can order a bike straight away. That's great news to triathletes, who are very fund of the bike, whether it's for training or Short-Distance triathlons. You can see all the models – and specs – here.
"The 2022 Aeroad serie is based on the former Aeroad frame, the same design that athletes won many races on ever since the launch in 2020. It's Canyon's most advanced aerodynamic bike development ever – the result of four years testing, uncountable simulations, accurate wind tunnel testing, and the cooperation with aero experts from Swiss Side", Canyon says about the 2022 Aeroad.
"From SLX level on all bikes equiped with a power meter"
"Despite its race performance, the 2022 Aeroad is a bike suitable for a wide range of road cyclists, not only the elite." Philipp Hardt, Product Manager of the Aeroad, explains: "We want to make the all-round performance DNA of the Aeroad available to as many riders as possible. We did that by creating a wide portfolio of options, build around the three frame platforms: the Aeroad CFR pro level, the CF SLX for the enthusiasts and the more-affordable CF SL. All bikes are equiped with DT Swiss aero wheels with deep rims and high front wheels, dependent on the bike size, since there are different frame sizes, for cyclist between 158 to over 200 centimeters. From the SLX level on, bikes will be equiped with power meters for perfect control of the training efforts. In short: a perfect Aeroad for everybody."
Text continues below picture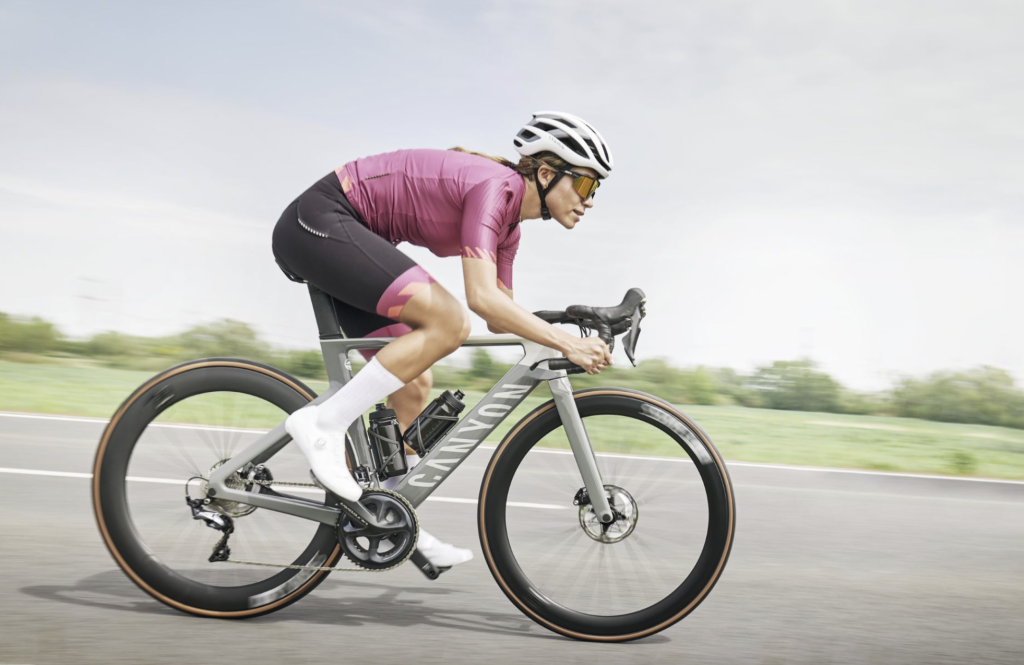 "On the top range we combine three Aeroad CFR-bikes with super light CFR-frames and gadgets of elite level – among them the premium DT Swiss ARCS 1100 Dicut carbon wheels; to achieve a world-level setup. And three race-ready Aeroad CF SLX bikes, with prices ranging from 4,999 euros with the SRAM Rival AXS equiped with the Aeroad CF SLX 7 Disc eTap. The Aeroad CF SL 8 Disc of 3,999 euros will round off the range: with the Shimano Ultegra, DT Swiss ARC 1600 wheels and replicas of the Alpecin-Fenix pro team, this bike achieves an incredible speed and style for a lower price. Aeroad bikes have stronger cockpits and a new seat post sleeve, that makes it very reliable on the long term."
All 2022 Canyon Aeroad models can be seen here. You will also find all specs and – of course – you can order from here. The bikes are – currently – still available.